Review Vozol Neon 10000 puffs visible liquid. Specifications

In an industry that often seems saturated with repetitiveness and lack of innovation, VOZOL has managed to introduce a fresh breath of air with their newest offering, the NEON 10000. Boasting an impressive 10,000 puffs in a compact, hand-concealable device, the NEON 10000 breaks the barriers of portability and longevity, ensuring you are never caught without your vape. However, as with every product, it comes with its own set of strengths and weaknesses. In this comprehensive review, we will dissect every feature of this blockbuster product, guiding potential customers towards an informed purchase decision.
Design and Aesthetics
Starting off with the design, the NEON 10000 presents a beautiful neon gradient appearance, influenced by the concept of "Ink Divided into Five Colors" from Chinese ink paintings. This intricate design element allows the device to naturally integrate the liquid tank into the product, using white space adeptly to create a visual appeal and a sense of layered space. Coupled with a dynamic tide light design that visually elevates the vaping experience, the NEON 10000 doesn't just perform; it captivates.
Portability
In a move that can only be described as revolutionary, VOZOL has managed to miniaturize power. With the capability to deliver 10,000 puffs, the NEON 10000 maintains a petite form, allowing it to be fully concealed in the palm. For those who value discretion and convenience without compromising on the vaping experience, this feature is a game-changer.
Technology and Performance
Technologically, the NEON 10000 is no slouch. It harnesses 5th-gen ceramic coil technology, improving liquid tank utilization by 23% and atomization efficiency by 37%. This advancement, paired with exclusive leakproof technology, ensures that each puff is not just a puff but an exquisite vaping symphony, marked by enhanced flavor purity and vapor smoothness.
Additionally, its built-in 500mAh rechargeable battery ensures that the device's life cycle is maximized, promising nearly two days of vaping on a single charge. The type-C charging port allows for quick recharging, bringing the device back to life within an hour.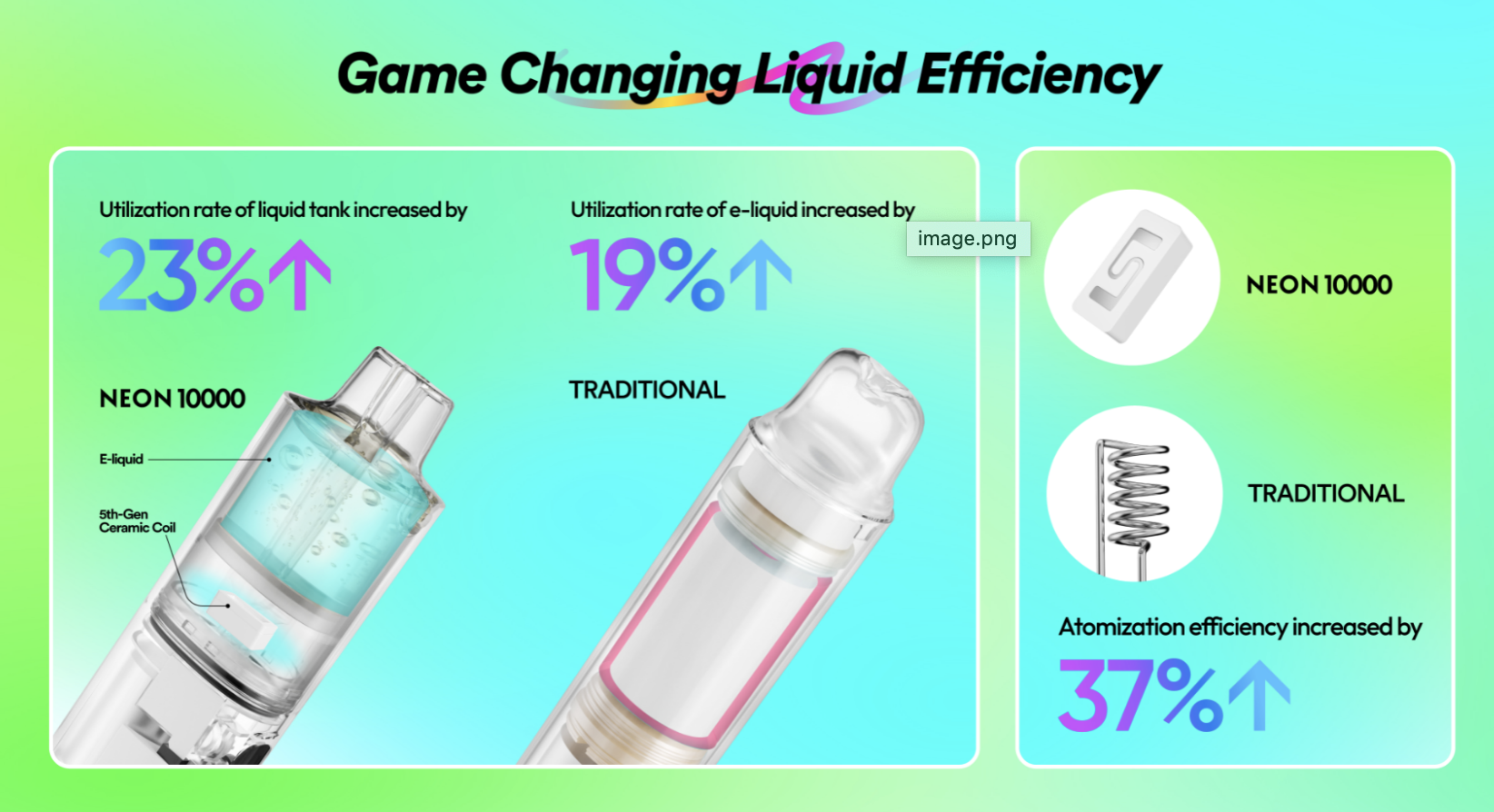 Transparency
Addressing a common pain point amongst vapers, the NEON 10000 comes with a transparent e-liquid cabin, allowing users to monitor the e-liquid level effortlessly. This thoughtful addition ensures that users are never caught off-guard by a suddenly depleted device.
Customer Feedback
Though a new launch, early adopters of the NEON 10000 have highlighted several points of feedback:
Pros:

Users laud the device's compactness paired with its substantial puff count, appreciating its discreteness and longevity.
Many find the enhanced ceramic coil technology beneficial, noting a significant improvement in flavor richness and vapor smoothness.
The fast-charging battery has been a hit among users, ensuring they spend more time vaping and less time waiting for the device to recharge.

Cons:

Some users feel that the device, despite its compact nature, is still somewhat bulkier compared to some other offerings in the market.
While the tide light design is visually attractive, it has been mentioned that it can sometimes feel a bit too flashy for those preferring a more understated vaping experience.
Conclusion
In conclusion, the NEON 10000 by VOZOL is a significant leap forward in vaping technology and design. It masterfully blends portability with longevity, ensuring that users are treated to a top-tier vaping experience without the usual associated bulkiness. However, potential buyers should consider their preferences regarding device size and visual aesthetics to ensure that the NEON 10000 aligns with their expectations. VOZOL's NEON 10000 doesn't just mark the introduction of a new product; it heralds the arrival of a nuanced and thoughtful vaping epoch.