Top 5 Smart Vape Disposables. Which one to buy?

Intro:
The evolution of vaping technology has taken an impressive leap forward with the advent of smart disposable vapes, emblematic of today's digital era. Gone are the days when disposables were rudimentary devices solely aimed at delivering a simple vaping experience. Today, they come fitted with digital screens, providing real-time feedback to users. From liquid levels that let you know precisely when it's time for a refill, to battery indicators ensuring you're never caught off guard with a dead vape—these features are emblematic of the innovative strides the industry has taken. With such advancements, the modern disposable vape provides a blend of sophistication and functionality, making vaping more user-friendly and intuitive than ever before. Dive in as we explore the world of these smart vapes, where technology and convenience harmoniously intersect.

Introducing the best 5 Smart Disposable Vapes on USA Market!

1. Sigelei Smart AC10000 Disposable
The Sigelei Smart AC10000 Disposable is a cutting-edge vaping device designed for vapers seeking convenience and longevity. With a generous 20mL of pre-filled e-liquid, it boasts a nicotine strength of 5%, equivalent to 50mg, providing a satisfying nicotine hit. It's built to last, offering up to an impressive 10,000 puffs per device. At its core, the device operates with a 650mAh battery and utilizes a 1.0ohm mesh coil as its heating element, ensuring consistent and flavorful vapor production. The draw-activated mechanism means there are no buttons – just inhale and enjoy. Additionally, the inclusion of a Type-C port provides efficient charging capabilities. To top it all, the Smart Display Screen allows users to monitor their usage and other device metrics. This all-in-one disposable is both convenient and packed with features for an enhanced vaping experience.
2.SWFT ICON 7500 Disposable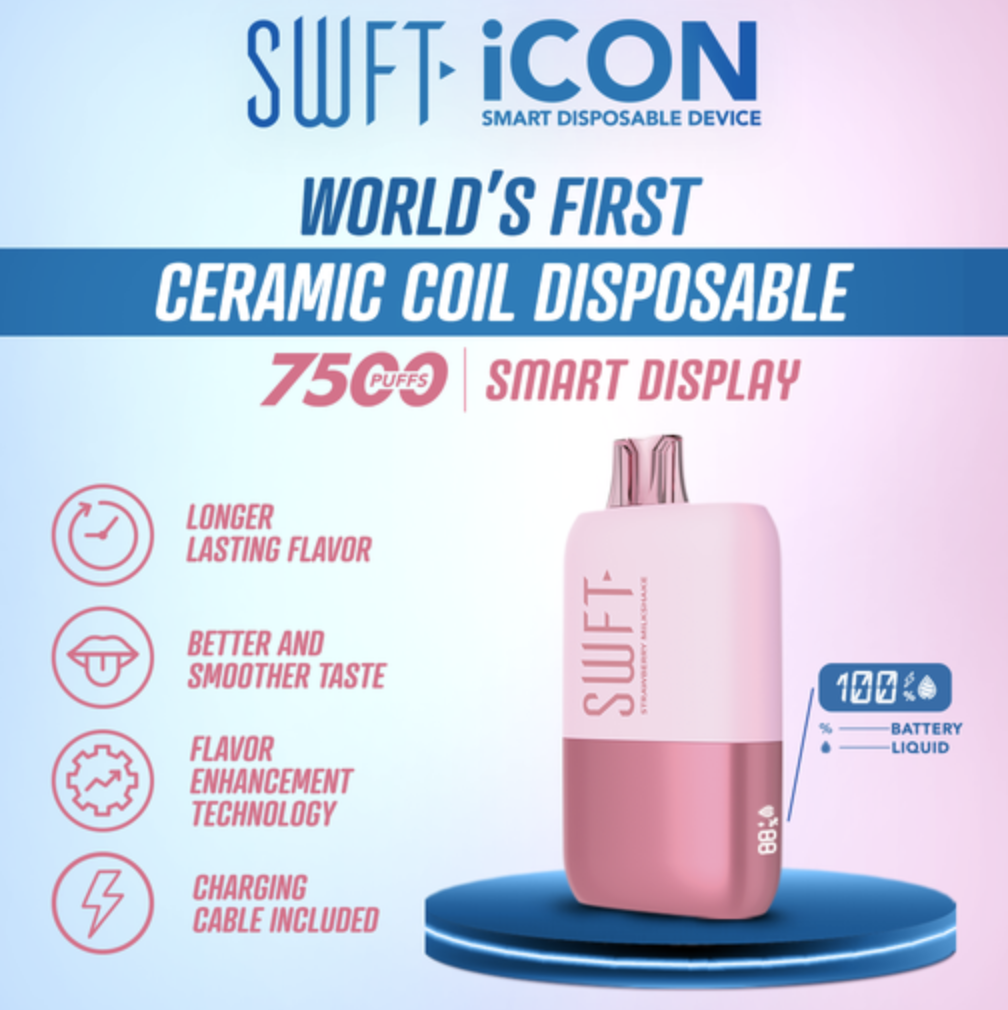 Discover the SWFT ICON 7500 Disposable, an advanced vaping device designed for those seeking a blend of longevity and top-tier performance. With a substantial 17mL prefilled e-liquid capacity, this device comes with a 5% nicotine strength, equivalent to 50mg, ensuring a rich and satisfying nicotine experience. The SWFT ICON 7500 is crafted to provide up to 7500 puffs, powered by its integrated rechargeable battery. Its draw-activated mechanism ensures a hassle-free experience without the need for buttons. One of its standout features is the ceramic coil heating element, known for delivering pure and consistent flavors. For easy and fast charging, it's equipped with a Type-C port. Moreover, users can track their vaping statistics and battery status with the incorporated Smart Display Screen. This disposable is not only user-friendly but also a powerhouse in the disposable vape market.

3. Snowwolf Easy Smart EA9000 Disposable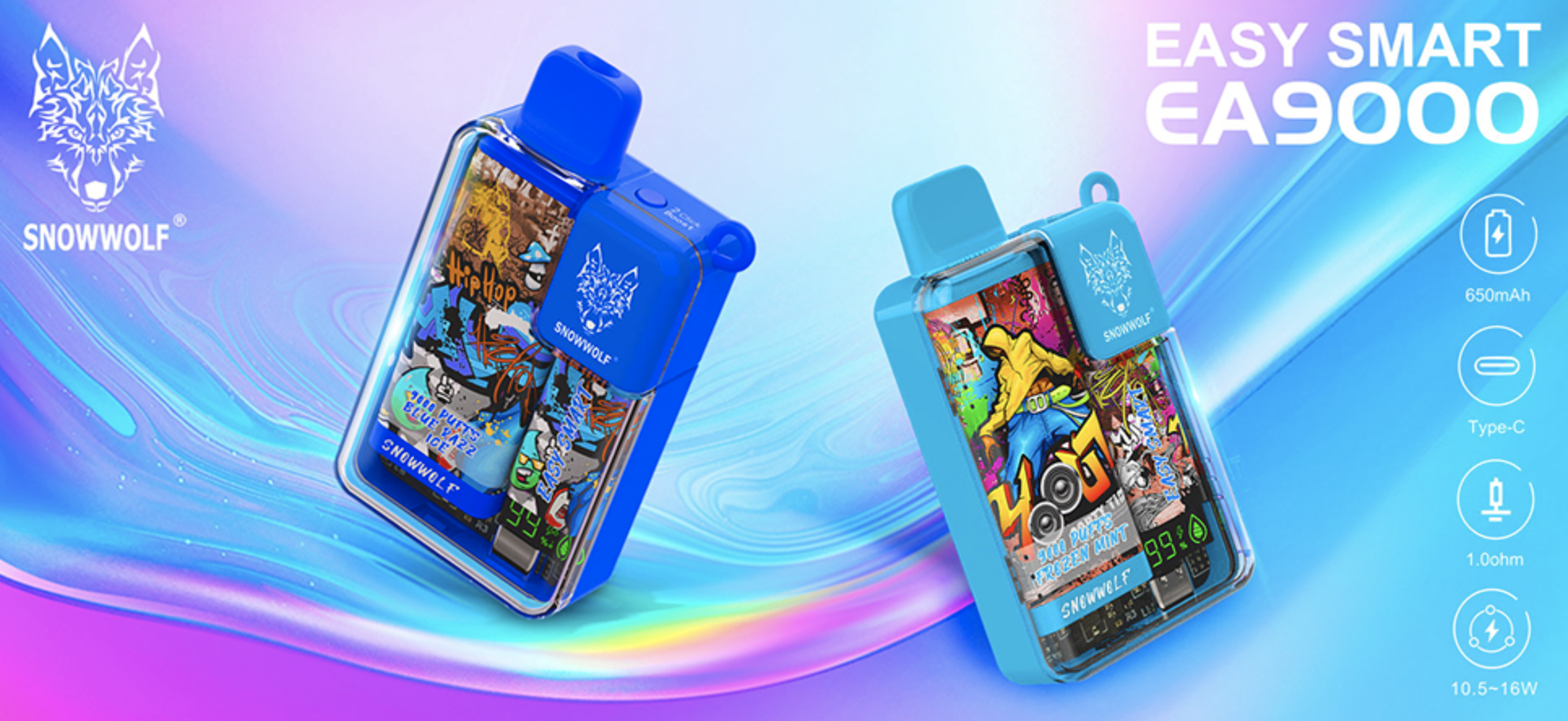 Dive into an elevated vaping experience with the Snowwolf Easy Smart EA9000 Disposable. This sleek device is preloaded with 12.5mL of e-liquid, boasting a nicotine concentration of 5%, or 50mg, ensuring every puff is both flavorful and satisfying. Designed for durability and convenience, it offers a staggering 9000 puffs, powered seamlessly by its 650mAh battery. With a draw-activated mechanism, there's no fussing with buttons, although it does feature a unique Boost Button to enhance your vaping moments. The 1.0ohm mesh coil, operable between 10.5-16W, ensures consistent and rich flavor. Recharging is made efficient with a Type-C port, while the Smart Display Screen keeps you informed about your usage stats. Additionally, the lanyard attachment point offers portability, making this disposable a top contender in both functionality and design.

4. Yovo JB8000 Smart Disposable
Experience a top-tier vaping journey with the Yovo JB8000 Disposable. Prepacked with 12mL of e-liquid, this device showcases a nicotine salt strength of 5%, translating to 50mg, ensuring every inhale is flavorful and robust. Engineered to last, it promises up to 8000 puffs, powered efficiently by its 650mAh battery. The draw-activated operation means effortless vaping without the need for button presses. Its 0.8ohm mesh coil is specifically designed for sublime flavor profiles and vapor production. Recharging becomes a breeze with the included Type-C port, and with the Display Screen, you're always in the loop about device metrics. Notably, the Battery & E-Juice Indicator provides real-time updates on battery life and remaining e-liquid, making the Yovo JB8000 a harmonious blend of convenience and performance in the disposable vape realm.

5. Spaceman 10K Pro Disposable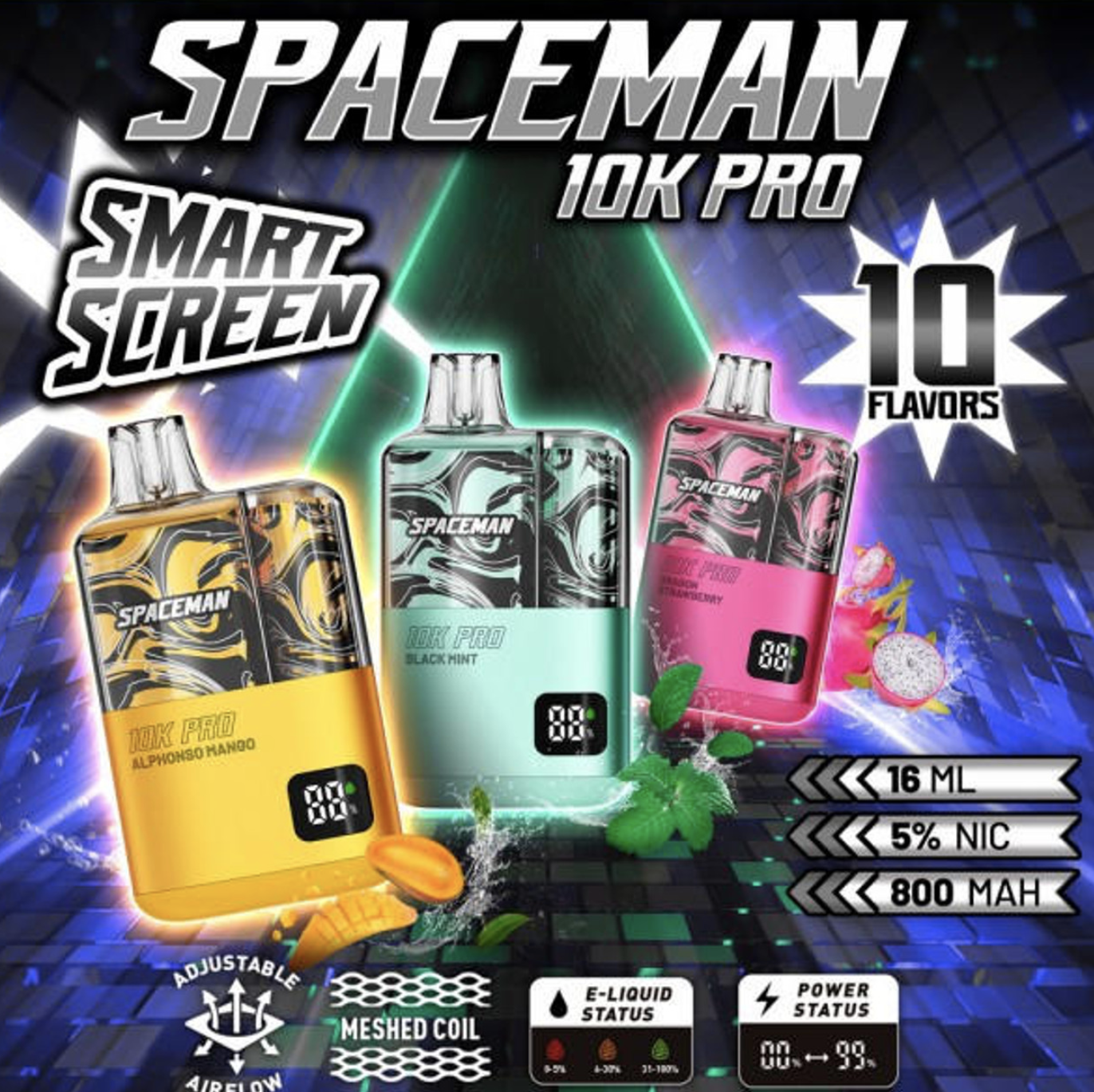 Elevate your vaping experience with the Spaceman 10K Pro Disposable, masterfully designed by SMOK. Loaded with 16mL of e-liquid and a nicotine strength of 5% (50mg), this device ensures each puff is deeply satisfying. Driven by a robust 800mAh battery, the Spaceman is built to last, promising a staggering 10,000 puffs of exquisite flavor and vapor. The 0.7ohm meshed coil combined with the adjustable airflow switch guarantees a tailor-made vaping journey for every user. Recharging is streamlined with the USB Type-C port, ensuring minimal downtime. The draw-activation mechanism makes for effortless vaping, while the SMART screen, e-liquid status indicator, and battery life indicator keep you well-informed about your device's stats. With its suite of features and distinguished design, the Spaceman 10K Pro stands out as a premium choice in the disposable vape arena.