Review iJoy Mars Cabin 6000 puffs. Specifications

Welcome to an immersive exploration of the iJoy Mars Cabin 6000, a device that is rapidly establishing itself as a favorite among vaping enthusiasts. The Mars Cabin 6000 embodies a seamless fusion of portability, efficiency, and pleasurable vaping. This in-depth analysis will unveil the numerous attributes that make the Mars Cabin 6000 a must-have for any vaper, be it a novice looking for an easy start or a seasoned aficionado seeking convenience without compromise.
Introduction to iJoy Mars Cabin 6000
The iJoy Mars Cabin 6000 is a compelling illustration of iJoy's dedication to innovative vaping solutions. Designed to serve the needs of vapers everywhere, this device comes prefilled with 5ml of 5% nicotine salt e-liquid, designed to deliver up to 6000 satisfying puffs. The built-in 100mAh battery ensures that the device, while compact, packs enough power to sustain prolonged use, and when you do need to power up, it's rechargeable for continued enjoyment.
Design Ingenuity
iJoy has gone to great lengths to create a device that not only performs admirably but also boasts a sleek, travel-friendly design. The Mars Cabin 6000's compact frame belies its robust capability, offering a no-fuss experience to those who are constantly on the move. Its discreet size makes it a discrete companion, whether it's slipped into a pocket, purse, or tucked away in your carry-on.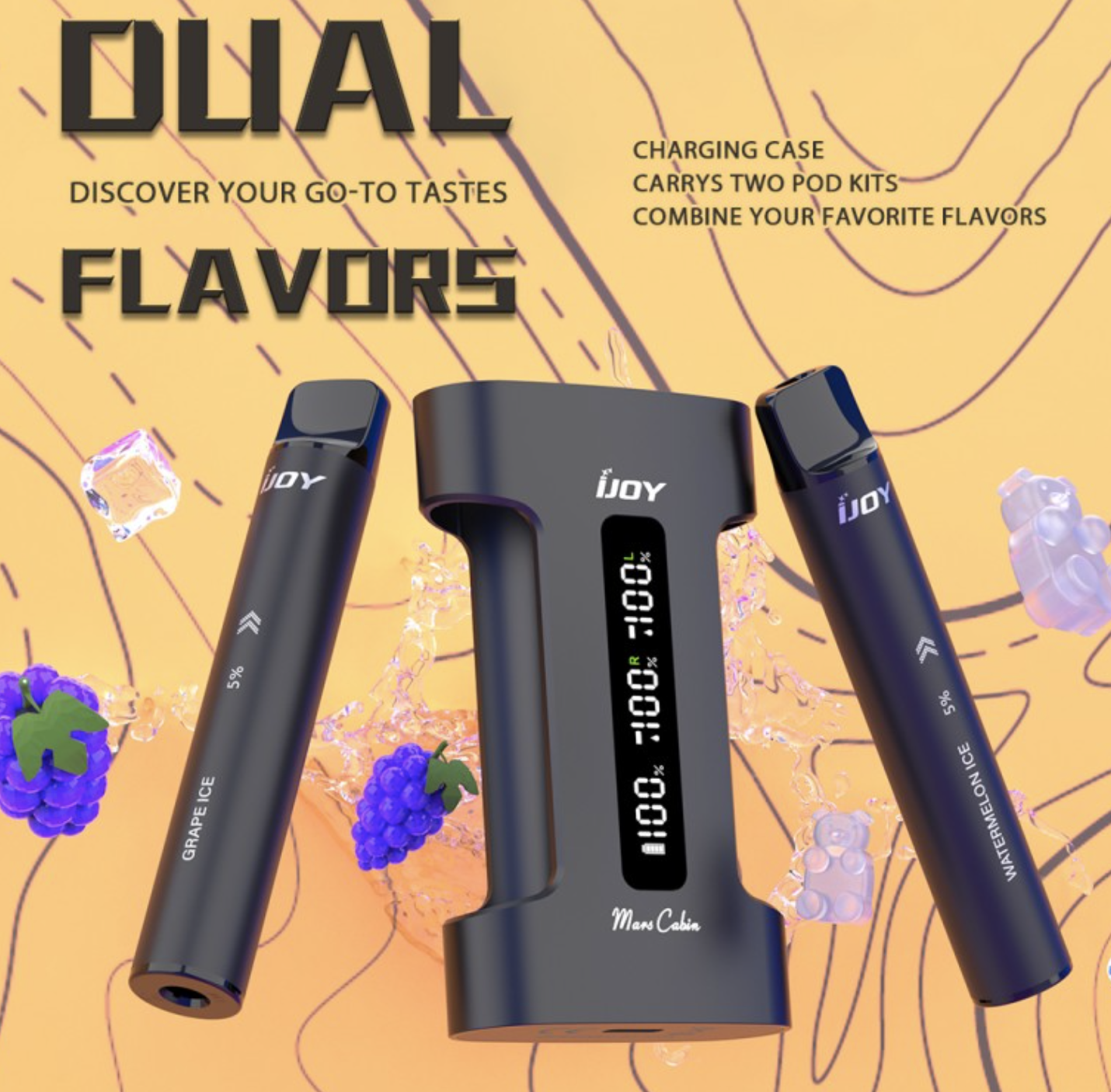 Puff Performance
Mesh Coil Mastery
At the heart of the Mars Cabin 6000's performance is the mesh coil. This innovative component is crucial in delivering a rich, pure flavor profile and consistent vapor production. The coil's design ensures even heating and an extensive surface area, translating to an unrivaled vaping experience with every inhalation.
Flavor Spectrum
Taste is subjective, but satisfaction is universal. The Mars Cabin 6000 brings a diverse range of 12 delectable flavors to the table. From the refreshing tang of Blue Razz Ice to the exotic sweetness of Raspberry Pitaya, and the playful zest of White Gummy Bears, the flavor offerings ensure that every palate finds its match.
Customer Acclaim: Voices of Vapers
Our customers are our best critics, and their enthusiastic responses illuminate the prowess of the Mars Cabin 6000. Here are some testimonials that speak volumes of its growing acclaim.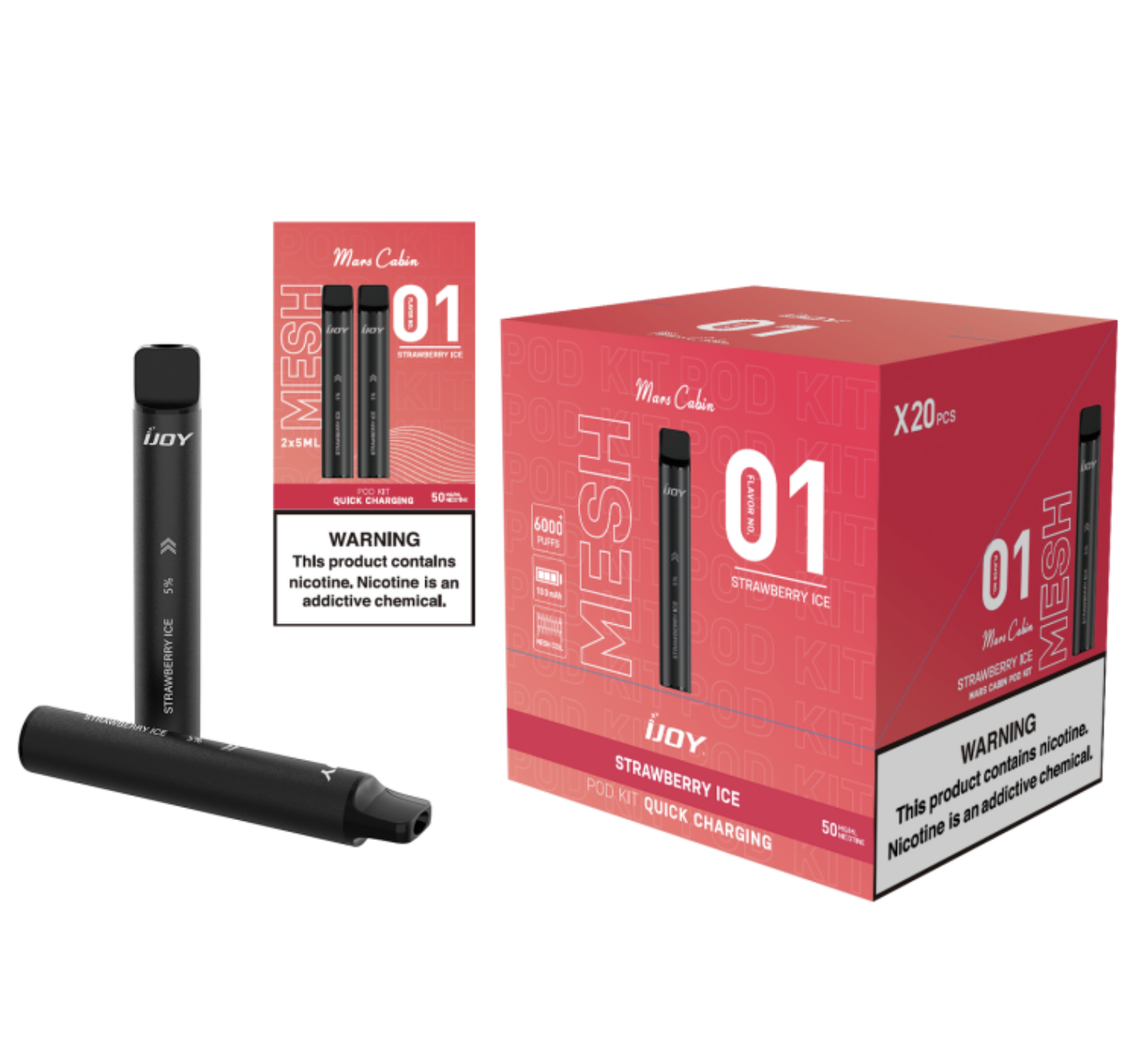 Enduring Enjoyment
"The Mars Cabin 6000 keeps up with my hectic lifestyle. The fact that I can recharge it means I'm never left hanging. It's become as essential as my phone before I leave the house." – Carlos E.
Flavor-Focused
"As a flavor chaser, I'm always on the lookout for a vape that delivers on taste. The mesh coil in the Mars Cabin 6000 brings out every note and nuance in the e-liquid. It's like a gourmet meal in vapor form." – Priya S.
Non-Stop Puffs
"I was tired of devices that died on me mid-day. With 6000 puffs and a battery that keeps going, the Mars Cabin 6000 is a game-changer for my daily vaping." – Hannah M.
#### Portable Power
"The size to power ratio on the Mars Cabin 6000 is unbelievable. It's so easy to take with me wherever I go, and it hits just as hard as the bigger mods I used to lug around." – James P.
Unmatched Pros
Diving into the world of the Mars Cabin 6000 reveals an array of advantages with virtually no drawbacks, as echoed by our customers' experiences. Here's why this device is becoming a favorite in the vaping community:
- **Puff Capacity:** A staggering 6000 puffs mean the Mars Cabin 6000 is there for the long haul.
- **Flavor Diversity:** With 12 flavors, there's always a new experience waiting at your fingertips.
- **Nicotine Satisfaction:** The 5% nicotine salt concentration delivers a smooth yet robust hit, ideal for those seeking a satisfying throat hit.
- **Rechargeable Convenience:** The ease of recharging ensures uninterrupted vaping pleasure.
- **Mesh Coil Excellence:** Every puff is a rich, flavorful experience, thanks to the superior design of the mesh coil.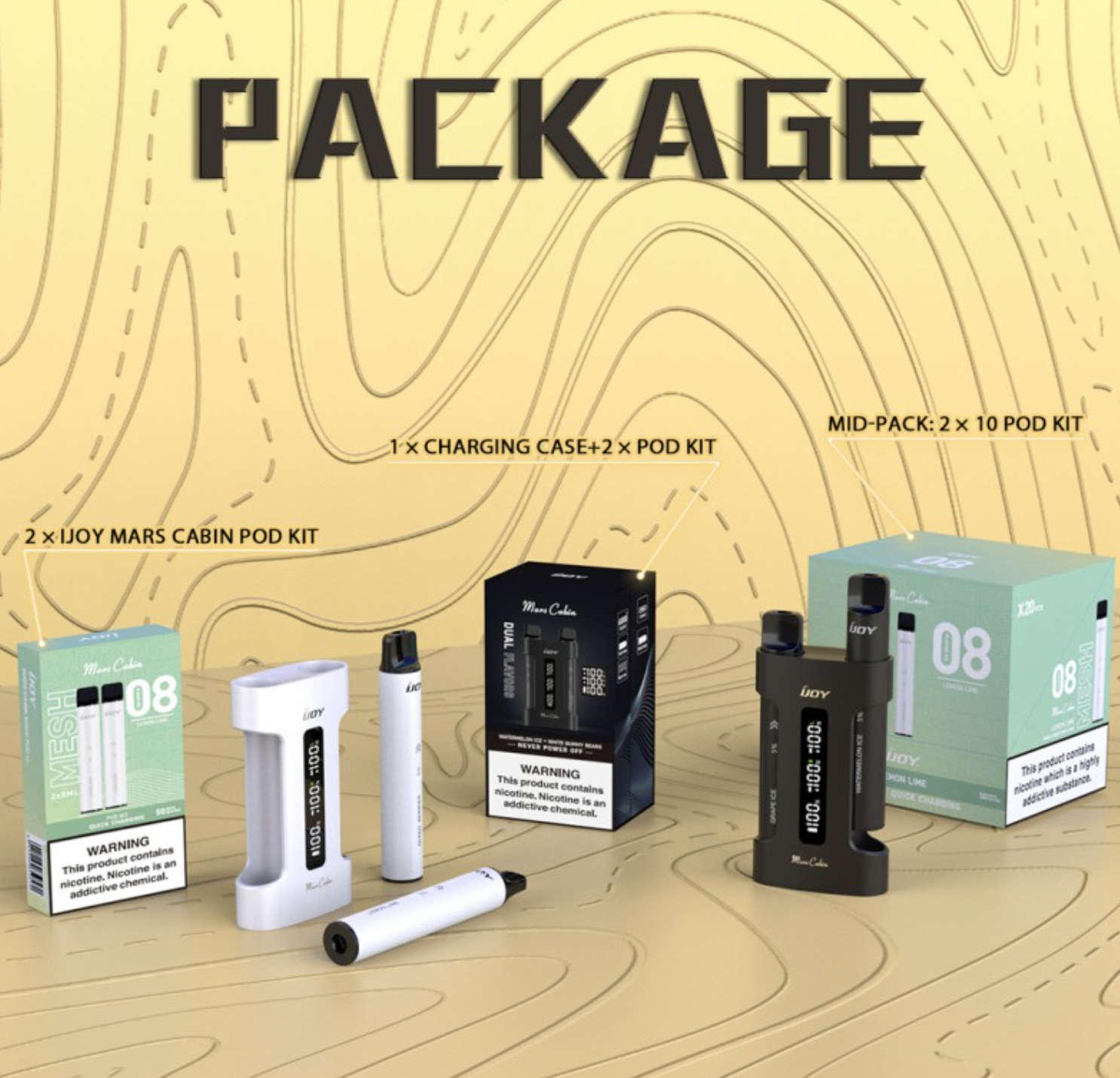 Conclusion: The Mars Cabin 6000 Experience
The iJoy Mars Cabin 6000 is not just another entry in the disposable vape market; it's a testament to iJoy's commitment to quality and user satisfaction. It offers the perfect blend of convenience, longevity, flavor diversity, and performance. With its robust puff count, varied flavor selection, and rechargeable functionality, it stands out as a pinnacle of portable vaping devices.
In the landscape of vaping, the iJoy Mars Cabin 6000 is akin to a trusted companion that combines reliability, taste, and innovation. It's tailored for those who appreciate the finer nuances of vaping and expect their devices to keep up with their dynamic lifestyles. It's more than just a vape; it's a statement that you don't compromise on quality, even in the smallest packages.
Whether you're on a journey to cessation, a cloud chaser, or a flavor enthusiast, the iJoy Mars Cabin 6000 offers a comprehensive solution to cater to your needs. Join the ranks of vapers who have embraced the Mars Cabin 6000 as their go-to device for a dependable, flavorful, and long-lasting vaping experience. Get ready to embark on a flavorful odyssey with iJoy and redefine what you expect from your vape.