Firerose IN7500 Disposable Vape Review: A Deep Dive
The world of vaping is teeming with innovation, but every so often, a product emerges that commands attention. The Firerose IN7500 Disposable Vape is one such offering. It beckons with a blend of style and substance, promising to cater to both seasoned vapers and newcomers alike. This comprehensive review explores the highs and potential lows of the IN7500, ensuring you can make an informed decision.
First Impressions: Aesthetics and Build
From the moment the IN7500 meets the hand, its build quality is evident. The device feels premium, suggesting a dedication to craftsmanship not always present in the disposable vape market. Its streamlined design is paired with a tactile finish, lending an aura of luxury.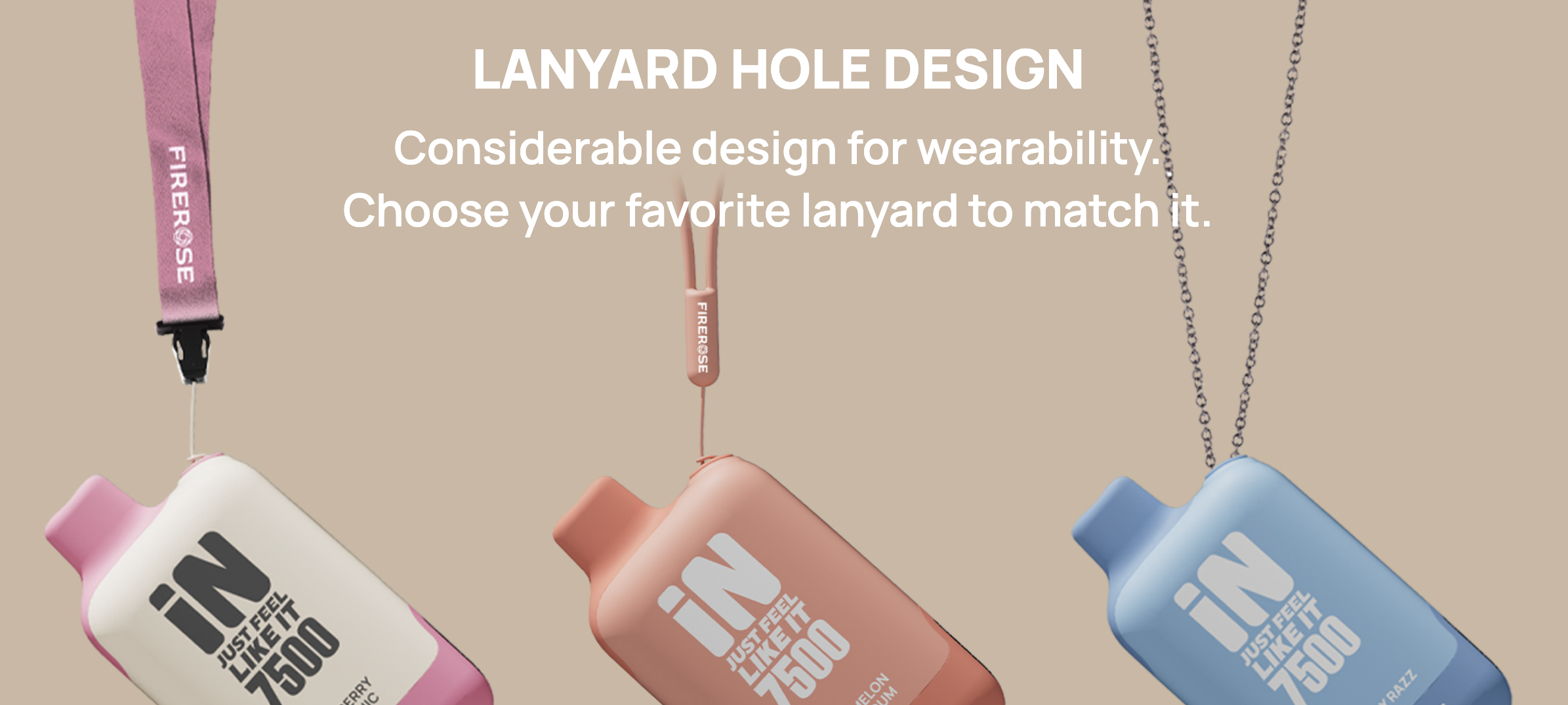 Pros:
Digital Display Screen: The inclusion of a digital display is a masterstroke. This feature, generally reserved for high-end reusable vapes, offers an unprecedented level of transparency for disposable devices. The screen efficiently tracks e-liquid levels and battery power, eliminating guesswork.
Flavorful Puffs with Mesh Coil: The mesh coil system, renowned for even heat distribution, ensures that each of the 7500 puffs is flavorful and consistent. It eliminates the dread of burnt hits and offers a pure and clean vapor every time.
Haptic Feedback: This tactile feature makes the vaping experience more engaging. The feedback upon each interaction provides assurance and augments user experience.
Soft Silicone Mouthpiece: This ergonomic addition guarantees comfort, especially during extended vaping sessions.
USB Type-C Charging: In a world rapidly embracing Type-C connectors, this choice ensures faster and more reliable charging.
Diverse E-liquid Capacity and Strength: With 16mL pre-filled e-liquid at a nicotine strength of 5% (50mg), it's tailored for extended usage and gratifying hits.
Cons:
Battery Life vs. E-Liquid Quantity: Though the 550mAh battery is robust, with a massive 16mL e-liquid capacity, there might be instances where the battery runs out before the liquid does, especially for heavy vapers.
Size: While it packs a lot of features, the device might feel a tad bulky for those who prefer ultra-compact vapes.
Price Point: Given its advanced features, the IN7500 might come at a premium price, potentially deterring budget-conscious vapers.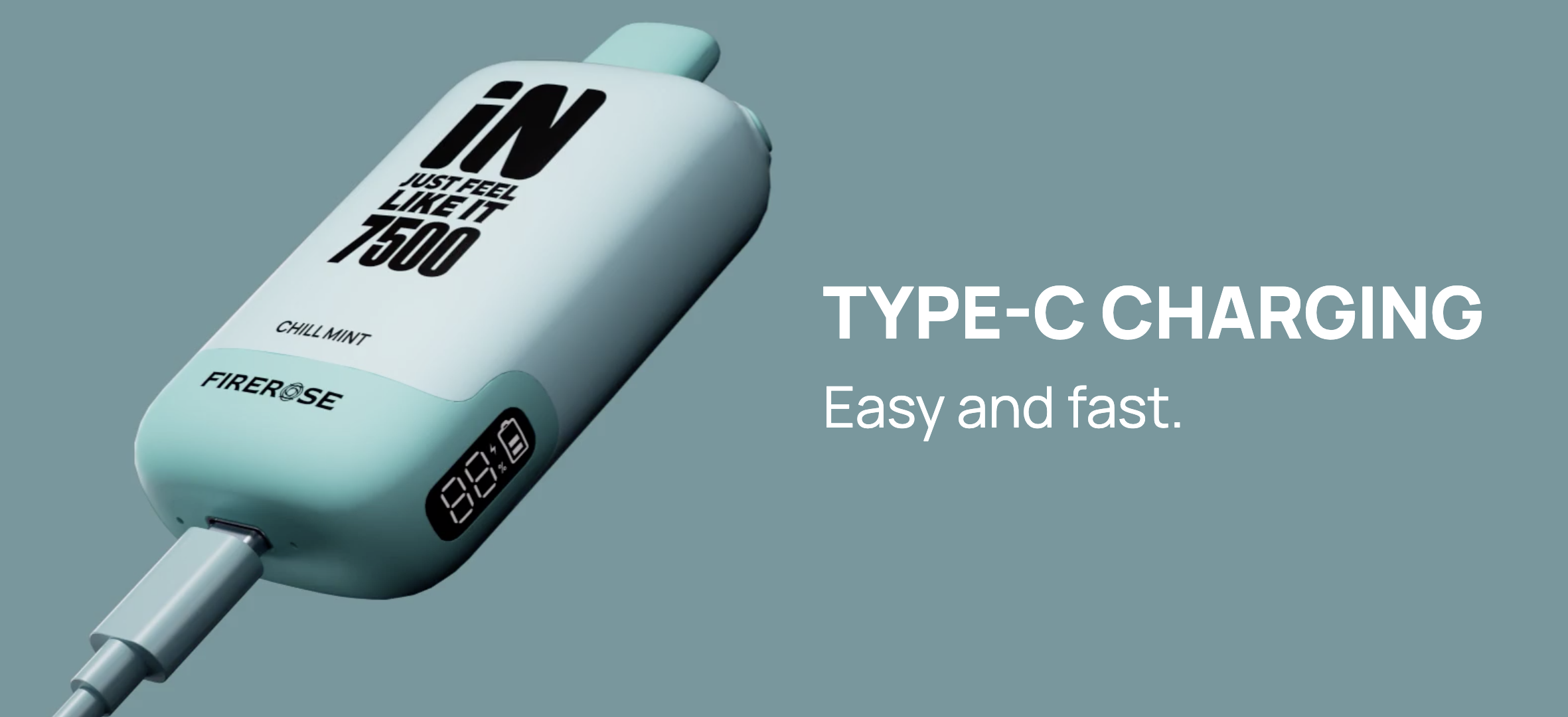 Flavor Profiles:
Blue Razz Ice: A tantalizing fusion that hits the sweet spot between fresh blueberries and tart raspberries, with an icy kick. The cooling sensation elevates the fruity experience, offering a revitalizing blast with each puff.
Watermelon Bubble Gum: This nostalgic blend evokes memories of childhood, with a juicy burst of watermelon layered with the sweet chewiness of bubble gum. A playful treat for your taste buds.
Mango Peach Watermelon: A tropical trifecta, this flavor is a delightful dance of succulent mangoes, ripe peaches, and refreshing watermelon. It's a sun-soaked vacation in a vape.
Mint Mojito: Dive into a refreshing mix reminiscent of the classic cocktail. The sharp mint beautifully contrasts with the sugary sweetness, offering an invigorating, cool sensation.
Raspberry Gin Tonic: A sophisticated blend, channeling the zestiness of raspberries with the crispness of gin tonic. An adult twist, capturing the essence of a laid-back evening.
Strawnana: A harmonious blend of ripe strawberries and creamy bananas. The fruity sweetness of strawberries perfectly complements the smooth richness of bananas, creating a dessert-like sensation.
Rainbow: A flavor journey that encapsulates a spectrum of fruity delights. With every drag, experience a different note, from tangy to sweet, creating a rainbow of taste sensations.
Tropical Blast: As the name suggests, it's a powerful burst of exotic fruits. From pineapples to passion fruit, this blend transports you straight to a tropical paradise.
Strawberry Kiwi: A balanced concoction, combining the juicy sweetness of strawberries with the tangy kick of kiwi. It's both refreshing and satisfyingly sweet.
Mr. Blue: An enigmatic blend, capturing the depth and richness of dark berries. Think of it as a deep dive into the wild berry forests, with hints of mystery.
Mango: A classic, unadulterated delight. Experience the full-bodied richness and natural sweetness of ripe mangoes. A true tropical treasure.
Juicy Peach: Revel in the lush, velvety taste of sun-ripened peaches. This flavor offers a beautiful blend of sweetness with a slight tangy edge.
White Gummy: A sweet, chewy delight reminiscent of those soft gummy candies. It's a light, playful treat, transporting you back to simpler times.
Watermelon Ice: Dive into a refreshing, juicy burst of watermelon with a frosty finish. The icy layer accentuates the natural sweetness, making it a summer favorite.
Chill Mint: A minimalist yet invigorating flavor. The purity of mint combined with a cooling sensation offers a simple, crisp, and rejuvenating experience.
Each flavor in the Firerose IN7500's portfolio promises a unique, sensory-rich journey. Whether you're chasing the nostalgic taste of your favorite candy or seeking the thrill of a tropical getaway, there's a flavor that's tailored just for you. With such a diverse and exciting range, the hardest part might just be picking a favorite!
Final Thoughts:
The Firerose IN7500 is undeniably a standout in the disposable vape market. It successfully bridges the gap between disposable convenience and the advanced features of reusable devices. Its pros overwhelmingly overshadow the cons, making it a viable choice for those willing to invest in a top-tier vaping experience.
While its price might be a point of contention, the sheer quality and innovation it brings to the table justify the potential premium. The Firerose IN7500 doesn't just deliver nicotine; it offers an experience, a harmonious blend of technology and pleasure that is hard to overlook.
In the ever-evolving vaping landscape, the IN7500 is a shining beacon of what the future might hold. It's a testament to innovation, design, and user experience all wrapped up in a sleek package. Whether you're an aficionado or a newbie, the IN7500 promises not just a vape, but a journey.