CRYSTAL BLAST OG5000 & 5000 Puffs Disposables Review

In the growing market of vaping, it's essential to have a product that is both unique and efficient. The Crystal Blast OG5000 Disposable vape is one such product that not only meets the criteria but also pushes the boundaries of what disposable vapes can be. Offering a 13mL prefilled capacity, 5% nicotine concentration, and delivering up to 5000 puffs, the Crystal Blast OG5000 Disposable vape certainly packs a punch.
A Closer Look at the Features
With a sleek and compact design, the Crystal Blast OG5000 Disposable vape is certainly pleasing to the eye. However, it's the features under the hood that truly make it shine.
The prefilled capacity of 13mL promises a worry-free, lasting vaping experience. Coupled with a robust 500mAh battery capacity, the Crystal Blast OG5000 Disposable is designed to keep going for as long as you do.
Capable of delivering up to 5000 puffs, it offers longevity that is second to none. This attribute ensures that you can enjoy your vaping sessions without frequent replacements.
A nicotine strength of 5% is perfect for vapers looking for a comparable experience to traditional cigarettes, giving them a satisfying throat hit.
The draw-activated operation of this vape pen means simplicity and efficiency. This user-friendly feature makes vaping seamless and enjoyable, eliminating complicated settings.
The device utilizes a mesh coil as a heating element, which is known for its efficiency in providing an even, smooth, and consistently flavored vapor.
Lastly, the presence of a Type-C charging port ensures fast and convenient charging, adding another layer of practicality to this remarkable device.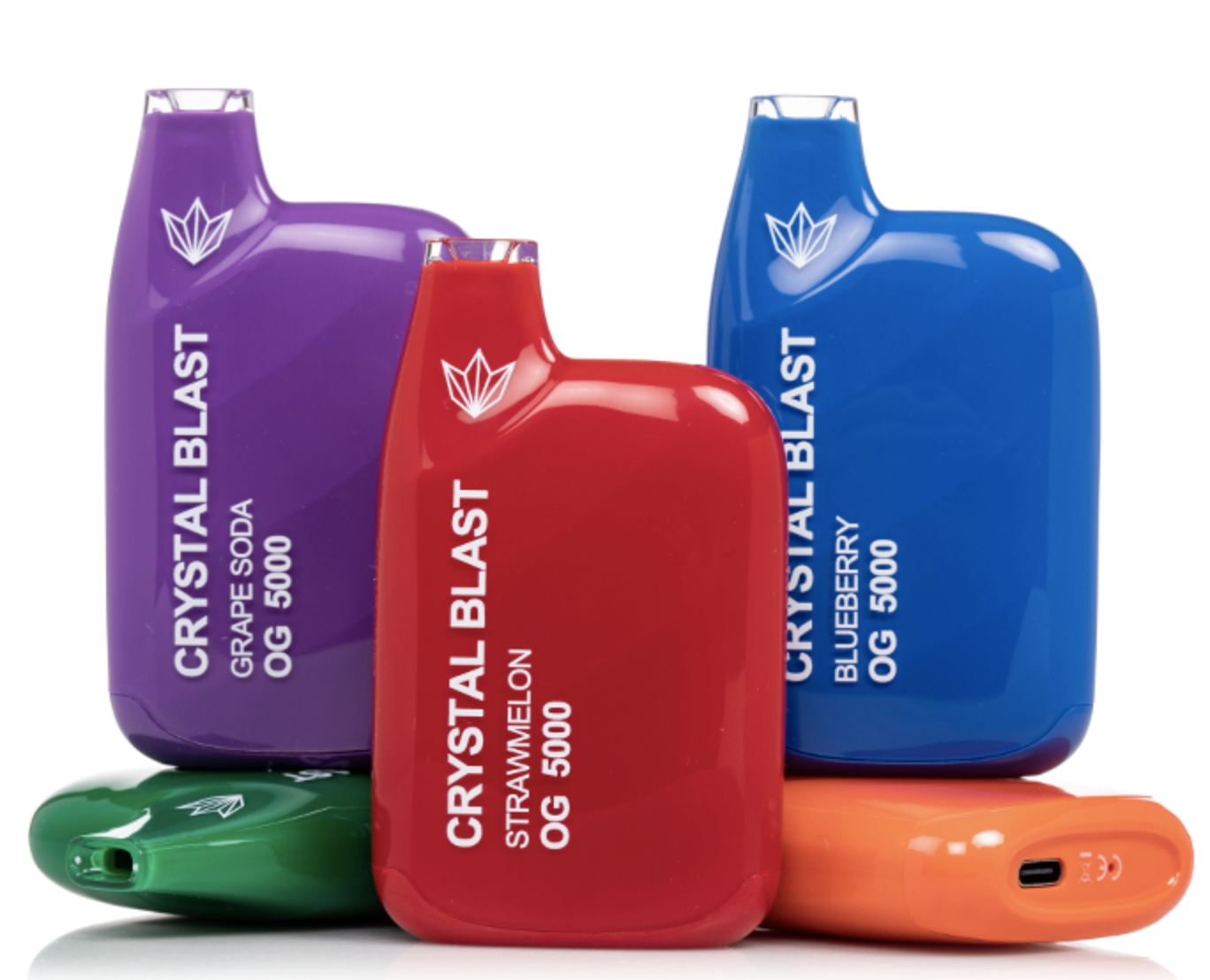 A Flavorful Adventure with Crystal Blast OG5000
One of the most exciting features of the Crystal Blast OG5000 Disposable is its array of vibrant flavors. Each one offers a unique experience, catering to a wide range of preferences. Let's dive into each of them:
Blue Cotton Candy: This flavor takes you back to your childhood memories of carnivals and amusement parks. The sweet and airy taste of cotton candy is faithfully replicated in this delightfully nostalgic vape flavor.
Blue Raz Lemon: A zesty and tangy combination of blue raspberry and lemon. The sour lemon and sweet blue raspberry create a perfectly balanced and invigorating taste.
Blue Razz Ice: The tantalizing taste of blue raspberry combined with a cool menthol finish. It's a sweet and icy experience that's refreshingly satisfying.
Blueberry | Blueberry Mint | Blueberry Raspberry: Each of these flavors showcases the sweet and slightly tart taste of blueberries in unique combinations. Whether it's the refreshing kick of mint, the tanginess of raspberry, or the simplicity of pure blueberry, these flavors are a treat for all blueberry lovers.
Bubble Gum: A sweet and slightly tangy flavor that replicates the familiar taste of classic bubble gum. It's a playful and light-hearted flavor that brings a sense of nostalgia.
Cherry Cola: This flavor perfectly combines the sweet and tart taste of cherry with the refreshing fizziness of cola. It's like sipping your favorite cherry cola in vapor form.
Cranberry Grape: A balanced blend of tart cranberries and sweet grapes. The two flavors complement each other perfectly, resulting in a flavorful and satisfying vaping experience.
Dragonfruit Banana Berry: An exotic blend of flavors that combines the unique taste of dragonfruit with sweet banana and mixed berries. It's a tropical explosion of flavors that's hard to resist.
Grape Soda: This flavor captures the sweet and slightly tangy taste of grape soda. It's a fizzy, fruity experience that's sure to delight.
Lemon Berry: A combination of zesty lemon and mixed berries. This flavor offers a balance of sweet and sour notes that are both refreshing and delicious.
Mint Menthol Ice | Minty O's | Peach Mint: These three variations showcase the fresh taste of mint in different combinations. From the icy coolness of menthol, the nostalgic taste of minty cereals, to the sweetness of peach, these flavors offer a refreshing and exhilarating experience.
Pineapple: This flavor brings the tropical sweetness of ripe pineapples. It's a sweet and tangy flavor that's reminiscent of a beachside getaway.
Pomo Blue Straw: A vibrant mix of pomegranate, blueberry, and strawberry. This flavor offers a burst of sweet and slightly tart notes that are wonderfully satisfying.
Sour Apple | Sour Orange Raspberry: These flavors bring together the tanginess of sour fruits with other unique taste profiles. The sour apple is pure and refreshing, while the sour orange raspberry offers a perfect balance of citrus and sweet berry.
Strawberry Ice | Strawberry Watermelon | Strawmelon: Each of these flavors is a sweet, fruity delight with strawberry at their core. Combined with the coolness of ice, the refreshing watermelon, or mixed fruit notes, these flavors are a strawberry lover's dream.
Summertime: A mysterious mix of flavors that perfectly encapsulate the sweetness and freshness of summer. It's a refreshing and invigorating vape experience.
Triple Berry Ice: A combination of three berries with an icy finish. The sweetness and tartness of the berries are perfectly complemented by the coolness of the menthol.
Tropical Rainbow Blast: An explosion of tropical fruit flavors that offer a delightful sweetness. It's like an exotic fruit salad in vapor form.
Watermelon Candy | Watermelon Ice: These two flavors showcase the refreshing taste of watermelon in unique ways. The candy offers a sweet and slightly tangy flavor, while the ice provides a cool and refreshing vape experience.
With its impressive list of features and a wide array of flavors, the Crystal Blast OG5000 Disposable is a standout product in the vaping market. Whether you're an experienced vaper or a newcomer to the scene, this device is sure to provide a fulfilling and enjoyable vaping experience. The Crystal Blast OG5000 Disposable invites you to pick your favorite flavor and embark on a flavor-filled journey. Enjoy the blast!