Review Bugatti Elite 9000 puffs Vape. Specifications.


Embarking on a Flavorful Journey with the Bugatti Elite 9000 Disposable Vape
The essence of ingenuity and convenience in the vaping world is strikingly manifested in the Bugatti Elite 9000, a disposable vaping device that contends profoundly in the vaping market. A notable level of technological integration, a medley of flavors, and an impressive endurance encapsulate the essence of this device.
Astonishing Puff Capacity and Unparalleled Battery Life
Begin with the most glaring feature, a staggering 9000 puffs, a metric that sets the Bugatti Elite 9000 distinctly apart in the saturated disposable vape market. Such capacity isn't just a number; it translates to extensive usability and a prolonged lifespan. With a 600mAh battery capacity, users are assured of consistent performance throughout the device's life. Plus, the USB Type-C charging is a thoughtful addition, ensuring that should you ever run low, a quick, convenient recharge is possible.
Flavors That Dance on the Palate
The flavorsome journey embarked upon with each variant of the Bugatti Elite 9000 is nothing short of spectacular. From the zesty "Apple Blueberry Raspberry" to the soothing "Sweet Menthol," every option offers a unique tapestry of flavors that tantalize and satisfy the palate in every draw. The "Blue Razz Lemonade" is reminiscent of a sun-drenched day, offering a harmonious blend of tart and sweet, while the "Cappuccino" variant can all but replace your morning coffee with its robust, creamy undertones.
Customer Feedback: A Melody of Satisfaction
Diving into the ocean of positive customer feedback, users herald the Bugatti Elite 9000 for its seamless blend of usability and flavor diversity. Sarah, a seasoned vaper, extols, "The flavor options are incredible! I've never experienced such a wide array in a disposable before. My personal favorite is the Mango Strawberry – it's a tropical escapade in every puff!"
Another customer, Jake, acclaims its longevity: "I've been using it consistently, and it's still going strong after two weeks! The battery life is just as impressive, sparing me the constant need for a charge." The longevity and consistent performance are indeed echoed across numerous customer experiences, establishing a sturdy reliability pillar for the product.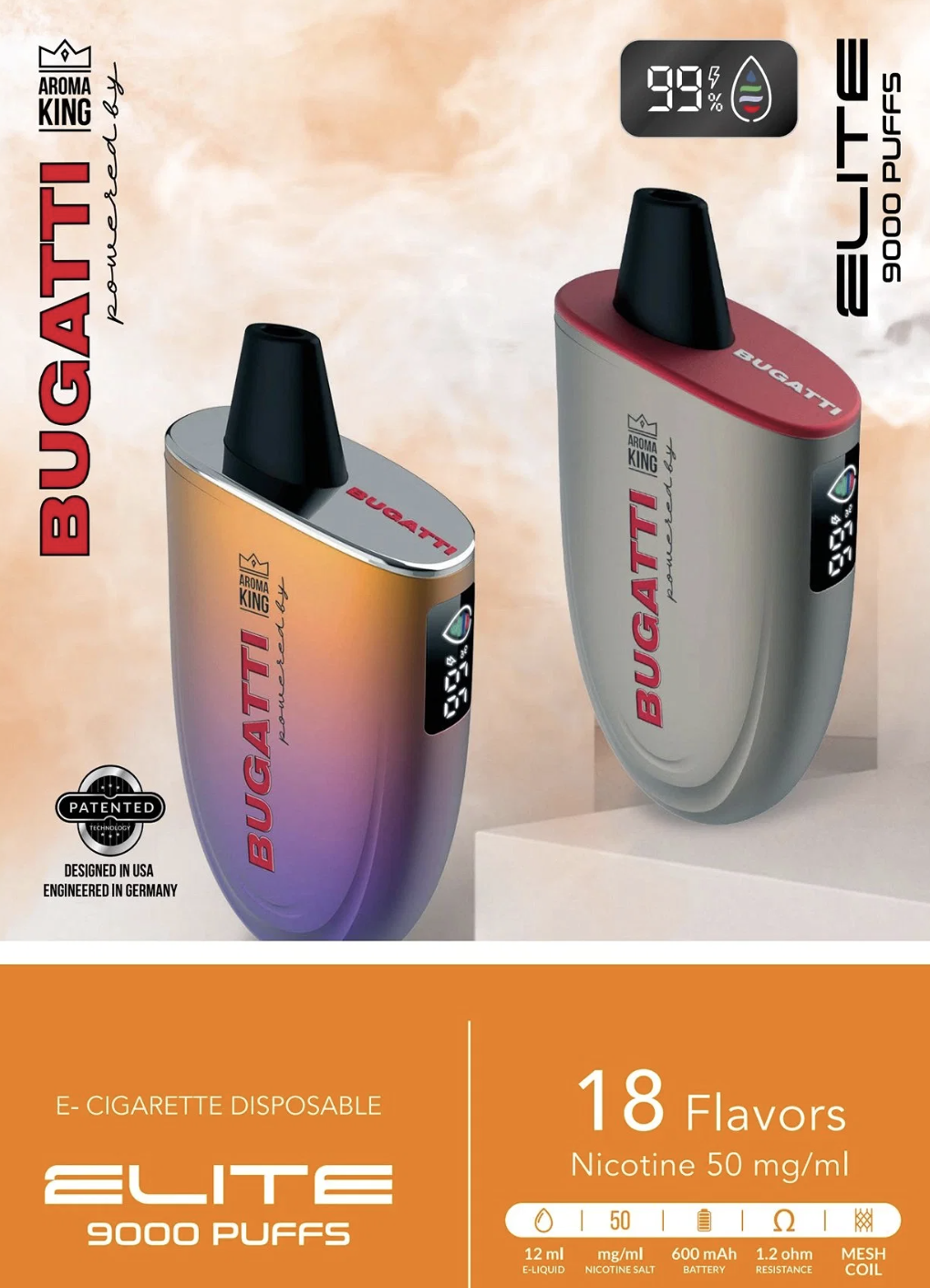 An Unassuming Ergonomic Marvel
Upon further inspection, you will note that the Bugatti Elite 9000 is not merely a powerhouse in longevity and flavor but also a paragon of ergonomic design. Its draw-activated operation expunges any complexities or learning curves, offering an uncomplicated experience to both novice and veteran vapers alike. The device rests comfortably between the fingers, with a sleek, minimalist aesthetic that is both discreet and stylish.
Advantages & Criticisms: A Balanced View
Pros:
Remarkable Endurance: With 9000 puffs and a hearty 600mAh battery, it stands as a marathon runner in the disposable vape arena.
Diverse Flavor Palette: With 18 diverse options, it appeals to a myriad of flavor preferences, ensuring there's something for everyone.
User-friendly Design: Draw-activated operation and USB Type-C charging ensure usability and convenience are paramount.
LCD Screen: A rare feature in disposables, offering clear visibility of puff count and battery life.
Cons:
Nicotine Strength Limitation: A singular option of 5% nicotine strength might deter vapers seeking a lighter or heavier nicotine hit.
Environmental Concern: The disposable nature of the product could raise eyebrows amongst environmentally conscious consumers.
Cost Factor: For budget-conscious vapers, investing in a disposable may be a hurdle given the often superior cost-effectiveness of refillable devices.
In closing, the Bugatti Elite 9000 manifests as a splendid embodiment of technological innovation, user convenience, and flavorful diversity within the vaping sphere. It has crafted a significant space for itself, striking a delicate balance between performance and pleasure, though with slight caveats in the realms of environmental impact and nicotine strength options.