Wavetec WAVE 8000 Disposable: A Vaping Revolution
In the ever-expanding market of vaping products, one brand stands out with innovation and excellence: Wavetec. Their latest product, the Wavetec WAVE 8000 Disposable, is taking the industry by storm, providing an unparalleled vaping experience designed to last. Let's dive into the details and closely examine what makes this product a must-have for vaping enthusiasts.
Elegance in a Puff: Wavetec WAVE 8000 Disposable
The Wavetec WAVE 8000 is more than just a disposable vape. It's a symbol of style, convenience, and quality. Here's why:
1. Longevity: 8000 Max Puffs
With 8000 max puffs, Wavetec WAVE 8000 outclasses its competitors. It ensures that you won't have to worry about running out in the middle of the day. Each puff is perfectly crafted, delivering a consistent and satisfying experience from the first to the 8000th.
2. Robust Nicotine Strength: 50mg (5%)
The Wavetec WAVE 8000 Disposable has a robust 50mg nicotine strength, catering to those seeking a more potent and intense experience. The 5% concentration ensures a satisfying nicotine hit without overwhelming the palate.
3. Generous Prefilled Capacity: 18mL
With a whopping 18mL of pre-filled 50mg nic salt, this vape promises to provide long-lasting enjoyment. The quality of the salt is top-notch, delivering a smooth and flavorful experience with every puff.
4. Powerful Battery: 650mAh
Equipped with a 650mAh rechargeable battery, the Wavetec WAVE 8000 guarantees a seamless vaping session without interruptions. The battery is designed to last, ensuring that you stay charged throughout the day.
5. Convenient Charging: USB Type-C
With a USB Type-C charging port, you don't have to worry about carrying around different cables. The Type-C charging ensures a fast and efficient charging process, getting you back to vaping in no time.
6. User-Friendly Operation: Draw-Activation
Draw-activation makes the Wavetec WAVE 8000 Disposable as easy to use as possible. Draw, and the device activates, providing a cloud of vapor that's just right. No buttons, no hassle, just pure enjoyment.
Flavors: A Symphony of Taste
Of course, the flavors truly set the Wavetec WAVE 8000 apart. Each flavor has been crafted precisely to provide a unique and tantalizing experience. Here's a description of some popular flavors:

1. Clear
The Clear option is a pure and uncomplicated choice for those who want to savor the basic essence of vaping. This flavor-free option provides the richness of the Wavetec WAVE 8000 without any specific taste. For purists who enjoy the unaltered, raw experience of vaping, Clear is the perfect choice, focusing solely on the sensation and not the flavor. It's simple, yet satisfying.
2. Kiwi Dragon Berry
Kiwi Dragon Berry is an exotic fusion of flavors that promises to take your taste buds on a tropical journey. The sweetness of kiwi blends with the mystical taste of dragon fruit and the tanginess of berries to create a unique experience. This flavor is perfect for those looking for something different and exciting, a true adventure in every puff.
3. Lush Ice
A refreshing blend of menthol and watermelon, Lush Ice provides a cool sensation coupled with a sweet taste. It's like a summer breeze in vape form. Ideal for those hot days when you need something to cool off, this flavor leaves a refreshing aftertaste that lingers, making every puff a pleasure.
4. Minty Ice
Minty Ice is for those who seek a refreshing and invigorating experience. The cool mint combines with an icy sensation to provide a vape that's as refreshing as a cold winter's day. If you're looking for something to awaken your senses and provide a clean, fresh feeling, Minty Ice is the perfect choice.
5. Peach Ice
Peach Ice offers a delicate blend of sweet peach with a cool, icy undertone. It's like enjoying a chilled peach on a warm summer day. The sweetness of the peach is balanced by the ice, providing a flavor that's both delicious and refreshing. It's a taste of summer in every puff.
6. Rainbow Snow Cone
Rainbow Snow Cone takes you back to childhood with its playful blend of fruity flavors. Imagine enjoying a colorful snow cone at a fair, with layers of different tastes that combine into one joyous experience. This flavor is a party in your mouth, fun, exciting, and utterly delightful.
7. Spearmint
Spearmint offers a clean and crisp taste that invigorates the palate. The fresh taste of spearmint leaves provides a natural and soothing experience. It's a classic flavor that never gets old, perfect for those who appreciate simplicity with a touch of elegance.
8. Strawberry Banana
Strawberry Banana is a timeless combination that offers the sweetness of strawberries with the creamy texture of bananas. It's like enjoying a fresh fruit smoothie. This flavor is perfect for those looking for something sweet yet balanced, a classic that never disappoints.
9. Strawberry Ice
Strawberry Ice combines the sweetness of ripe strawberries with a cool icy sensation. It's a refreshing twist on a beloved flavor, offering a familiar and exciting taste. Enjoy the taste of summer with a cool twist, a flavor that's both comforting and invigorating.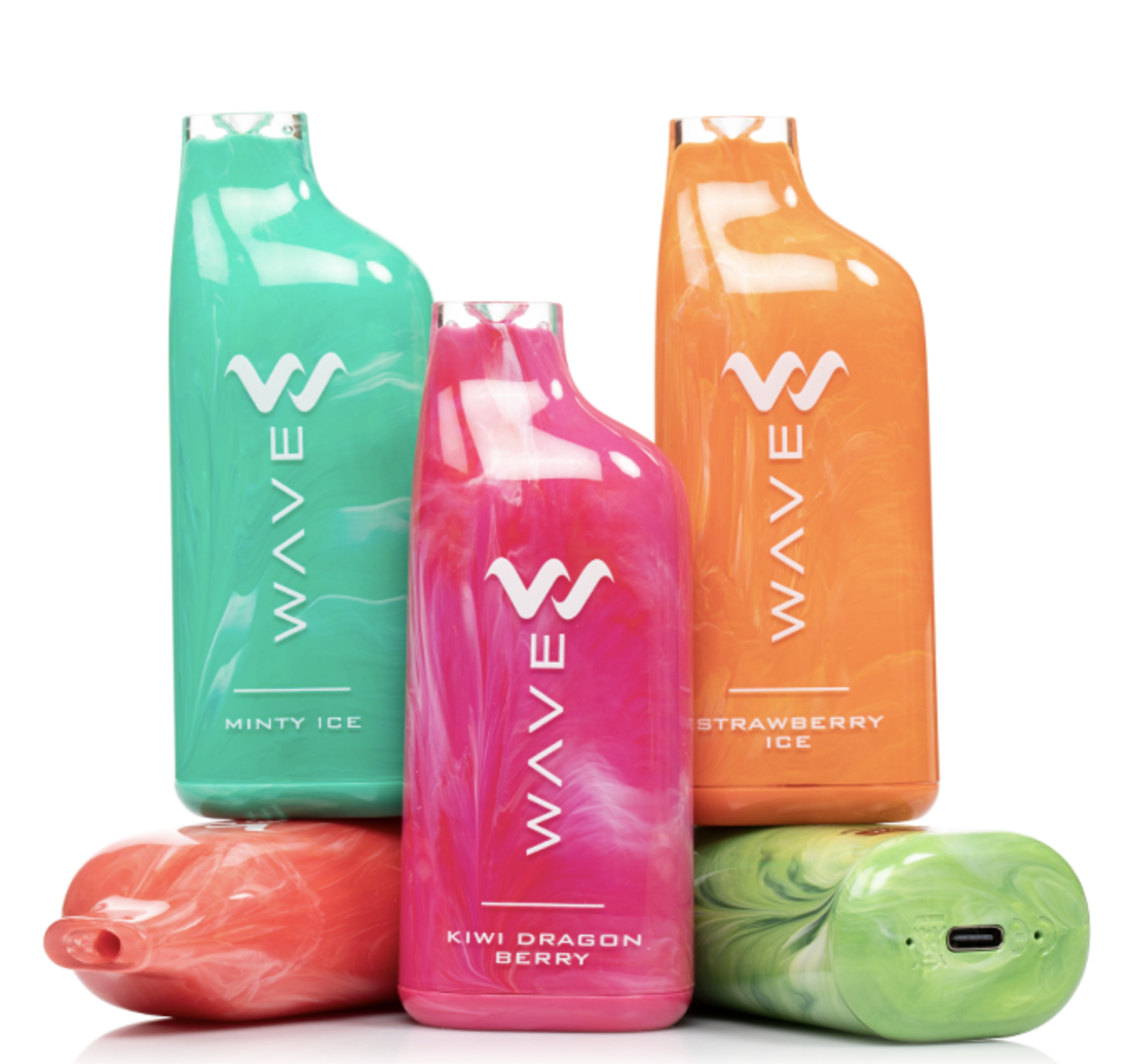 Conclusion
The Wavetec WAVE 8000 Disposable is not just another vape on the market; it's a statement of quality and innovation. From the powerful battery to the generous pre-filled capacity, every aspect has been carefully designed to cater to the needs of vaping enthusiasts.
Add in the convenience of USB Type-C charging and draw-activation, and you have a product that's not only functional but also elegant and user-friendly.
But it's the flavors that truly define this product. Crafted to perfection, each flavor is a unique journey, providing a vaping experience.
With the Wavetec WAVE 8000 Disposable, you're not just buying a disposable vape but investing in a quality experience that stands out in a crowded market. It's more than a product; it's a revolution in vaping.