The Ultimate Vaping Experience: A Review on SWFT ICON 7500 Disposable Vape
The vaping community has been thrilled with the introduction of the SWFT ICON 7500 Disposable Vape. Packing a punch with a gigantic 17mL prefilled capacity, this revolutionary device has been making waves in the industry, outperforming several competitors in numerous aspects. This blog post will break down all the fantastic features and flavors that this vape has to offer, elucidating why it is quickly becoming a favorite among vapers.
The SWFT ICON 7500 boasts an impressive 7500 puff count. That's right! This equates to weeks of usage for the average vaper before needing to toss it out. This longevity, coupled with its incredible convenience and draw-activated operation, makes it an ideal choice for vaping enthusiasts who crave a hassle-free experience.
The device offers an impressive 5% nicotine strength, providing users with a substantial kick that makes the vaping experience even more satisfying. This is a game-changer for nicotine lovers, making the SWFT ICON 7500 a must-try. With a nicotine content of 50mg, this disposable vape delivers a smooth and consistent hit, ensuring that every puff is as good as the last.
Not to forget, this vape device incorporates an advanced ceramic coil heating element. This innovation provides a more efficient heating process and significantly enhances the flavor experience. Also, this element substantially reduces the chance of dry hits and burnt taste, making your vaping sessions thoroughly enjoyable.
One standout feature of the SWFT ICON 7500 that deserves a mention is the integrated rechargeable battery. This ensures you never run out of power mid-puff, thus facilitating a seamless vaping journey. Additionally, the vape includes a Type-C charging port, an essential modern inclusion that allows for quicker and more efficient charging.
Another notable feature is the smart display screen, a rare find in disposable vapes. This screen allows users to monitor their vaping habits by displaying the number of puffs taken. Such an attribute significantly enhances the user experience by allowing vapers to be more conscious of their consumption.
Now, let's dive into the flavors! SWFT ICON 7500 doesn't disappoint in this area either. The vape comes with a variety of 20 distinct, mouth-watering flavors. Here is a closer look at a few: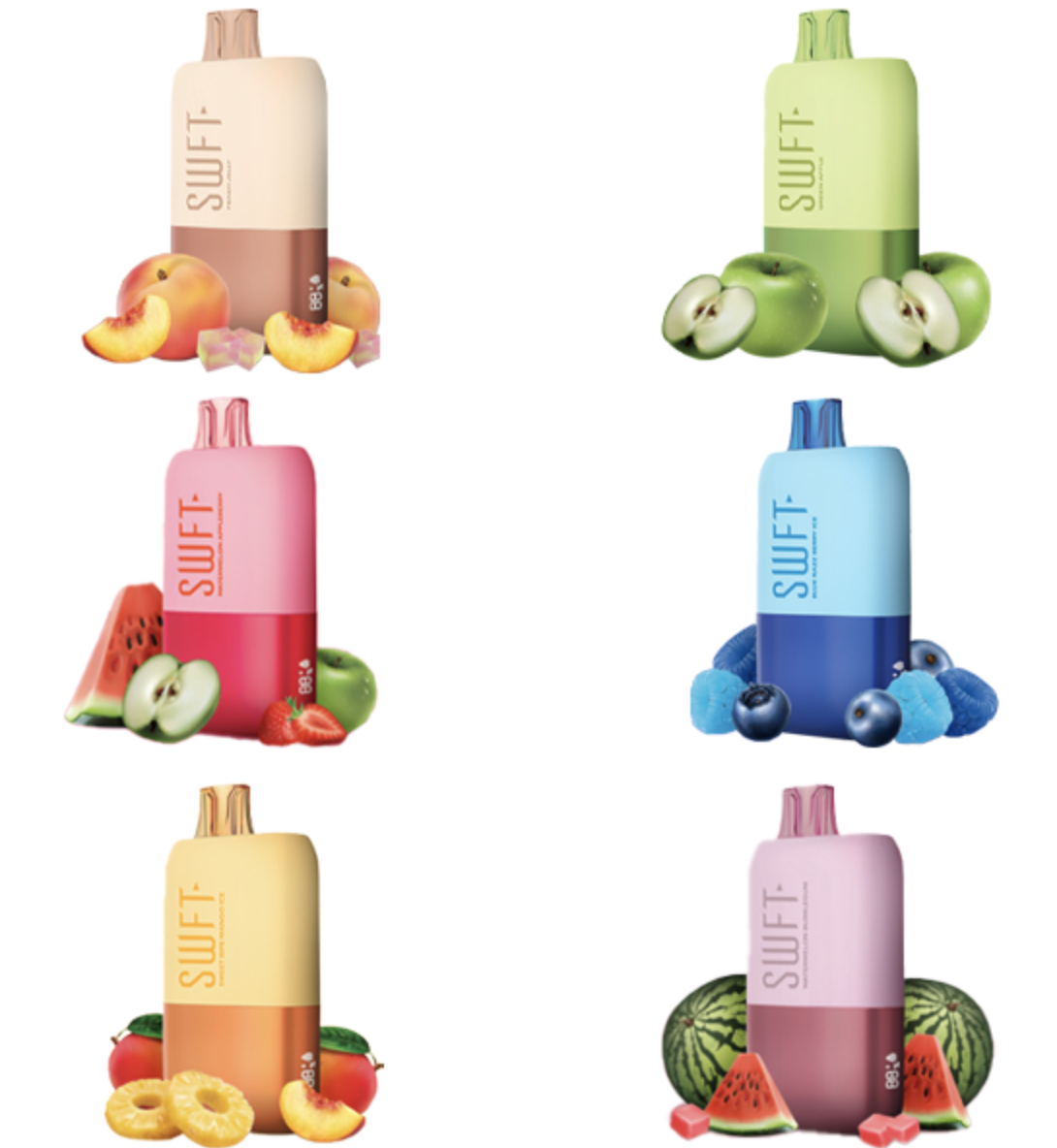 Apple Melon Ice: This flavor is a harmonious blend of crisp apples and juicy melons, topped with a refreshing ice kick. It transports your taste buds to a cool summer garden, delighting them with every puff.
Blue Cotton Candy: This whimsical flavor recreates the nostalgia of the fairground, taking you back to your childhood days. The sweet, airy taste of cotton candy melds perfectly with the subtle hint of blueberry, making every puff feel like a treat.
Blue Razz Berry Ice: This flavor bursts with the sweet yet tangy essence of blue raspberries, rounded off with a refreshing icy finish. It provides an invigorating vaping experience, ideal for fruit and menthol lovers.
Clear: This unflavored variant offers a pure, unadulterated vaping experience, highlighting the smoothness and consistency of the vape itself. It is perfect for vapers who appreciate simplicity and quality.
Coco Milkshake: This decadent flavor transports you to a tropical paradise with its blend of creamy coconut milkshake. It is a delightful treat for vapers with a sweet tooth.
Cool Mint: This flavor sends a cool, refreshing breeze through your taste buds. It captures the essence of fresh mint leaves, providing a soothing, invigorating vaping experience that leaves you feeling revitalized.
Lemon Mist Ice: This flavor strikes a perfect balance between the tangy zest of ripe lemons and the cooling sensation of menthol. It creates a refreshing vaping experience, leaving a pleasant citrusy aftertaste.
Peach Jelly: This is a delightful concoction of sweet, juicy peaches blended into a jelly-like consistency. It's a perfect pick for vapers who appreciate a burst of fruitiness with a hint of candied sweetness.
Rainbow Candy: This flavor is a nostalgic trip back to childhood, reminiscent of the colorful candies we loved. Each puff delivers a burst of different fruity notes, making for an exciting and unpredictable vaping experience.
Sour Apple: This flavor offers the perfect blend of sweet and tart. The crispness of green apples, coupled with a tinge of sourness, results in a thrilling sensory adventure.
Strawberry Milkshake: This flavor perfectly replicates the creamy, sweet essence of a fresh strawberry milkshake. Every puff feels like a heavenly sip of this classic dessert beverage.
Strawberry Roll Up: This flavor takes you on a trip down memory lane, replicating the taste of strawberry fruit roll-ups. It perfectly balances the sweet and tangy elements of the fruit, wrapped in a fun and familiar form.
Strawberry Watermelon Ice: This flavor offers a refreshing blend of ripe strawberries and juicy watermelon, capped off with a cooling icy finish. It's the perfect fruity vape for hot summer days.
Sweet Grape Ice: This flavor offers the luscious taste of sweet grapes with a frosty menthol kick. It's a delightful combination for those who enjoy the crisp taste of ripe grapes and the coolness of ice.
Sweet Ripe Mango Ice: This flavor embodies the taste of succulent, ripe mangoes with a cool, icy finish. It's an enticing tropical adventure, perfect for vapers who love the combination of sweet fruit and cool menthol.
Triple Berry: This flavor is a fantastic mix of three popular berries - strawberries, blueberries, and raspberries. It provides a delightful, fruity punch, giving you an authentic berry experience.
Tropical Blend: This flavor immerses you in a tropical paradise with a blend of exotic fruits. Each puff delivers a different note of tropical goodness, making for a unique vaping experience.
Watermelon Appleberry: This flavor delivers the perfect balance of juicy watermelon, crisp apples, and sweet berries. It's a fruity concoction that will have your taste buds dancing in delight.
Watermelon Bubblegum: This flavor pairs the freshness of watermelon with the sweet, nostalgic taste of bubblegum. It's a fun, unique flavor that leaves you wanting more with every puff.
White Gummy: This flavor captures the chewy, fruity taste of white gummy candy. It's an exciting flavor that brings a delightful sweetness to your vaping experience.
In conclusion, the SWFT ICON 7500 Disposable Vape is a spectacular piece of vaping technology that has brilliantly combined performance, convenience, and flavor. It's a testament to how far the vaping industry has come in offering top-tier, user-friendly products. Its diverse flavor range, coupled with its advanced features, ensures that there's something for every vaper, whether a beginner or a seasoned enthusiast. If you're in the market for a new disposable vape, the SWFT ICON 7500 is a must-try!