Spaceman PRO 10K Disposable Vape Review: A Leap Forward in Vaping Evolution

In the bustling cosmos of vaping, Spaceman PRO 10K is the latest shining star, promising a universe of flavors and functionality. This comprehensive review orbits around its features to help you navigate its world.
1. The Liquid Universe: 16mL Pre-Filled E-Liquid
At the heart of the Spaceman PRO 10K is its generous 16mL e-liquid chamber.
Stellar Capacity: Offering a greater volume means extended vaping sessions, which translates to convenience and longevity.
Taste Journey: A significant capacity needs quality e-liquid to match. With every puff, users embark on a flavorful voyage, testament to the premium e-liquid housed within.
2. A Galactic Hit: 5% (50mg) Nicotine Strength
The Spaceman PRO 10K offers a robust nicotine concentration.
Deep Impact: The 5% strength assures a substantial throat hit, ideal for those transitioning from smoking or vapers who crave a profound nicotine experience.
Interstellar Satisfaction: It's perfectly calibrated for users desiring short yet potent vaping sessions.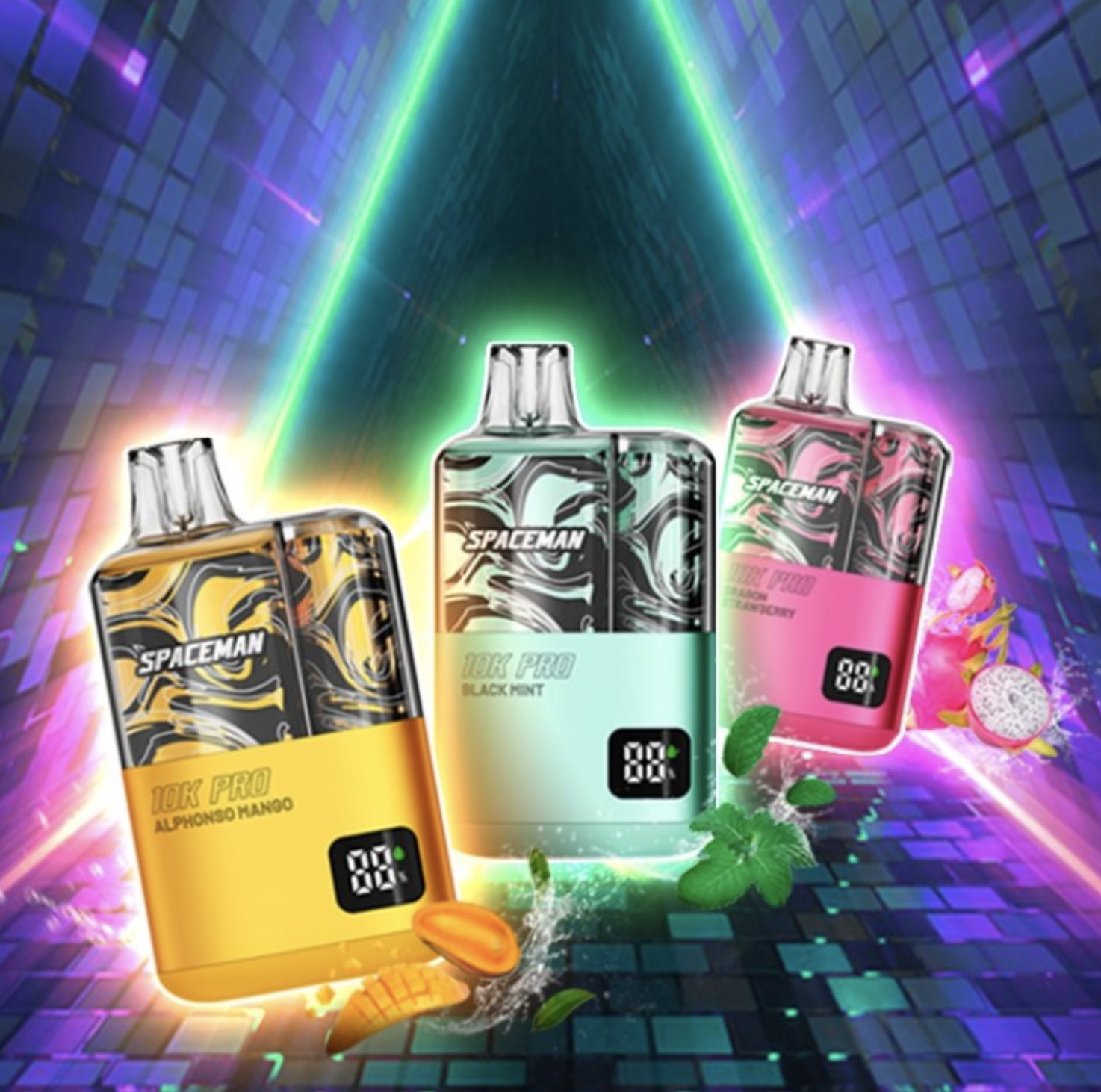 3. Powering the Voyage: 800mAh Type-C Rechargeable Battery
This feature sets the Spaceman PRO 10K light-years ahead.
Faster Than Light Charging: The Type-C ensures rapid recharge times. It's futuristic, efficient, and ensures you're never left stranded.
Endurance: The 800mAh battery is a powerhouse, promising consistent performance until the last puff.
4. Stellar Longevity: Approximately 10,000 Puffs
This is the Spaceman's flagship promise.
Extended Space Travel: Offering up to 10,000 puffs, this vape ensures its users a lasting journey, reducing the frequency of device replacements.
Eco-conscious: Fewer replacements mean a reduced carbon footprint, appealing to the environmentally savvy vaper.
5. Galactic Flavor Delivery: 0.7Ω Meshed Coil
This is where technology and taste intertwine.
Consistent Flavor: The meshed coil ensures each puff is bursting with flavor, offering a consistent experience.
Tech meets Taste: The choice of a 0.7Ω resistance strikes a balance between flavor delivery and cloud production.
6. Journeying Through Vaping Galaxies: Adjustable Airflow
A feature that amplifies user experience.
Tailored Travel: Whether it's the tighter draw of MTL (Mouth-to-Lung) or the breezier RDL (Restricted Direct Lung) vaping, the adjustable airflow ensures a journey tailored to individual preferences.
Smooth Navigation: The switch is user-friendly, allowing vapers to shift between MTL & RDL seamlessly.
7. SMART Screen: Stargazing at your Fingertips
A futuristic touch that's both functional and flashy.
Galactic Guide: This screen keeps users updated about the e-liquid and battery status, ensuring they're always informed.
Sleek and Informative: While it adds a touch of modernity, its primary purpose is to enhance the user's vaping voyage, ensuring no unexpected stops.
8. Safety Features: Traveling Through Space Safely
Spaceman PRO 10K doesn't just prioritize pleasure; safety is key.
Overtime Protection: This ensures the device doesn't overwork, extending its lifespan.
Guarded Galaxy: With short circuit protection, users are safeguarded against potential electrical mishaps.
Preemptive Protection: The low battery warning is a thoughtful addition, ensuring users are never caught off guard.
9. Comparison with Interstellar Contemporaries
When placed against its counterparts, the Spaceman PRO 10K shines.
Value Proposition: Offering up to 10,000 puffs, combined with its plethora of features, it's not just a product but an investment.
Leading the Fleet: Few disposables offer such a harmonious blend of longevity, technology, and safety. The Spaceman PRO 10K is not just following interstellar trends; it's setting them.
10. Conclusion: A Journey Worth Embarking On
In the vast universe of disposable vapes, the Spaceman PRO 10K is a supernova. From its expansive e-liquid chamber to its safety features, every detail has been meticulously crafted.
For vapers looking for a device that promises an experience as vast and exciting as space itself, the Spaceman PRO 10K is the perfect vessel. It's not just a vape; it's a journey through the galaxies of flavor, technology, and satisfaction. Strap in and get ready for a vaping voyage like no other.