Introducing the Snowwolf Easy Smart EA9000 Disposable Vape: The Ultimate Vaping Experience
Enter the world of vaping like never before with the Snowwolf Easy Smart EA9000 Disposable. Designed to cater to both seasoned vapers and newcomers alike, this device offers a 12.5mL prefilled capacity, 5% nicotine strength, and a remarkable 9000 puffs of unadulterated flavor.
Exceptional Features for Unparalleled Enjoyment
Snowwolf Easy Smart EA9000 Disposable boasts a set of features that set it apart from other disposables in the market:
Prefilled Capacity: With a generous 12.5mL tank, it offers ample e-liquid to keep you vaping for extended periods without needing a refill.
Battery Capacity: The 650mAh battery is robust and dependable, ensuring that you don't run out of power in the middle of your vaping session.
Max Puffs: 9000 puffs are at your disposal, guaranteeing satisfaction for days or even weeks.
Nicotine Strength: The 5% (50mg) nicotine strength offers a satisfying hit that caters to a wide range of preferences.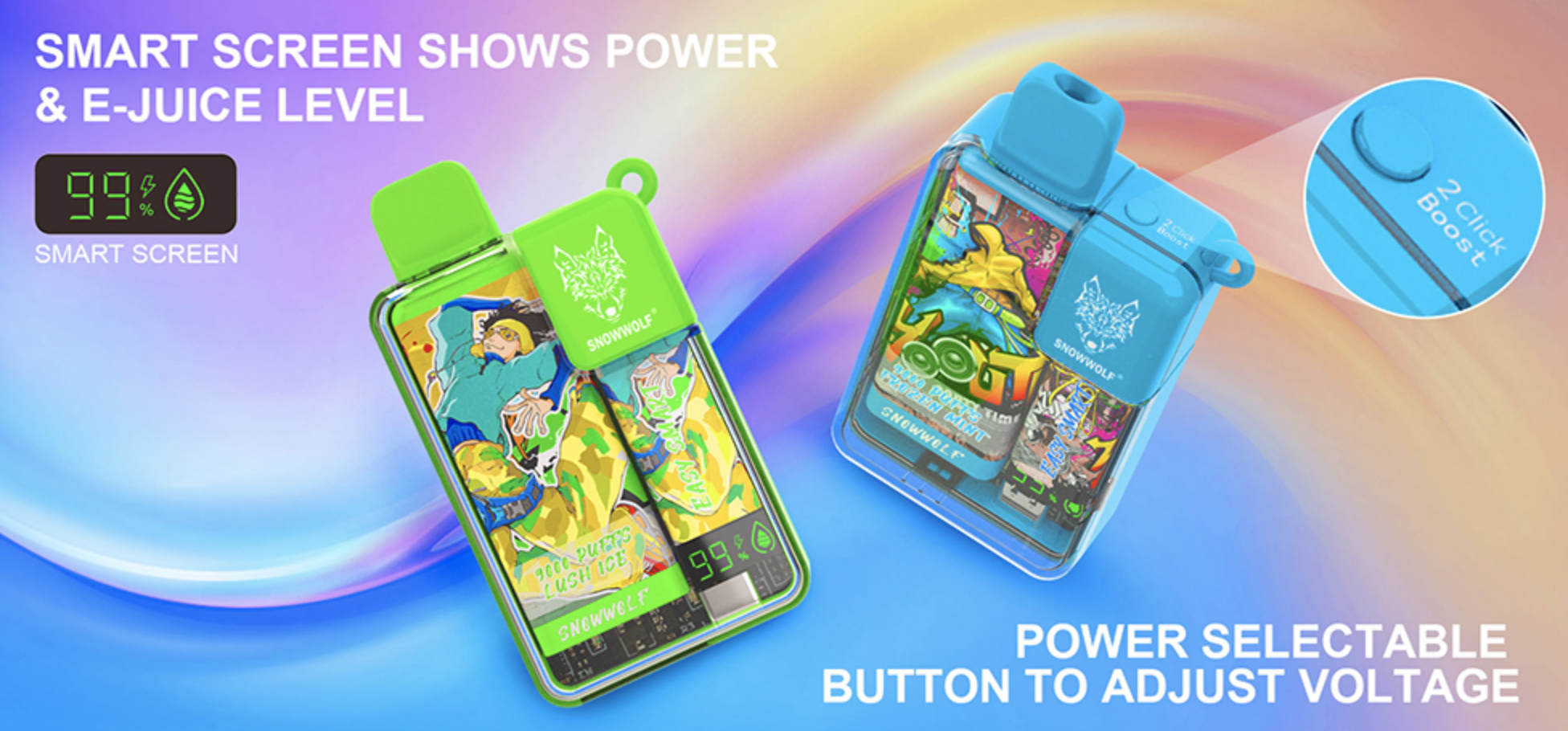 Advanced Technology
The Snowwolf Easy Smart EA9000 doesn't stop at basics; it also offers cutting-edge features like:
Operation: Draw-activated, the device is simple to use, requiring no button pressing or complicated settings.
Heating Element: Utilizing a 1.0ohm mesh coil, it operates between 10.5-16W, ensuring consistent flavor and vapor production.
Smart Display Screen: Keeping track of your device's status is effortless with the smart display screen.
Boost Button: Looking for an extra kick? The Boost Button lets you elevate your vaping experience with ease.
Lanyard Attachment Point: Keep your device handy and secure with the built-in lanyard attachment point.
Charging Simplified
With the inclusion of a Type-C Port, charging the Snowwolf Easy Smart EA9000 is both fast and straightforward, allowing you more time to enjoy your chosen flavors.
A Symphony of Flavors
A wide array of flavor options ensures that every taste bud is catered for:
Blue Cotton Candy
Blue Razz Ice
Cherry Lemon
Double Apple
Frozen Mint
Grape Ice
Gummy Bear
Lush Ice
Strawberry Banana Ice
Strawberry Melon Ice
Strawberry Watermelon
Watermelon Kiwi Berry
Whether you prefer fruity freshness or a cool icy blast, the Snowwolf Easy Smart EA9000 has got you covered.
Conclusion
The Snowwolf Easy Smart EA9000 Disposable is more than just a vaping device; it's a statement of quality and innovation. Its unique features like the Boost Button and lanyard attachment point add extra layers of convenience, making it a standout choice for anyone seeking a superior vaping experience.
The robust battery, substantial puff count, and extensive flavor options make this an ideal option for both the veteran vaper and those just beginning their vaping journey. With the Snowwolf Easy Smart EA9000, satisfaction is just a puff away. Explore the unmatched pleasure and technology of this incredible device today and elevate your vaping to new heights!