Snoopy Smoke Extra Tank 2 Disposable Vape Review:
The world of vaping is one that is constantly evolving, with new and innovative products continuously emerging in the market. However, not all manage to make a lasting impression. The Snoopy Smoke Extra Tank 2 Disposable is one of those exceptional exceptions. This device, offering an outstanding 18mL x 2 prefilled capacity, 5% nicotine strength, and up to 15000 puffs of flavor, is without a doubt a game-changer in the realm of disposable vape pens.
Unraveling the Features
Upon first glance, the Snoopy Smoke Extra Tank 2 Disposable impresses with its sleek design. Its subtlety is its strength, and it slips into your pocket as smoothly as the vapor that it produces. However, the real power of this device lies in its features, which are as impressive as they are abundant.
The prefilled capacity of 18mL x 2 ensures that your vaping sessions are uninterrupted. With such a colossal quantity of vape juice, you can puff away without worrying about refills. The 650mAh battery capacity further adds to its overall effectiveness, ensuring a long-lasting vaping experience.
The device delivers up to 15000 puffs, which is a staggering figure in comparison to many other disposable vapes on the market. This longevity guarantees that the Snoopy Smoke Extra Tank 2 Disposable will be by your side for an extended period.
The nicotine strength stands at 5%, providing a satisfying throat hit. It's an excellent choice for both experienced vapers and those transitioning from traditional smoking, looking for a similar level of nicotine as a pack of cigarettes.
The draw-activated operation is incredibly intuitive, offering a hassle-free vaping experience. It allows for an immediate response and eliminates the need for complex settings. Additionally, the mesh coil heating element provides an even, smooth, and consistent flavor distribution.
Last but not least, the inclusion of a Type-C charging port is a welcome addition. It ensures fast charging and enhances the overall convenience of this disposable vape.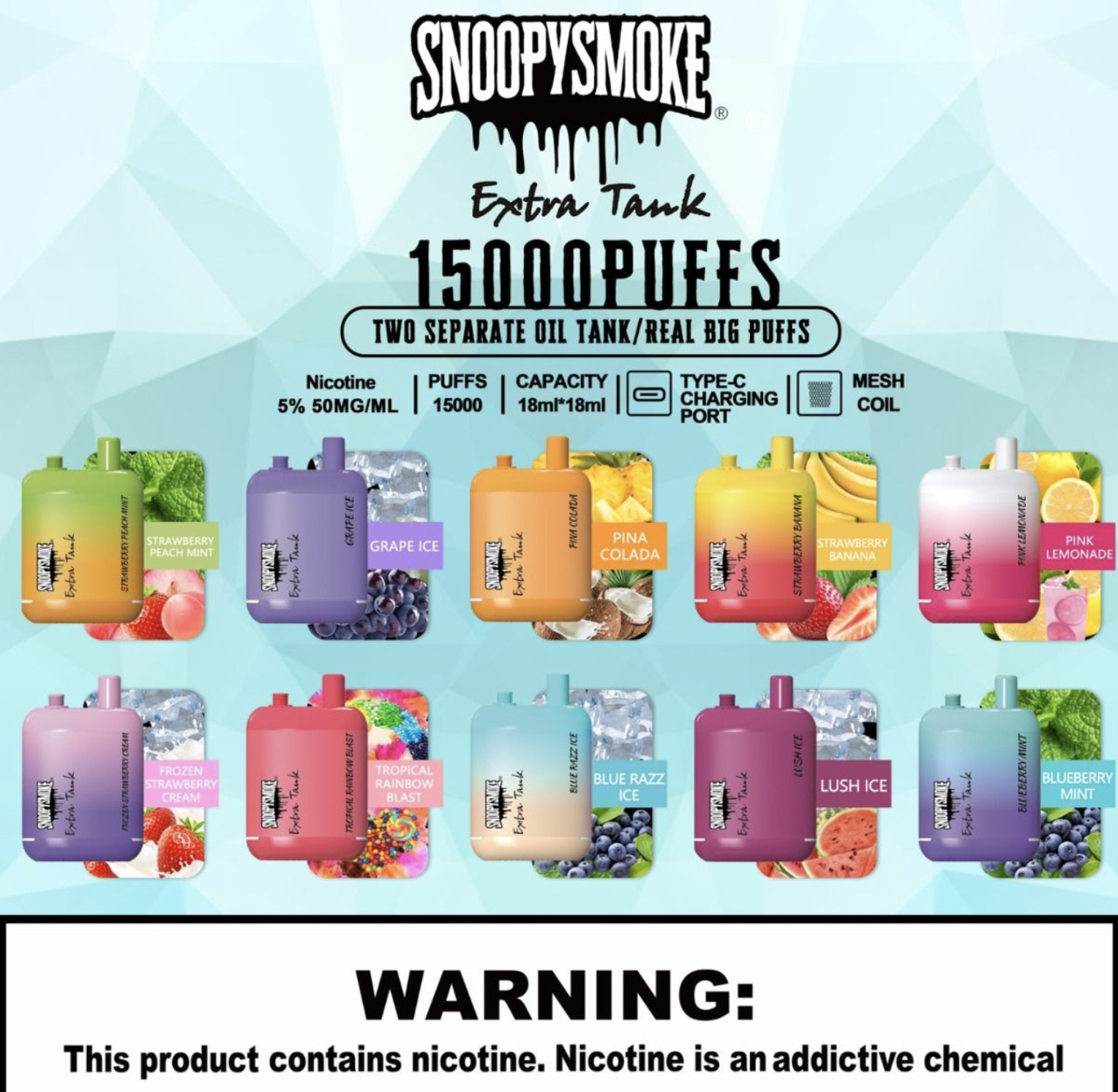 Flavor Journey with Snoopy Smoke Extra Tank 2
The Snoopy Smoke Extra Tank 2 Disposable offers an exquisite array of 20 flavors, each promising a unique vaping journey. Let's take a trip through each of them:
Bahama Mama: A vibrant tropical mix that transports you to the sunny shores of the Bahamas. The fusion of orange, pineapple, and coconut flavors creates a delightful cocktail that dances on your palate.
Black Ice: An invigorating blend of blackcurrant with a refreshing icy finish. The dark, sweet berry flavor is complemented beautifully by the cool menthol aftertaste.
Blue Razz Ice: This flavor combines the sweetness of blue raspberry with the chill of icy menthol. The balance is impeccable, providing a rush of tangy sweetness followed by a cooling sensation.
Blueberry Mint: The sweet and tangy taste of blueberries is coupled with the fresh kick of mint, offering a refreshing and invigorating flavor profile.
Blueberry Raspberry: This combines the unique flavors of sweet blueberries and tart raspberries, resulting in a perfect blend of sweet, tangy, and slightly tart notes.
Colombian Coffee: This flavor captures the rich and robust notes of authentic Colombian coffee. Each puff provides a satisfyingly strong and slightly sweet coffee hit.
Energy Drink: An exhilarating, tangy flavor that mirrors your favorite energy drink. It's a unique blend that delivers a satisfying burst of energy in every puff.
Frozen Strawberry Cream: A delightful mix of ripe strawberries, smooth cream, and a refreshing icy finish. This combination offers a creamy, fruity, and chilled vaping experience.
Grape Ice: The bold, sweet taste of grapes is paired with an icy chill for a refreshing and fruity vaping session. The sweet grape inhales and cool menthol exhale makes for a perfect pair.
Kool Mint: A flavor that offers a refreshing burst of pure mint. Every puff delivers a cool, crisp, and clean vaping experience.
Lush Ice: A fusion of sweet watermelon and icy menthol. The refreshing watermelon flavor is perfectly balanced with a cool menthol exhale.
Pina Colada: This tropical flavor combines the creamy taste of coconut with the sweet and tart notes of pineapple. It's like a beach vacation in every puff.
Pink Lemonade: A delicious blend of tart lemons and sweet red berries. This flavor offers a balance of sweet and tangy notes, reminiscent of a cool glass of pink lemonade.
Strawberry Banana: A classic combo that captures the sweetness of ripe bananas and the slightly tart notes of strawberries. The result is a creamy, smooth, and fruity flavor.
Strawberry Ice: A perfect blend of sweet strawberries and cool menthol. The fruity sweetness of the strawberry is complemented by a refreshing icy exhale.
Strawberry Kiwi: This combines the sweet notes of ripe strawberries with the tangy edge of kiwi. It's a sweet and tangy blend that is perfectly balanced.
Strawberry Peach Mint: A delightful mix of juicy strawberries, sweet peaches, and fresh mint. This offers a perfect blend of fruity sweetness and a refreshing minty finish.
Triple Berry Ice: A mix of three berry flavors - raspberry, strawberry, and blueberry, followed by a menthol kick. This combination offers a sweet, tart, and icy vaping experience.
Tropical Rainbow Blast: A vibrant mix of tropical fruits that offers a sweet, tangy, and slightly tart flavor profile. It's a rainbow of flavors in every puff.
Watermelon Ice: A refreshing blend of sweet watermelon and icy menthol. This flavor delivers a perfectly balanced sweet and cool vaping experience.
The Snoopy Smoke Extra Tank 2 Disposable offers an unprecedented vaping experience, thanks to its unique features and a wide range of flavors. Whether you're a seasoned vaper or a beginner, this disposable vape pen is definitely worth giving a try. A sensory journey awaits with every puff. So why wait? It's time to find your favorite flavor and join the Snoopy Smoke revolution.