Sili Ripe 6000 Disposable Vape Review: The Perfect Fusion of Power and Flavor
Introducing the Sili Ripe 6000 Disposable Vape, an incredible fusion of power and flavor that offers an unmatched vaping experience. With its unique set of features and irresistible flavor options, it's a gadget that should top your list if you're searching for the ultimate vape experience.
Starting off, the Sili Ripe 6000 is more than generous with its eJuice prefill capacity. Holding 16mL of vape juice, it stands out among its counterparts, promising longer-lasting enjoyment without the need for frequent refills.
Notably, this disposable vape houses a powerful 600mAh battery to ensure that your vaping sessions are uninterrupted and smooth. It's a vape that delivers up to a whopping 6000 puffs, providing unparalleled satisfaction to both beginners and seasoned vapers alike. With a nicotine strength of 5% (50mg), each puff is a robust experience.
The Sili Ripe 6000 offers a seamless vaping process with its draw-activated operation. Simply inhale to activate the device and enjoy the burst of flavor. This feature, combined with its mesh coil heating element, guarantees an even and flavorful hit each time.
A standout feature of the Sili Ripe 6000 is its Turbo Boost Button, an innovation that lets you intensify your vaping sessions with just a push of a button. And, in case you need a recharge, it's equipped with a Type-C port for quick and efficient charging.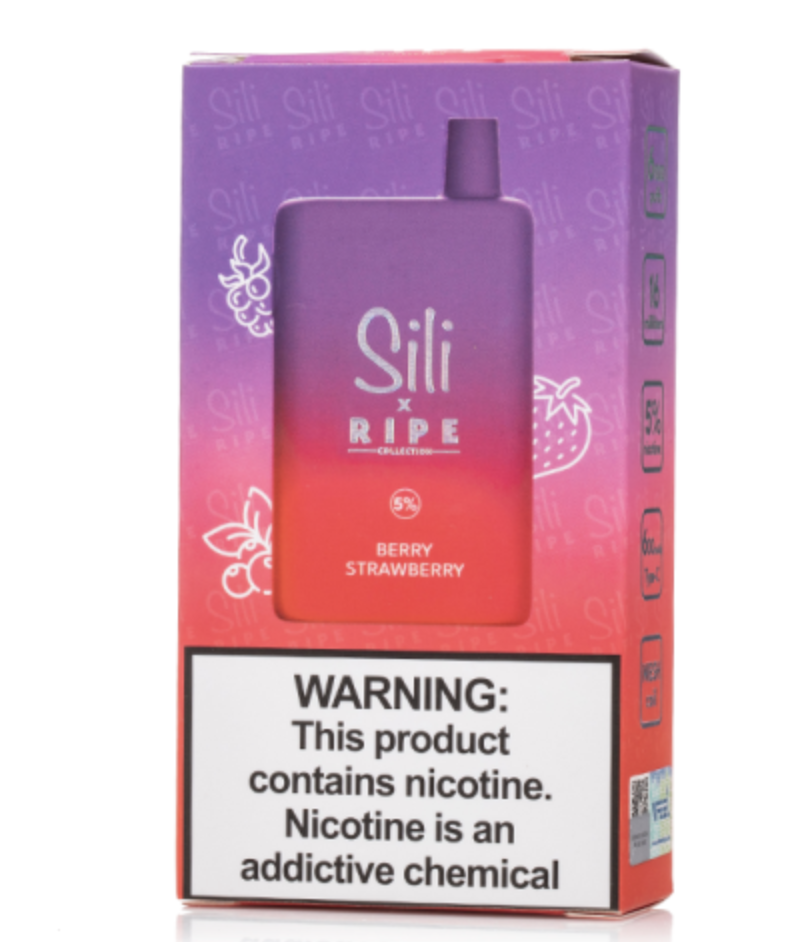 Its exterior is covered in silicone, providing a comfortable grip and added protection to the device. This combination of practicality and style is another reason why the Sili Ripe 6000 stands out.
Now, let's delve into the incredible flavor options the Sili Ripe 6000 offers:
Banana Berry Smoothie gives you a blend of sweet bananas and tangy berries, akin to sipping a fresh smoothie on a sunny afternoon.
Berry Strawberry serves up the classic sweetness of ripe strawberries with a subtle berry undertone, resulting in a vaping experience that is simply irresistible.
Kiwi Dragon Berry is a perfect blend of tangy kiwis and the exotic sweetness of dragon fruit, laced with the subtle sourness of berries, providing a unique and exciting vaping experience.
Melon Burst is a refreshing burst of juicy melons, giving a truly refreshing vape that's perfect for hot summer days.
Paradise Punch is a tantalizing blend of tropical fruits, offering a vaping experience that's just like sipping on a fruity cocktail at a beachside resort.
Lastly, Vanilla Creme is the perfect blend of sweet vanilla and rich cream, making it an excellent choice for those with a sweet tooth.
In summary, the Sili Ripe 6000 Disposable Vape is a cutting-edge vaping device that combines superior performance with tantalizing flavors. It's not just about the power; it's also about the journey of flavors. Choose Sili Ripe 6000, and take your vaping experience to new heights.