Introducing the Sigelei Smart AC10000 Disposable Vape: A Revolution in Vaping


The Sigelei Smart AC10000 Disposable has arrived, and it's setting a new benchmark in the world of vaping devices. Offering a staggering 20mL prefilled capacity and delivering an astonishing 10,000 puffs, this device is designed for those who are looking for quality, convenience, and style all in one sleek package.
Unmatched Capacity and Performance
With its prefilled capacity of 20mL and 5% nicotine strength, the Sigelei Smart AC10000 Disposable ensures that you can enjoy your favorite flavors without the hassle of constant refilling. Here's a closer look at some of its standout features:
Prefilled Capacity: The 20mL tank ensures that you have enough e-liquid to last you a while, allowing for a worry-free vaping experience.
Battery Capacity: Powered by a 650mAh battery, the device guarantees long-lasting performance without frequent charging.
Max Puffs: The extraordinary 10,000 puffs are sure to satisfy even the most demanding vape enthusiasts.
Nicotine Strength: With 5% (50mg) nicotine strength, this device offers a satisfying hit tailored to both new and seasoned vapers.
Draw-Activated Simplicity
Sigelei has emphasized ease of use in the design of this device. The draw-activated mechanism means no buttons, no complications; just pure vaping pleasure. Simply draw on the device, and the 1.0ohm mesh coil heats up, delivering a smooth and flavorful vapor.
Cutting-Edge Design
The Smart AC10000 isn't just about performance; it also incorporates modern aesthetics with its smart display screen. This elegant feature adds an element of sophistication and allows you to keep track of important device information with ease.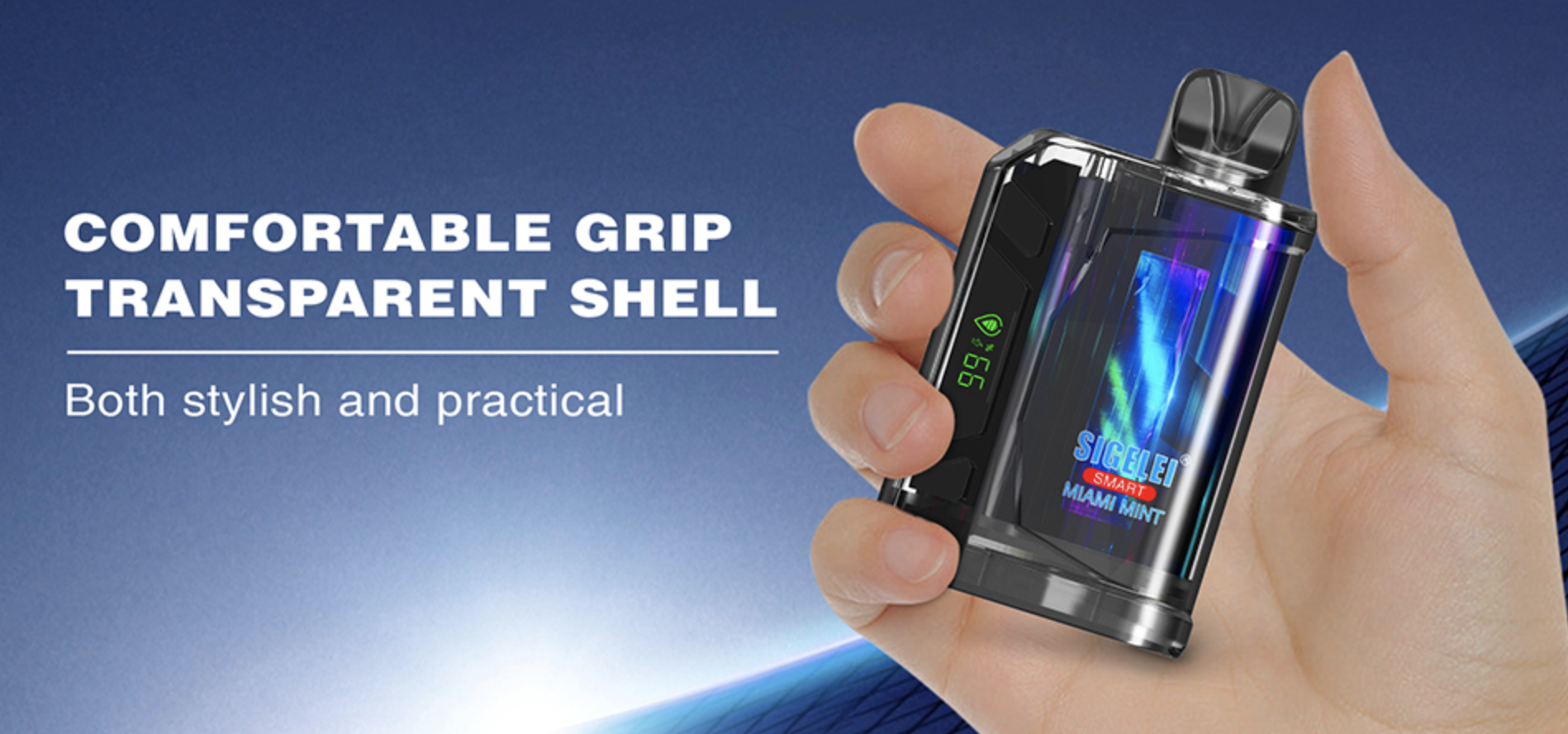 Charging Made Easy
Equipped with a Type-C Port, charging the Sigelei Smart AC10000 Disposable is a breeze. This ensures that you can quickly replenish your device's battery and get back to enjoying your favorite flavors.
Flavor Adventure
Speaking of flavors, the Sigelei Smart AC10000 Disposable offers an extensive array of tantalizing options, including:
Blue Razz Ice
Blueberry Raspberry Lemon
Grape
Juicy Peach
Kiwi Passion Fruit Guava
Miami Mint
Pineapple Apple Pear
Pineapple Lemon
Pink Melon Ice
Sour Apple
Tropical Fruit
Watermelon
Whether you prefer fruity notes or a refreshing icy sensation, there's something to cater to every palate.
Conclusion
The Sigelei Smart AC10000 Disposable represents a significant step forward in the vaping industry. With its generous capacity, sleek design, and exciting flavor options, it stands out as a must-have for anyone looking to enjoy a premium vaping experience without any of the fuss.
This device brings together style, functionality, and convenience in a way that's truly remarkable. If you're looking for a new vaping companion that won't let you down, the Sigelei Smart AC10000 Disposable is well worth considering. Whether you're a vaping novice or a seasoned enthusiast, the wide array of features and flavors ensure that this is a device designed to please all. Explore the incredible world of Sigelei and discover the future of vaping today!