RAZ TN9000 Vape Disposable: The Future of Vaping Unveiled

RAZ TN9000 Review:
The vaping community is abuzz with the latest entrant into the market - the RAZ TN9000 Vape Disposable. With the numerous vape devices available, it's rare to find one that genuinely stands out and promises an unparalleled experience. After an in-depth hands-on experience, we are thrilled to present a comprehensive review of the RAZ TN9000.

Unboxing and First Impressions
As we unboxed the RAZ TN9000, the device's sleek design immediately caught our attention. This isn't just a vape; it's a powerful statement of style and innovation. The build quality feels premium, hinting at the superior craftsmanship that went into its creation.
The Liquid Gold - Flavors
Before diving into the technical details, let's discuss the essence of vaping – the flavors. We had the pleasure of sampling a variety of flavor options:
Strawberry Ice: A harmonious blend of sun-ripened strawberry with an icy finish.
Blue Raz Ice: An electrifying mix of sweet and tart blue raspberry, crowned with a touch of frost.
Triple Berry Ice: A symphony of berries offering a delightful ensemble of sweet, tart, and cool.
and More...
Each puff from these flavors delivers a consistent profile, testifying to the quality of the e-liquid used. The 12mL pre-filled capacity ensures a long-lasting vaping journey without frequent refills.
Power & Performance
Powered by a robust 650mAh battery, the TN9000 promises longevity. During our test, with moderate use, the device lasted for several days, a feat not commonly seen in disposables. Additionally, the inclusion of a Type-C fast-charging port indicates the brand's forward-thinking approach.
With an approximate 9000 puff count, this device is designed for both casual and heavy vapers. Whether you're out on a weekend getaway or navigating through a hectic workday, the TN9000 is your reliable ally.
Crystal Clear Interface
The 0.96" HD display is a game-changer. Most disposables on the market lack a screen, let alone an HD one. The display offers crystal-clear visuals of essential metrics like battery life and e-liquid level. With this user-friendly interface, the days of guesswork are long gone.
Animated displays for vaping and charging are not just functional but add a flair of sophistication. The animations are smooth, ensuring that the device exudes class in every aspect.
Safety & Adjustability
Safety features, especially in vaping devices, are crucial. RAZ ensures users are shielded from common issues like short circuits and overcharging with the TN9000. The adjustable airflow system stands out, offering customization that is often missing in disposable vapes. Whether you prefer a tight draw or a more open pull, this device has you covered.
The mesh coil technology guarantees an optimal flavor experience. Every drop of the e-liquid undergoes efficient vaporization, ensuring users enjoy the full spectrum of their chosen flavor.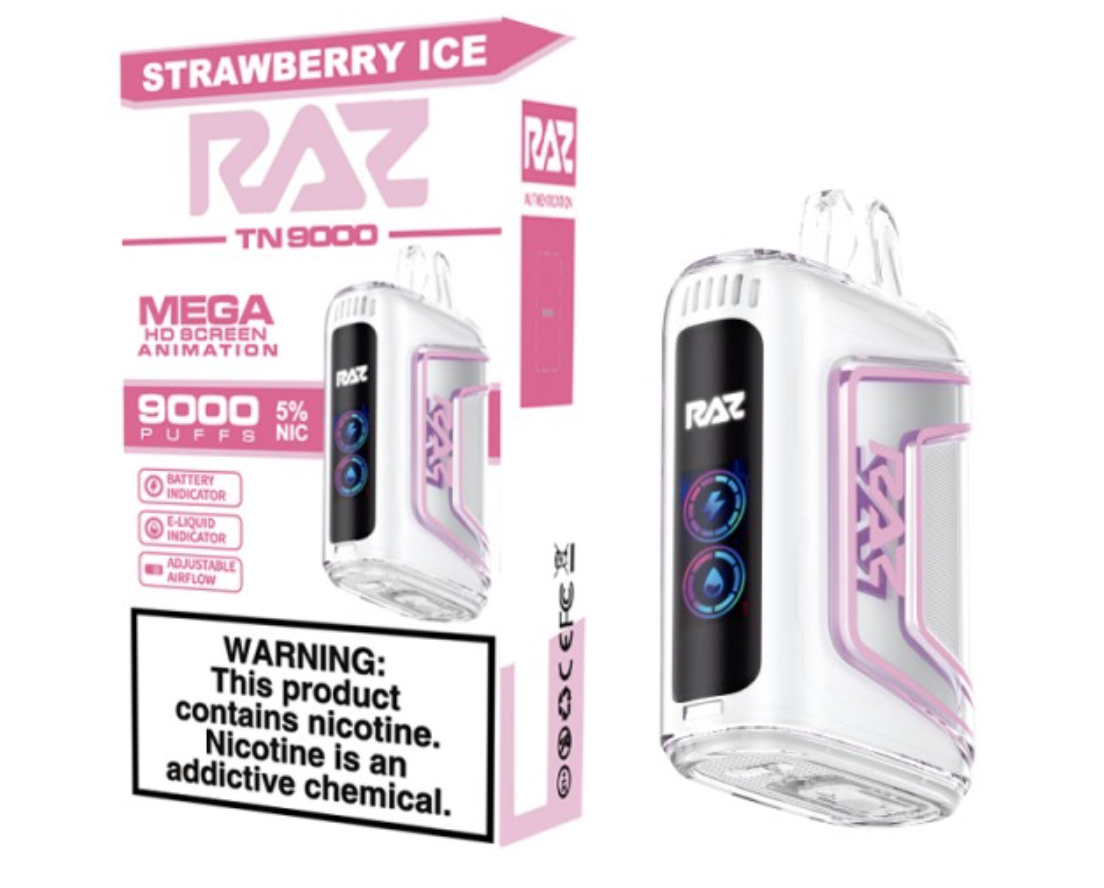 Flavor Highlights
Given the range of flavors available, we thought it'd be apt to delve deeper into a few of them:
Dragon Fruit Lemonade: This flavor offers a journey from Asia's tropical terrains to classic Western summers. The exotic taste of dragon fruit melds seamlessly with zesty lemonade, making every puff a unique experience.
Cactus Jack: Succulent, slightly tangy, and undeniably unforgettable. It's a testament to RAZ's commitment to offering flavors that are both premium and out-of-the-box.
Miami Mint: A refreshing burst of mint that transports you straight to Miami's sun-soaked beaches. Every puff is an invigorating sensation.
Final Verdict
The RAZ TN9000 Vape Disposable is more than just another vaping device on the market. It's a culmination of advanced technology, unparalleled performance, and a meticulous attention to detail.
Pros:
Diverse and high-quality flavor profiles.
Long battery life with quick charging.
User-friendly interface with an HD display.
Extensive safety features.
Cons:
Some might find the vast range of flavors overwhelming initially.
Would we recommend the RAZ TN9000? Without a doubt. This device offers a premium vaping experience that both novices and aficionados will appreciate. If you're on the lookout for a disposable vape that combines style, performance, and safety, the RAZ TN9000 should be at the top of your list.