Review Rab Beats 10000 puffs. Specs, Flavors, Price!


The vaping industry, much like any other tech-oriented field, is one that never remains stagnant. Every year, we see a slew of innovative products hitting the market, each promising to redefine our vaping experience. Among this plethora of choices, few manage to truly stand out, and fewer still redefine the game. Enter the Rab Beats RC10000 Disposable Vape.
The First Impression
Unboxing the Rab Beats RC10000 is akin to opening a gift you've been eagerly waiting for. Its sleek design immediately captures attention. But this vape is not all about aesthetics. The real beauty lies in its functionality and features, which promise—and deliver—a vaping experience like never before.
13mL of Pure Bliss
One of the standout features is the generous 13mL pre-filled e-liquid reservoir. It's not often that we come across a disposable vape that offers such a vast amount of e-liquid. This means extended vaping sessions and fewer interruptions. Whether you're traveling, attending a festival, or simply chilling at home, the RC10000 ensures that you're set for a considerable amount of time.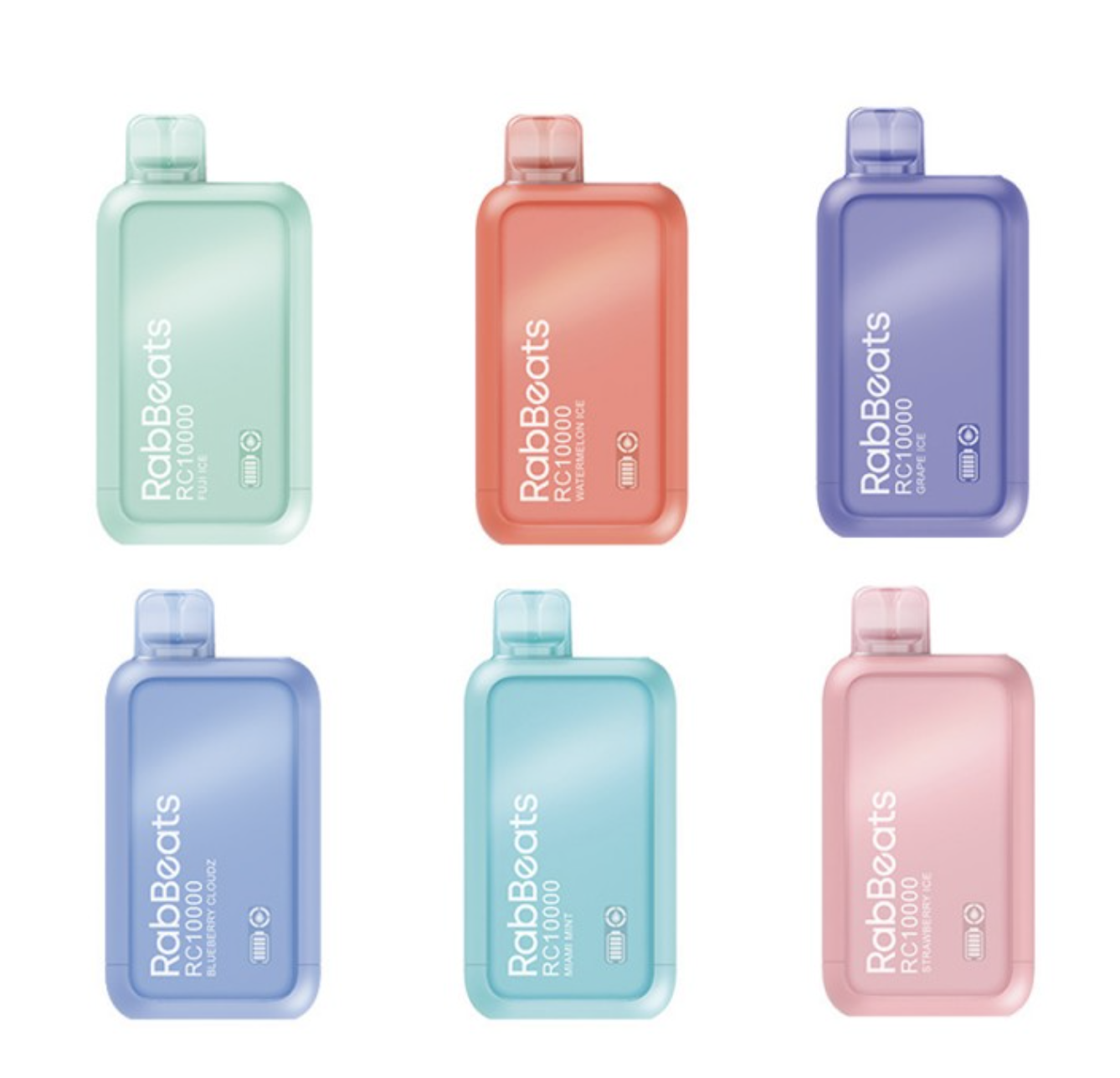 Power-Packed Performance
A beefy 620mAh rechargeable battery powers the RC10000. The inclusion of a Type-C port means you're looking at faster charging times. No more long waiting periods or sudden power outages in the middle of a session. Plus, the whopping 10,000-puff guarantee puts the Rab Beats RC10000 in a league of its own.
A Transparent Affair
The battery and e-liquid display is something of a genius addition. Not only does it enhance the overall design, but it also provides practical utility. The days of being caught off-guard with a drained battery or an empty e-liquid chamber are behind us.
Unparalleled Vaping Experience
With the advanced mesh coil technology, every puff is a flavorful journey. The even heating of the mesh coil ensures that the e-liquid's flavor profile is perfectly captured. If you're someone who cherishes the nuanced flavors in e-liquids, the RC10000 is going to be an absolute treat.
The Anti-Dry-Burn protection is another feature that elevates the RC10000. Everyone who vapes knows the unpleasant experience of a dry hit. With this device, that becomes a rarity. This protection mechanism ensures both the device's longevity and a consistently pleasant vaping session.
The Verdict
Having tried and tested numerous vapes over the years, it's refreshing to come across a product like the Rab Beats RC10000 Disposable Vape. It's clear that a lot of thought has gone into its design and features, making it more than just another disposable vape in the market.
From its incredible battery life and e-liquid capacity to its user-friendly displays and top-notch safety features, the RC10000 is a testament to what happens when innovation meets user needs. It's perfect for both new vapers looking for a hassle-free introduction to the world of vaping and seasoned veterans looking for a powerful yet convenient device.