A Comprehensive Review of the MoTi Play Bar Disposable Vape: A Revolution in Portable Vaping Devices
The vaping market is always evolving, and a key player contributing to this progressive landscape is the MoTi Play Bar Disposable Vape. In this review, we're delving deep into the features of this one-of-a-kind vaping device, examining its efficiency, portability, and the overall vaping experience it delivers.
Right out of the gate, one of the most standout features of the MoTi Play Bar Disposable Vape is its hefty 14mL Pre-Filled E-Liquid capacity. This large reservoir surpasses most competing models, granting the user a prolonged and immersive vaping experience. In conjunction with this, the e-liquid contains a robust 5% (50mg) Nicotine Strength, perfect for those who appreciate a solid nicotine hit.
Powering this formidable vape bar is a resilient 700mAh Type-C Rechargeable Battery. The Type-C fast charging feature ensures minimal downtime, keeping your vaping sessions uninterrupted and thoroughly enjoyable. Impressively, this substantial battery capacity supports Approximately 7500 Puffs, lending credibility to the device's long-lasting performance.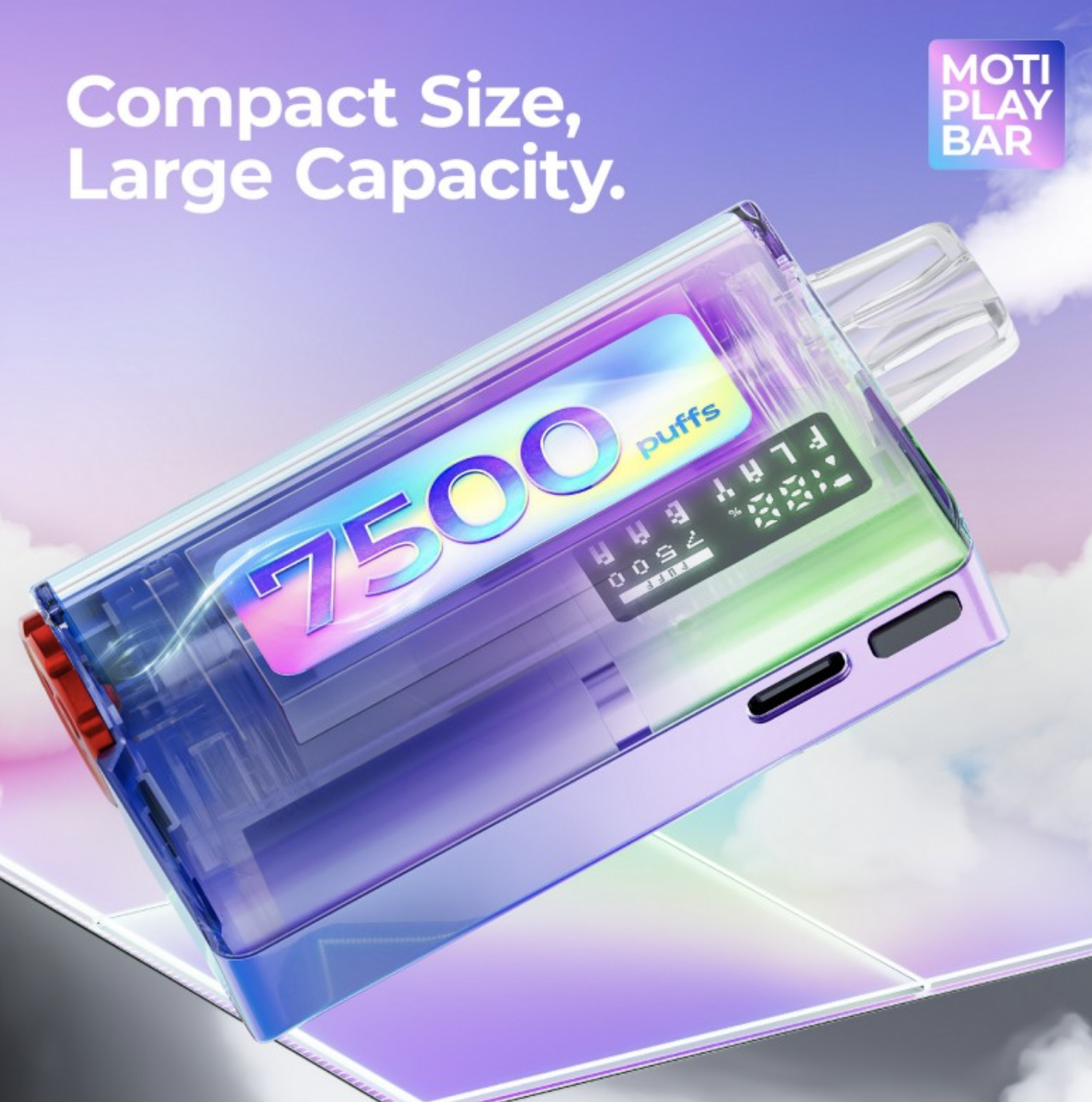 Is the Moti play bar disposable vape good?
Yes, based on the features provided, the MoTi Play Bar Disposable Vape is an impressive device. It offers a large 14mL pre-filled e-liquid capacity and a robust 5% (50mg) nicotine strength, providing a satisfying vaping experience.
Also, the digital battery and e-liquid display screen provide real-time updates on your device's status, ensuring you're never caught off guard by a dead battery or depleted e-liquid.
Therefore, the MoTi Play Bar Disposable Vape presents a good choice for both seasoned vapers looking for a reliable and high-performing disposable device, as well as for beginners who want a user-friendly yet high-quality introduction to vaping.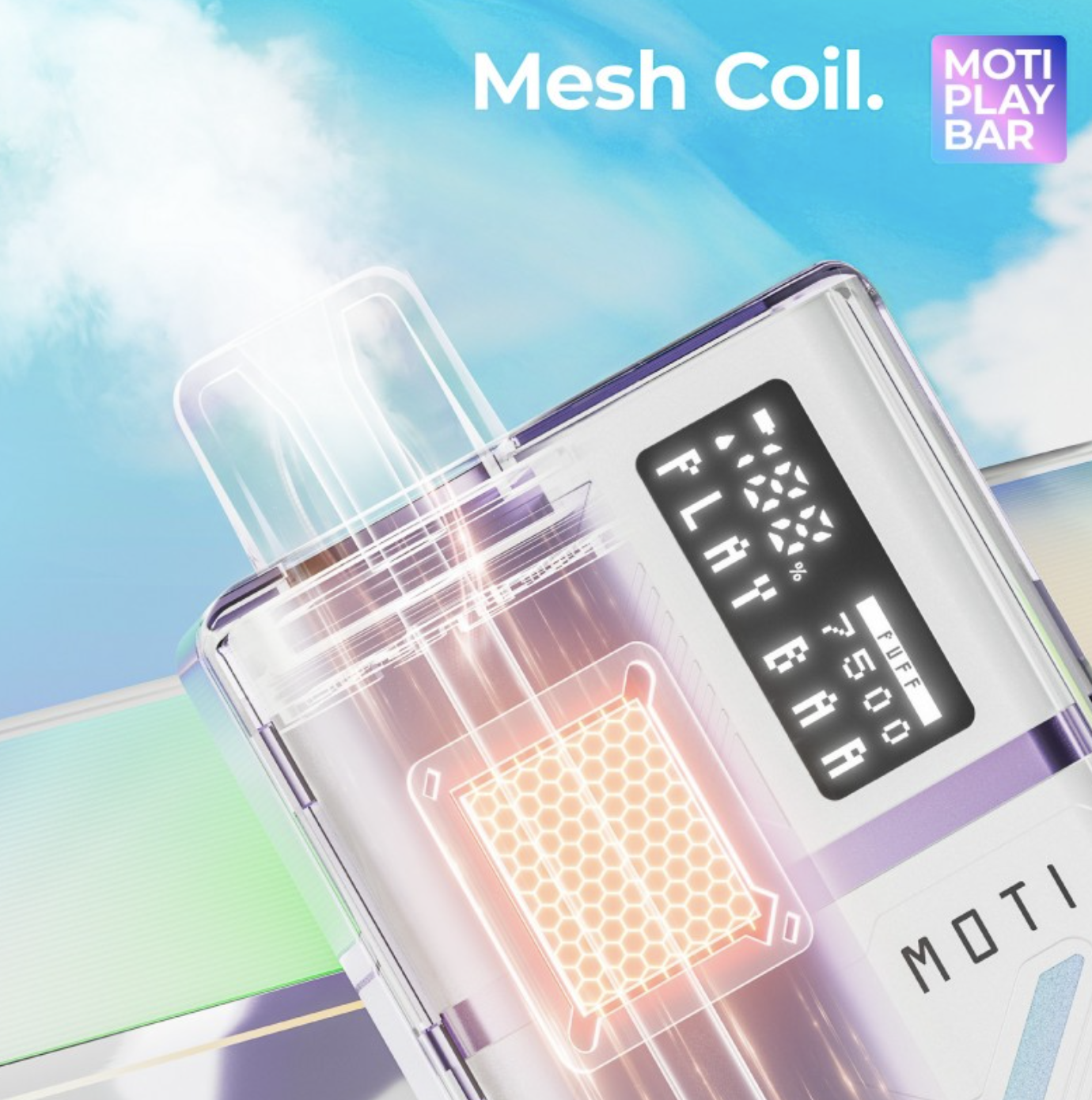 A key element to a satisfying vape experience is the quality of the vapor produced. The MoTi Play Bar employs a top-notch 1.0Ω Mesh Coil. The use of mesh promotes even heat distribution, leading to consistent, flavorful, and satisfying vapor. This coil type is also reputed for its longevity, further accentuating the device's durability.
However, where the MoTi Play Bar truly shines is in its pioneering Adjustable 360° Airflow Knob. This knob enables users to tailor their vaping experience to their exact preference - be it a tight, mouth-to-lung hit or a loose, direct-to-lung cloud. This versatile feature puts the user in full control, a luxury often absent in disposable vape bars.
Lastly, this vape doesn't keep its users guessing. A distinctive Digital Battery & E-Liquid Display Screen keeps you informed about the status of the battery and remaining e-liquid, ensuring you're never caught by surprise.
In conclusion, the MoTi Play Bar Disposable Vape not only meets the demands of the modern vaper, but it also raises the bar for future vape technology. With its generous e-liquid capacity, robust battery, high-quality mesh coil, adjustable airflow, and intuitive digital display, it offers a top-tier vaping experience that's hard to match. If you're searching for a disposable vape that offers longevity, reliability, and performance, the MoTi Play Bar certainly ranks high in our review.
So, in our comprehensive review of the MoTi Play Bar Disposable Vape, it earns high marks for its innovative features and powerful performance. Whether you're a vaping veteran or a curious novice, the MoTi Play Bar Disposable Vape is a worthy addition to your vaping repertoire.