KROS Wireless 9000 Puffs Disposable Vape: The Future in the Palm of Your Hand

I. Introduction: A Paradigm Shift in Vaping
In a market flooded with disposable vapes, the KROS Wireless 17ML stands out as a masterpiece of innovation and design. It's not merely a device but an evolution in the vaping experience. Let's embark on an exploration of its groundbreaking features.
II. Design: Sleek and Contemporary
The KROS Wireless Disposable Vape's design can be best described as cutting-edge. It manages to encapsulate technological advancements and user-centered design into a visually appealing package. From the integrated screen to the ergonomic shape, it screams sophistication.
III. Performance: Beyond Ordinary
1. Unparalleled Battery Life and Charging:
With a 550mAh battery, the device offers an exceptional lifespan. The unique feature of wireless charging catapults it into a league of its own.
2. Corex ECO Mesh Coil:
The innovative Corex mesh coil ensures that each puff is smooth, consistent, and full of flavor.
3. E-Liquid Capacity and Puff Count:
The 17ML e-liquid capacity, offering 9000+ puffs, ensures that this device will be a long-lasting companion.
4. 3-Level Airflow Control:
This feature adds a layer of customization, enabling users to adjust their vaping experience to their liking.
IV. Flavor Experience: A Journey of Taste
With 13 tantalizing flavors, the KROS Wireless offers something for every palate. From refreshing "Mint Lemonade" to the exotic "Aloe Sakura Grape," the flavor portfolio is both extensive and unique.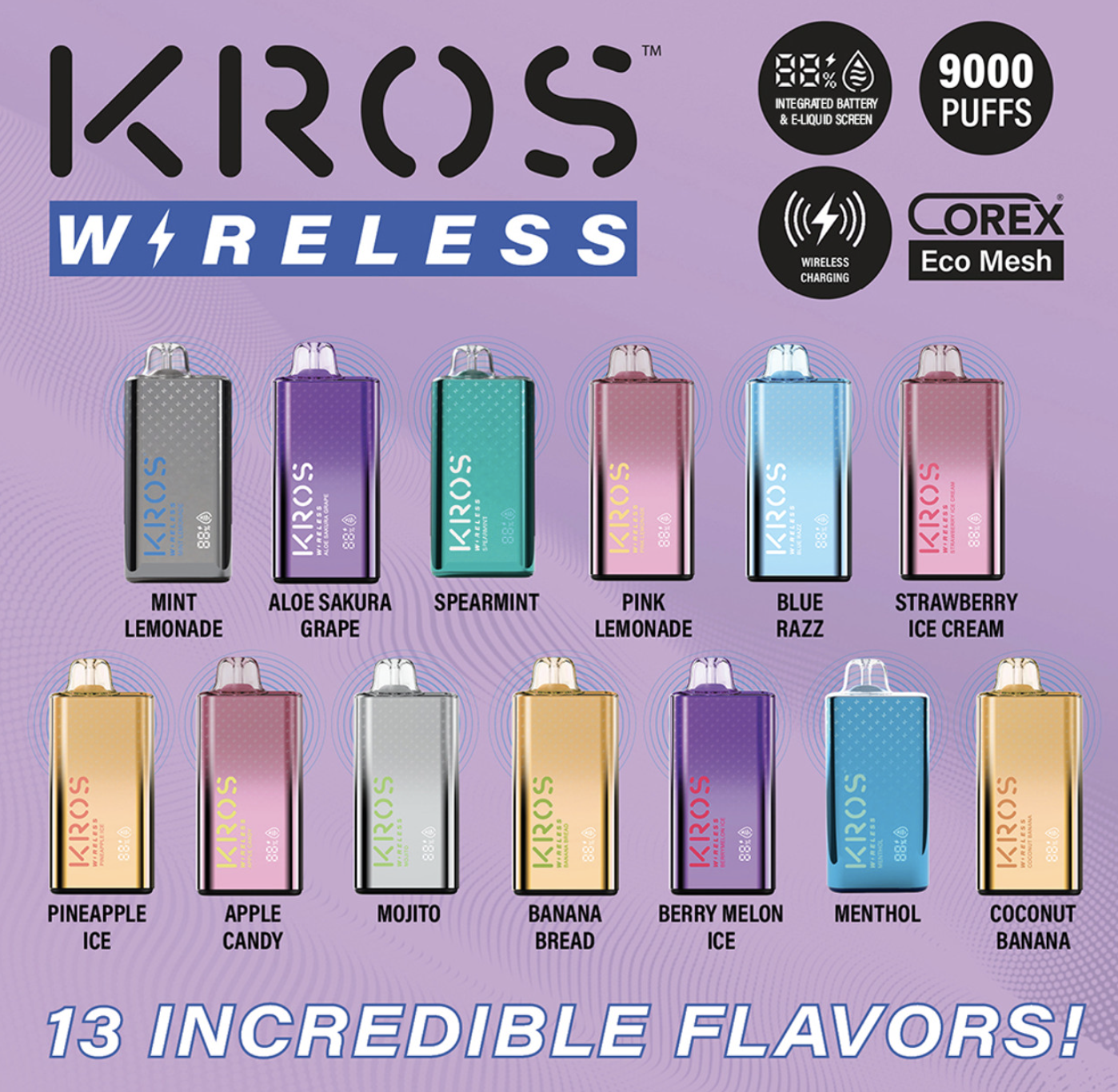 V. Features Unveiled: A Deep Dive
1. 5% Nicotine Salt:
This optimal concentration provides the satisfying throat hit and nicotine satisfaction that seasoned vapers and new enthusiasts seek.
2. Integrated Screen:
It's not just a technological marvel but a practical tool that enhances the user experience, offering insights into e-liquid and battery status.
3. Wireless Charging:
A feature almost unheard of in disposable vapes, representing KROS's commitment to innovation.
4. Eco-Friendly Coil:
The Corex ECO Mesh Coil not only ensures exceptional flavor but aligns with a more sustainable approach.
VI. Who is the KROS Wireless For?
For the Newcomer:
Its user-friendly design makes it an excellent entry point for those new to vaping.
For the Aficionado:
With advanced features and customization options, it will also intrigue experienced vapers.
For the Environmentally Conscious:
The Corex ECO Mesh Coil represents a step towards responsible vaping.
VII. Pros and Cons: An Honest Look
Pros:
Unique and advanced features
Wide variety of flavors
Strong battery life with wireless charging
Eco-friendly coil
Cons:
Might be seen as complex for some
May carry a premium price tag
VIII. Conclusion: A New Horizon in Vaping
The KROS Wireless 17ML 9000 Puffs Disposable Vape is more than just a product; it's a statement. It's a signal to the industry that innovation, user experience, and environmental responsibility can coexist in a single device.
It's hard not to admire the meticulous design, thoughtful features, and commitment to excellence that the KROS Wireless represents. The integrated screen, wireless charging, and Eco-friendly coil set new standards.
From the first glance to the last puff, the KROS Wireless engages, surprises, and delights. It's not just a tool for vaping; it's a symbol of what the future might hold in this industry.
In essence, the KROS Wireless is an invitation to experience the future today.