KangVape TC8000 Disposable Vape: An In-Depth Review

INTRODUCTION
In the competitive market of disposable vapes, standing out requires an edge. The KangVape TC8000 Disposable Vape boasts that edge. Equipped with features rarely seen in disposable vapes, the TC8000 is an appealing proposition for both new and experienced vapers. This comprehensive review covers all facets of the KangVape TC8000, from its unique design to the temperature control technology.
DESIGN AND APPEARANCE
The TC8000's striking design is not only visually appealing but also functional. Here's what you'll notice:
Unique Design: The TC8000 deviates from traditional vape designs, offering a fresh perspective in aesthetics.
Food-Grade Transparent Mouthpiece: This feature ensures safety and comfort while adding a touch of elegance.
Battery & E-Liquid LED Display Screen: A rare feature in disposable vapes, allowing users to monitor both the battery level and remaining e-liquid effortlessly.
PERFORMANCE AND EXPERIENCE
The TC8000 offers a top-tier vaping experience. Let's explore why:
Mesh Coil with Temperature Control Technology: The combination of a mesh coil and temperature control elevates the vaping experience by allowing users to customize their vape and enjoy consistent flavor.
5% (50mg) Nicotine Strength: With a higher nicotine concentration, the TC8000 caters to those seeking a robust and satisfying throat hit.
650mAh Type-C Rechargeable Battery: Long-lasting and easily rechargeable with a Type-C port, ensuring that users enjoy the full 20mL of e-liquid.
Approximately 8000 Puffs: With this level of longevity, the TC8000 provides an extended vape experience, suitable for prolonged use or sharing.
FEATURES AND FUNCTIONALITY
20mL Pre-Filled E-Liquid: Among the highest capacity in disposable vapes, offering convenience without sacrificing quantity.
Mesh Coil with Temperature Control Technology: A standout feature that ensures consistency and customization.
650mAh Type-C Rechargeable Battery: Future-ready and supports a substantial number of puffs.
Battery & E-Liquid LED Display Screen: Practical and user-friendly, helping to avoid any unexpected "out of juice" or battery situations.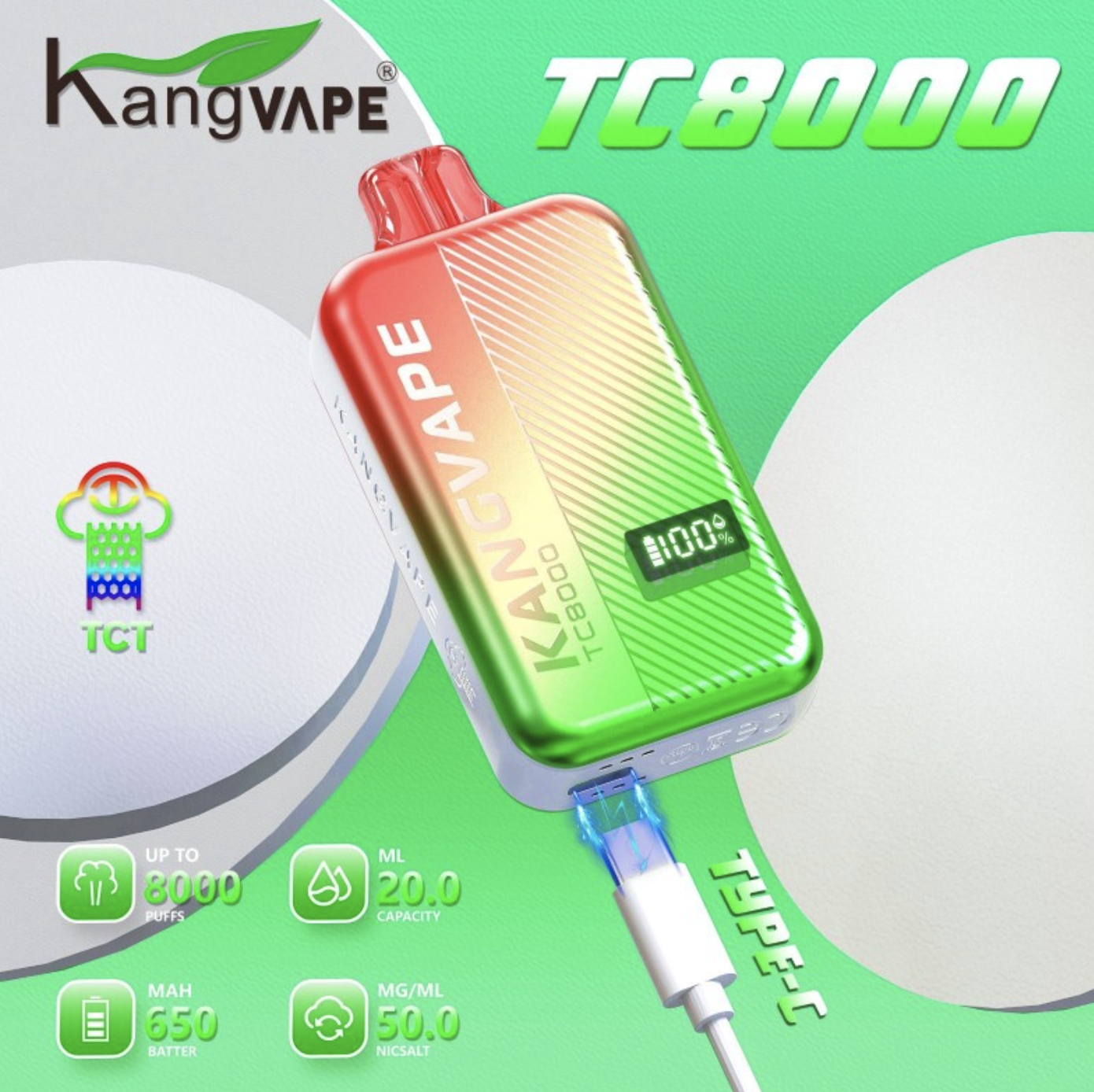 USER EXPERIENCE
For the Beginner: The TC8000's user-friendly design makes it accessible for those new to vaping.
For the Experienced Vaper: Temperature control technology offers an added layer of customization, appealing to veteran vapers.
For the Tech-Savvy User: The LED display and Type-C charging align with modern tech trends.
VALUE PROPOSITION
With its unique features, the KangVape TC8000 positions itself in a higher tier among disposable vapes. While it might come at a premium compared to basic models, the features and quality justify the price point.
PROS AND CONS
Pros:
Large e-liquid capacity
Rechargeable battery with Type-C
Temperature control technology
LED display for convenience
Cons:
Might be considered bulky by some users due to increased capacity and features
The price may deter those looking for a more budget-friendly option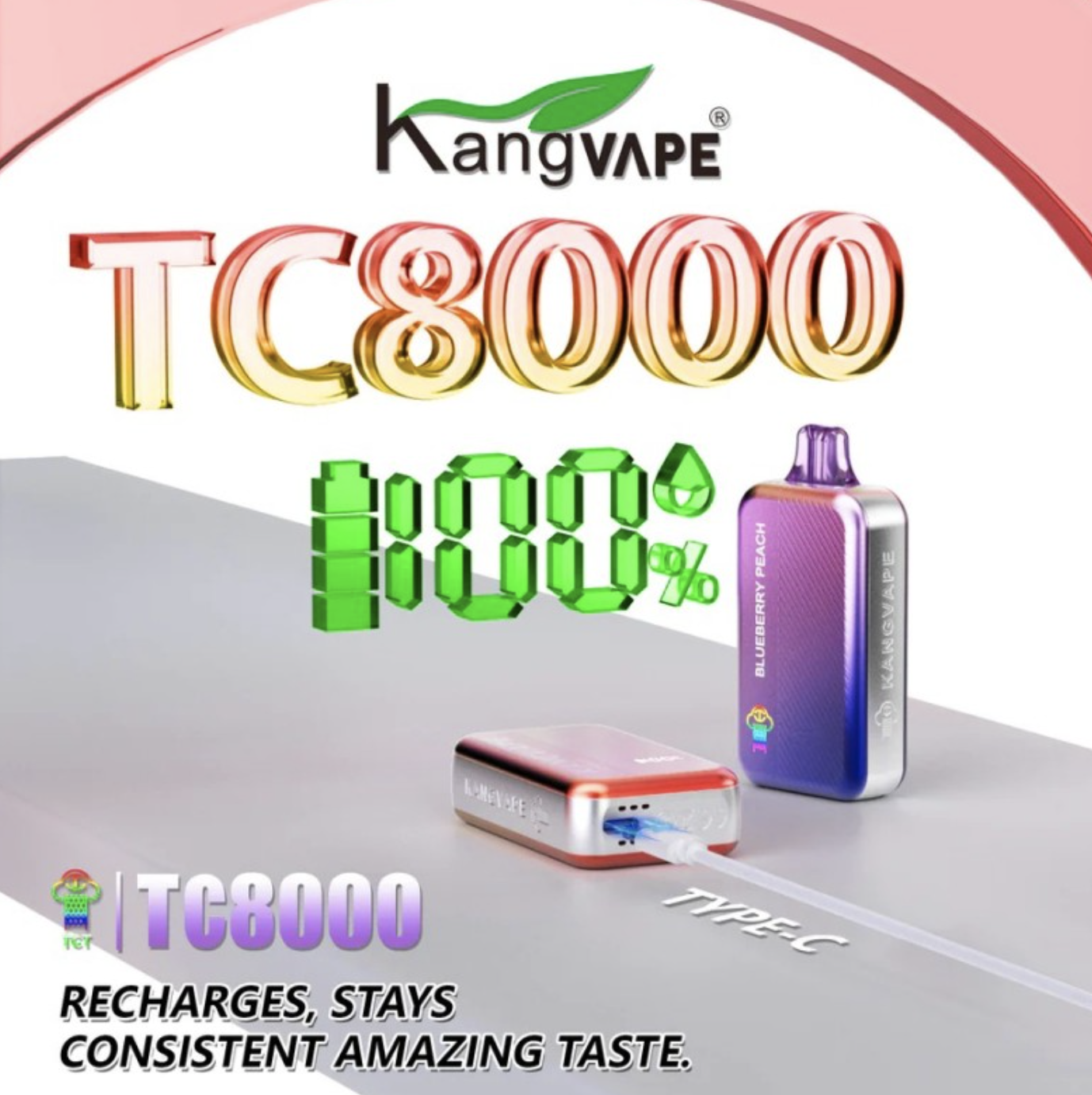 FINAL VERDICT
The KangVape TC8000 Disposable Vape is a leap forward in the disposable vape market. With its temperature control technology, rechargeable battery, and extensive e-liquid capacity, it offers an enriched experience that transcends the norms of disposable vapes.
Whether you are new to vaping or a seasoned expert, the TC8000 provides features that cater to a wide audience. Its design, while unique, is rooted in functionality, and the technology within ensures a consistent and enjoyable vaping experience.
The commitment to quality and innovation is evident in the TC8000. If you're in the market for a disposable vape that offers more than just the basics, this device warrants serious consideration.
The KangVape TC8000 is not only a disposable vape; it's a statement on what disposable vapes can aspire to be. Its features are not mere additions but thoughtfully integrated aspects that enhance the overall experience.
In a world of many similar products, the KangVape TC8000 stands tall as a unique and compelling option. It's not just about vaping; it's about enjoying every puff with control, convenience, and quality