Title: "Experience the Ultimate Convenience with JUBI X6000 Disposable Vape"
Are you looking for a powerful, reliable, and stylish vaping experience? The JUBI X6000 Disposable Vape might be precisely what you need. This next-level vape device combines convenience and performance in a compact, elegant design, ready to redefine your vaping journey.
First off, the JUBI X6000 delivers a substantial puff count that surpasses many in the industry, offering a whopping 6000 puffs. With such a generous capacity, you'll have hours and hours of pleasurable vaping, making the X6000 a perfect companion for vapers who crave longer-lasting satisfaction.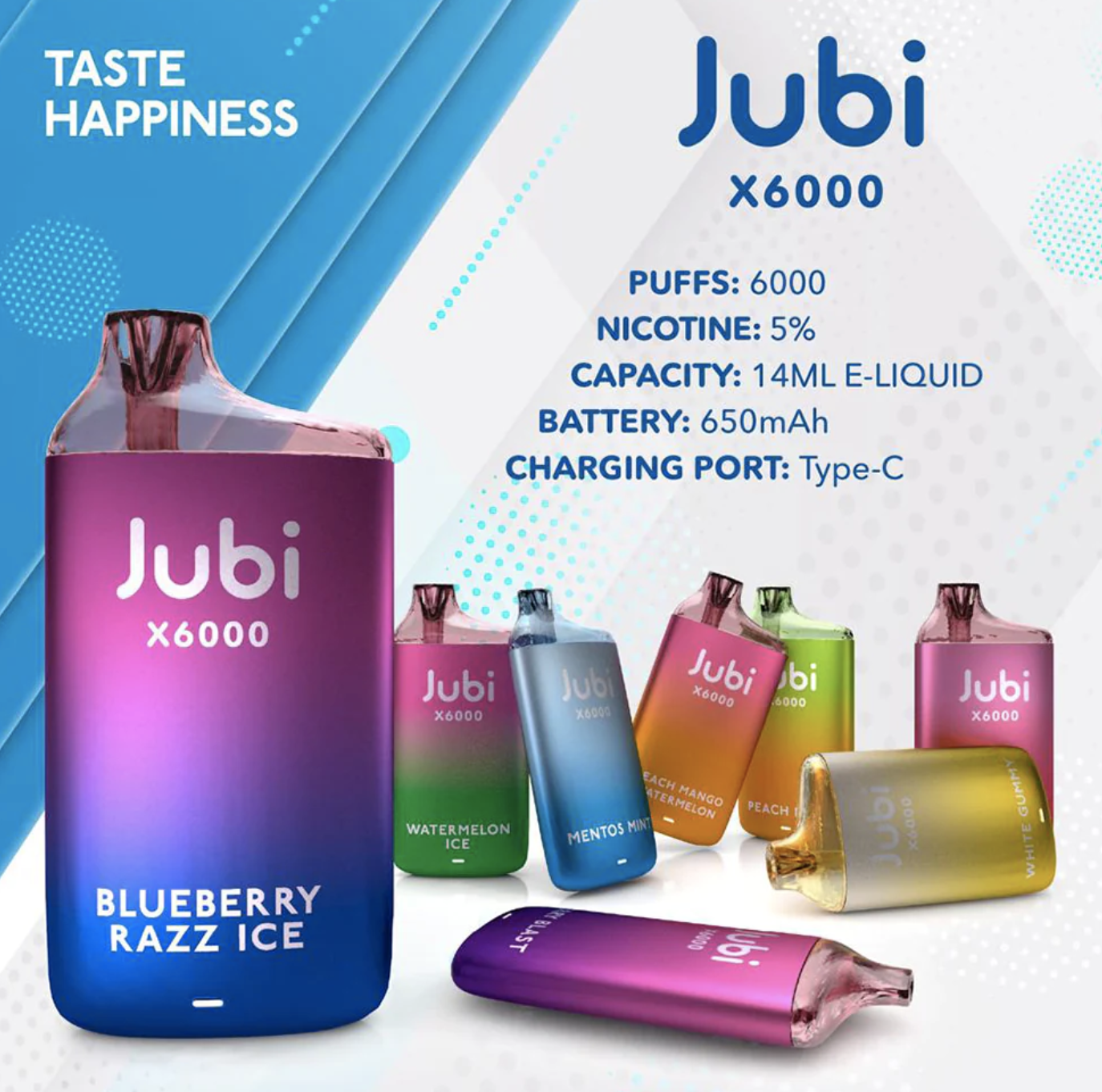 The convenience factor in this device is further elevated with the inclusion of USB-C rechargeable functionality. Forget hunting for rare charging cables or having to discard your device when the battery drains. The JUBI X6000 is a marvel of sustainability in vaping, and USB-C charging makes it incredibly easy to power up anytime, anywhere.
The sleek and stylish design of the JUBI X6000 isn't just pleasing to the eye; it's also a testament to its quality and durability. Its compact and ergonomic shape makes handling a breeze, fitting perfectly in your hand or pocket. Take it along with you wherever you go and enjoy a premium vaping experience on-demand.
This device is not just about looks and longevity; it's also about creating an effortless vaping experience. There's no maintenance or refilling required with the JUBI X6000. Just open the box, and it's ready to use. Once you've exhausted the e-liquid or battery life, recharge it or responsibly dispose of it.
An additional feature that sets the JUBI X6000 apart is its advanced coil technology. This modern mechanism guarantees smooth and consistent vapor production, allowing you to enjoy your chosen flavors to the fullest extent.
Your safety has been noticed, too. The JUBI X6000 comes with built-in protections to ensure you can vape with peace of mind. This device embodies the worry-free, enjoyable vaping experience that all vapers should have.

Jubi X6000 Flavors:
Strawberry Ice: This blend takes the juicy sweetness of ripe strawberries and finishes it off with a frosty twist. The balance of fruitiness and a refreshing icy exhale will invigorate your senses.
Berry Blast: A powerful combination of various berries creates a burst of tangy-sweet flavors in this mix. This unique fusion offers a delightful fruit melody with every puff.
White Gummy: Inspired by the timeless candy, this flavor captures the sweet and subtle tang of white gummy bears. It's a nostalgic treat that takes you on a trip down memory lane.
Peach Mango Watermelon: This tropical medley marries the lush sweetness of peaches, the exotic tang of mangoes, and the crisp freshness of watermelon. It's a fruity fiesta in every puff.
Mentos Mint: With a flavor reminiscent of the famous mint candy, this blend delivers a robust and refreshing minty kick. It's a vibrant, cooling experience that will leave your palate feeling revitalized.
Watermelon Ice: Experience the crisp, succulent flavor of watermelon complemented by a frosty chill. It's a summer delight that can be enjoyed all year round.
Blueberry Razz Ice: This blend offers the tartness of blueberries and the sweetness of raspberries with a cooling finish. The fruit-ice combo provides a satisfying balance of taste sensations.
Peach Ring: Recreating the flavor of the much-loved candy, Peach Ring offers the taste of ripe peaches in a sweet and tangy profile. It's a delightful treat that will keep you coming back for more.
Each of these flavors brings a unique taste profile to the JUBI X6000 Disposable Vape, allowing you to enjoy a wide range of experiences. Whether you're into fruity delights, icy refreshments, or sweet candy-like flavors, the JUBI X6000 has you covered.
In conclusion, the JUBI X6000 Disposable Vape stands out as a significant contender in the vaping market. It strikes an excellent balance between performance, convenience, design, and safety. Whether you're a seasoned vaper looking to try something new or a beginner seeking a reliable and straightforward device, the JUBI X6000 is a solid choice.