Review Geek Bar Pulse 7500 - 15000 Puffs. Specifications


Unveiling the Geek Bar Pulse Disposable Vape: The Future of Vaping is Here!
The vaping community is abuzz with excitement, and for a good reason! Introducing the Geek Bar Pulse Disposable Vape, a groundbreaking addition to the vaping market that promises to redefine the way we think about disposable vapes. Let's embark on a journey to unravel the magic behind this sensational device.
Why the Hype Around the Geek Bar Pulse?
In a world where vaping devices seem to appear and disappear in quick succession, the Geek Bar Pulse isn't just making an entry; it's making a statement. Combining advanced technology with user-friendly design, it's poised to become a fan favorite.
1. Savor the Flavor with Premium E-Liquid
Every puff from the Geek Bar Pulse is a delightful experience, thanks to the 16mL of premium pre-filled e-liquid. Whether you're chasing dense clouds or an authentic flavor profile, this device has got you covered. With a potent 5% (50mg) nicotine strength, satisfaction is guaranteed.
2. A Battery that Doesn't Quit
Forget frequent charging interruptions. The 650mAh battery ensures that you're powered up for longer. And when it's time to recharge, the Type-C compatibility ensures that you're back to vaping in a jiffy.
3. Flexibility at its Best: Two Unique Vaping Modes
Personalizing your vaping experience is now easier than ever:
Regular Mode: Ideal for the laid-back vaper, offering a whopping 15,000 puffs.
Pulse Mode: For the adventurous souls who crave an intense flavor hit, delivering approximately 7,500 robust puffs.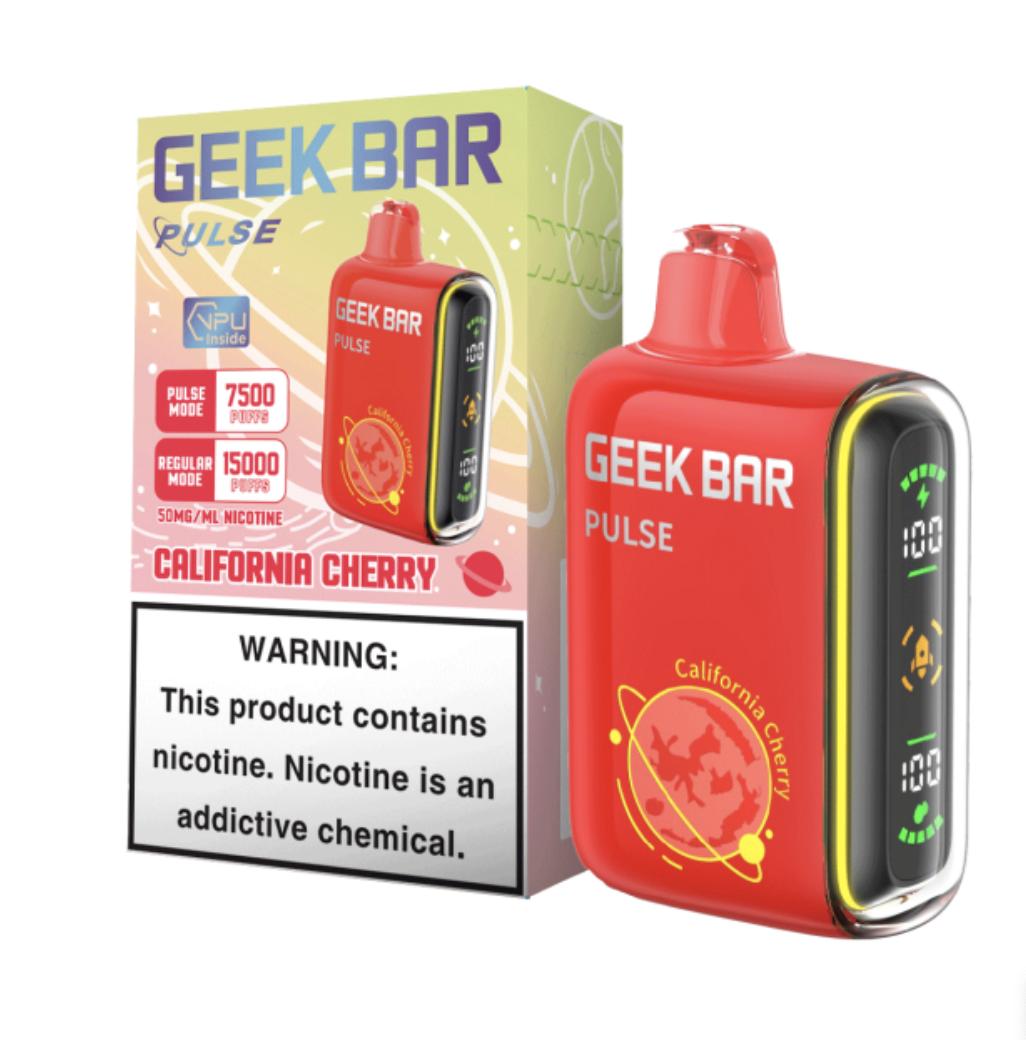 4. Experience the Dual Mesh Coil Magic
Gone are the days of uneven heating and subpar flavor quality. With the dual mesh coil system, every puff is consistent, offering a pure and rich flavor experience.
5. Stay Informed with a High-Resolution Display
The large display screen of the Geek Bar Pulse is a game-changer. Keep track of:
Battery Levels: No unexpected shutdowns.
Vaping Modes: Know your mode and toggle effortlessly.
E-Liquid Levels: Stay ahead and never run dry.
6. Swift Heating with Dual Core Technology
The inclusion of the dual-core heating system translates to quick heat-ups and efficient, even heating. This ensures a perfect vapor consistency every time you inhale.
What Sets the Geek Bar Pulse Apart?
Disposable vapes are often associated with compromise – be it battery life, flavor quality, or overall performance. Geek Bar Pulse shatters these misconceptions. Here's why it stands out:
Longevity: Unlike most disposable vapes, the Geek Bar Pulse is built for the long haul. Its durable build, coupled with an efficient battery, ensures prolonged usage.
Flavor Authenticity: The meticulous design ensures that flavor profiles are captured in their purest form.
User-centric Design: With an interactive display and two vaping modes, it caters to both novice and seasoned vapers.
To Wrap It Up,
The Geek Bar Pulse Disposable Vape is not just a product; it's a revolution. It symbolizes the evolution of vaping, merging cutting-edge technology with unparalleled user experience. Whether you're a vaping veteran or a newbie looking for a reliable device, the Geek Bar Pulse promises to exceed your expectations.
In a market saturated with vaping devices, the Geek Bar Pulse emerges as a beacon of innovation and quality. It's not just about vaping; it's about experiencing the future, today. So, why wait? Dive