Introducing the Foger Ultra 6000 Disposable Vape: Redefining Flavor and Convenience
The vaping landscape is continuously evolving, and the Foger Ultra 6000 Disposable stands as a testament to this innovation. With a 15mL prefilled capacity, 5% nicotine strength, and an impressive 6000 puffs, this device embodies the next level of vaping delight.
Feature-Packed and Ready for Adventure
The Foger Ultra 6000 Disposable is engineered to impress with features that cater to every vaper's needs:
Prefilled Capacity: The spacious 15mL tank ensures a seamless vaping experience, providing enough e-liquid to last you through many enjoyable sessions.
Battery Capacity: Powered by a reliable 650mAh battery, you can count on consistent performance that will last you through the day and beyond.
Max Puffs: 6000 puffs await, ensuring that you have more than enough to satisfy your cravings, whether you're on the go or relaxing at home.
Nicotine Strength: The 5% (50mg) nicotine strength strikes the perfect balance, delivering a satisfying hit that appeals to both newcomers and seasoned vapers alike.
Ease of Use and Superior Performance
With the Foger Ultra 6000 Disposable, simplicity meets excellence:
Operation: The draw-activated mechanism makes it incredibly user-friendly. Just draw, and the 0.8ohm mesh coil springs into action, providing a smooth and flavorful experience.
Charging: Charging is made easy with a Type-C Port, ensuring that your device is ready whenever you are.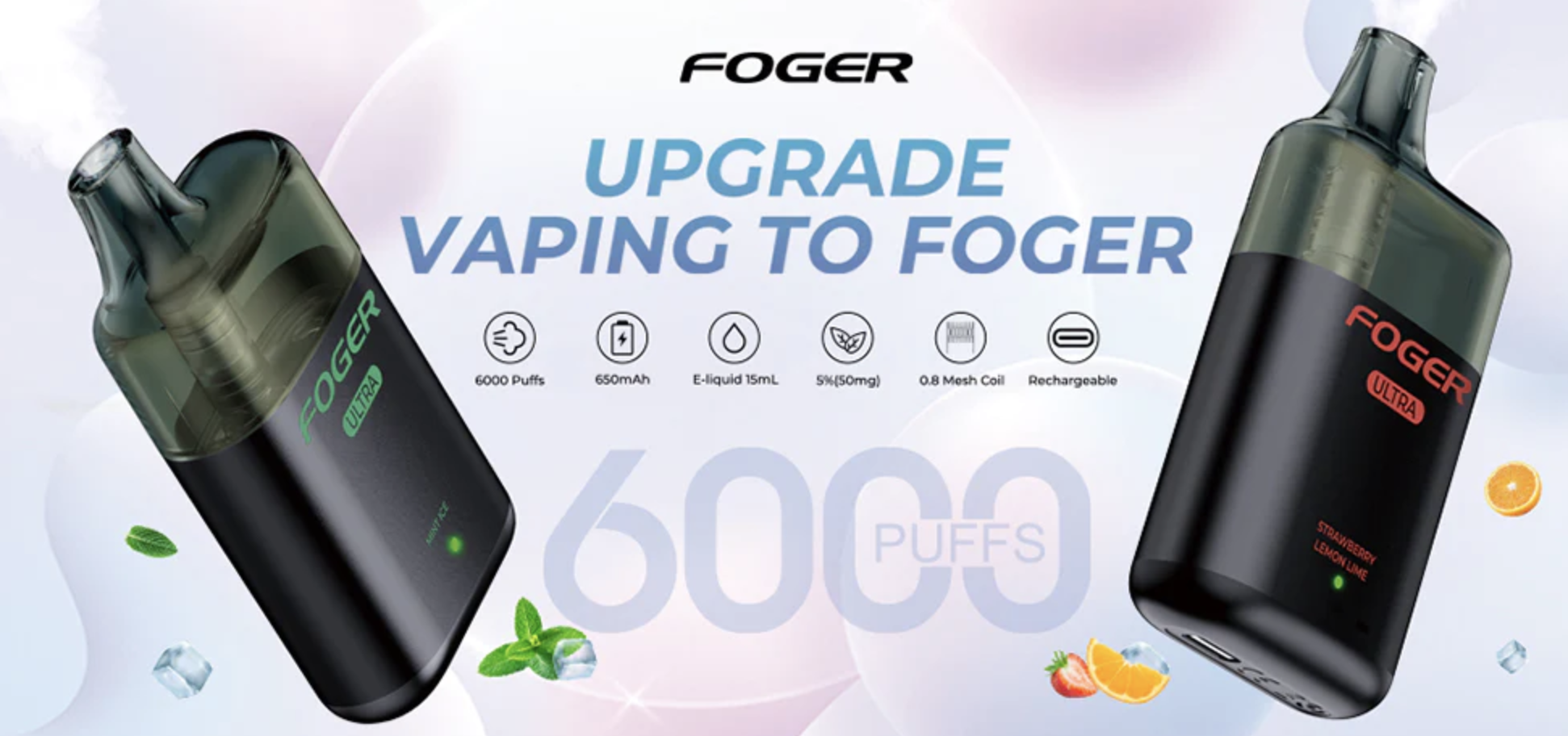 Flavor Explosion
The Foger Ultra 6000 Disposable is not just about functionality; it's also a celebration of flavors. Available options include:
Blood Orange Mango
Blue Razz Lemon
Blueberry MTN Dew
Coffee
Gum Mint
Kiwi Lemonade Ice
Mint Ice
Snow Cone Ice
Strawberry Kiwi
Strawberry Lemon Lime
Strawberry Watermelon BG
Watermelon Ice
These flavors promise to take your taste buds on an unforgettable journey, from refreshing fruit blends to invigorating icy sensations and even the comforting taste of coffee.
Conclusion
The Foger Ultra 6000 Disposable represents a blend of quality, convenience, and creativity in the world of vaping. Its generous capacity, reliable battery, and wide variety of flavors make it an appealing choice for anyone looking to enjoy an enhanced vaping experience.
Whether you're a vaping enthusiast or just starting your journey, the Foger Ultra 6000 offers a versatile and enjoyable option. Dive into the world of flavors and discover a new favorite with this state-of-the-art disposable device. The Foger Ultra 6000 is more than just a vaping tool; it's an invitation to experience joy, satisfaction, and innovation in every puff. Take advantage of this exceptional vaping adventure; embrace the future of flavor with Foger today!