Fifty Bar Disposable Vape Review
In a crowded market of vaping devices, the Fifty Bar 6500 Disposable has emerged as a standout, offering a unique vaping experience that combines fantastic flavor variety with a high-performance device. Made in the USA and boasting a significant 16mL prefilled capacity, this disposable vape has a lot to offer. Let's take a closer look at the Fifty Bar 6500 Disposable.
Design and Performance:
At first glance, the Fifty Bar 6500 Disposable impresses with its sleek and straightforward design. It comes with an integrated battery and promises a whopping 6500 max puffs, a feature hard to come by even in the top-tier disposable vape segment. The draw-activated operation adds to the convenience and easy usability of the device.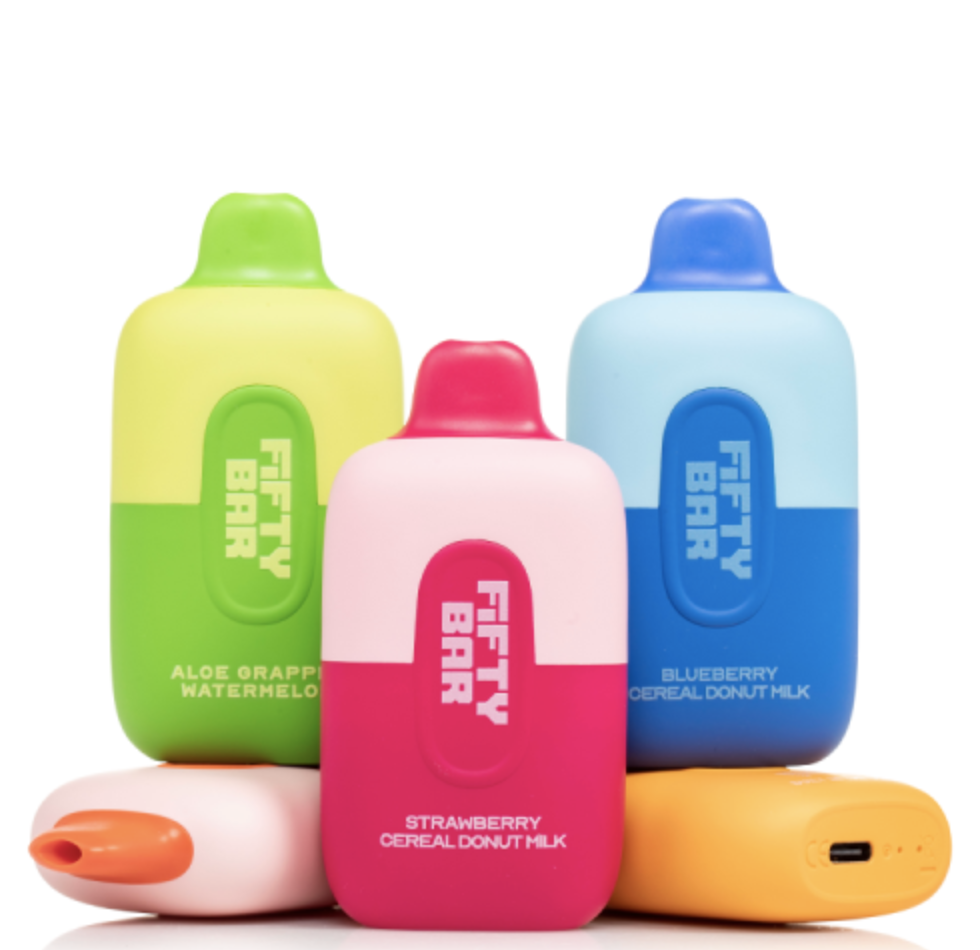 The heating element of the Fifty Bar is a mesh coil, a mark of superior vape technology, ensuring efficient heating and an incredibly smooth, consistent draw. Combined with a 5% nicotine strength (50mg), this device offers a satisfying vape experience that's ideal for those transitioning from smoking or for established vapers looking for a high-performing disposable.
This device also integrates a Type-C charging port, making it easy to charge and demonstrating the thoughtfulness in design, making it stand apart from many other disposables.
Flavor Profile:
Where the Fifty Bar 6500 Disposable truly shines is in its flavor profile. It comes with a gamut of enticing flavors that can cater to a wide variety of taste preferences. Let's explore each one:
Aloe Grapple Watermelon: A surprisingly refreshing blend, the Aloe Grapple Watermelon offers a fusion of crisp aloe, juicy grapes, and summery watermelon. Each puff teases your taste buds with a sweet, tart, and soothing medley that feels like a fresh summer breeze.
Blue Razzle Ice: For those who crave a burst of invigorating sweetness, the Blue Razzle Ice flavor is a dream. It combines the tantalizing taste of blue raspberries with an icy cool finish, offering a delightfully sweet and refreshing vaping experience.
Blueberry Cereal Donut Milk: An adventurous blend, this flavor brings together the comforting tastes of childhood. It combines the tart sweetness of ripe blueberries, the crunchy goodness of cereal, the soft indulgence of donuts, and a creamy milk finish, leaving you with a comforting, dessert-like sensation.
Cinnamon Funnel Cake: This sweet and spicy concoction replicates the deliciousness of a cinnamon-dusted funnel cake. Each puff feels like biting into a soft, warm pastry with just the right hint of spice.
Diamond Peach Ice: This flavor delivers a delightful fusion of sweet peaches and a cool icy finish. The Diamond Peach Ice offers a refreshing, fruity delight that leaves a pleasant aftertaste.
Juicy Mango Melon Ice: Tropical, sweet, and icy - this flavor is a paradise in each puff. The ripe, juicy mango paired with crisp melon and a cool finish makes for a flavorful and satisfying experience.
Mint: The Fifty Bar's Mint flavor is a classic, offering a clean, refreshing burst of minty coolness. It's perfect for those who crave a simple yet invigorating vape experience.
Strawberry Cereal Donut Milk: Another delightful dessert blend, this flavor captures the sweetness of ripe strawberries, the comforting crunch of cereal, the indulgence of a donut, and a creamy milk finish. It's a sweet breakfast in a puff!
Tobaccocino: A fantastic option for traditional smokers transitioning to vaping, Tobaccocino combines the robust flavors of tobacco and the rich, creamy notes of cappuccino. It offers a unique and satisfying balance of flavors.
Vanilla Custard: A smooth, creamy, and rich flavor, the Vanilla Custard is like a luxurious dessert. Every puff is an indulgence, and the creamy, sweet vanilla notes linger delightfully on the tongue.
Final Verdict:
The Fifty Bar 6500 Disposable offers an impressively powerful device with an array of flavors to cater to every palate. The thoughtful design, high puff count, and mesh coil heating element all contribute to a superior vaping experience. From refreshing fruity blends to comforting dessert flavors, this disposable vape genuinely offers something for everyone. It's a robust, reliable, and flavorful vaping solution worth trying, whether you're a seasoned vaper or someone looking to make the switch.