The Elf Bar Pi9000 Disposable Vape: A Comprehensive Review
OVERVIEW
In an ever-expanding world of vaping, disposable devices have carved a niche for themselves. Enter the Elf Bar Pi9000 Disposable Vape, a one-of-a-kind device with features that set it apart from competitors. This review explores the key elements of the Pi9000, from its design and functionality to the extensive flavor offerings.
DESIGN AND BUILD
With a distinctive mini-pillow appearance, the Pi9000 offers a fresh take on the typical disposable vape design. Its translucent drip tip not only adds to the aesthetic appeal but also serves a functional purpose, allowing users to keep an eye on condensation levels.
Ergonomics: Comfortably fitting in the palm, its form factor enhances the overall user experience.
Build Quality: Despite being disposable, the Pi9000 does not feel cheap or flimsy. Its solid construction assures users of a product made with quality in mind.
Battery and Liquid Indicators: Thoughtfully placed, these indicators provide valuable information about the device's status, a thoughtful touch rarely seen in disposable vapes.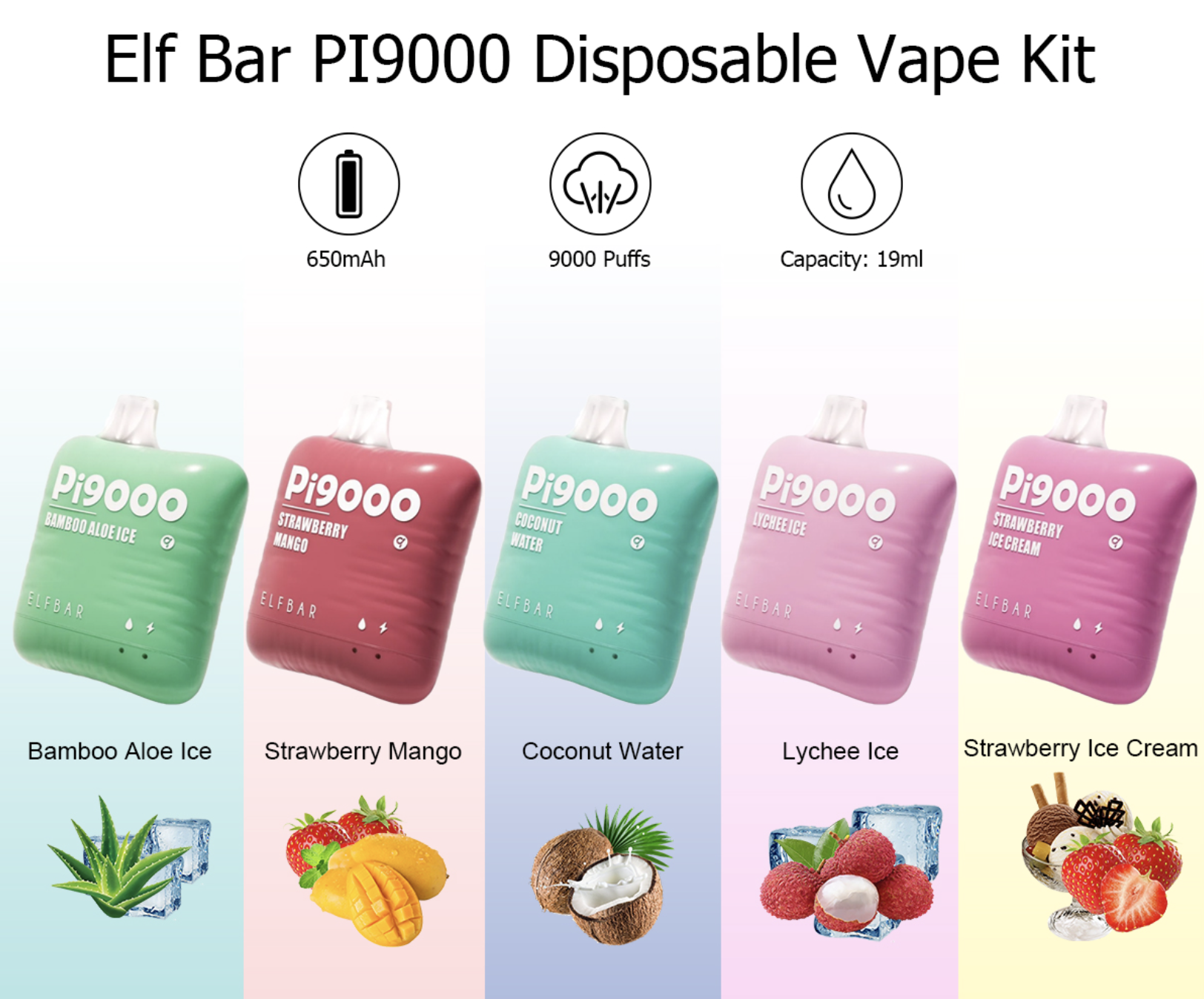 PERFORMANCE AND VAPING EXPERIENCE
The Pi9000 promises an enjoyable vaping experience, thanks to the following features:
Mesh Coil Integration: This allows for consistent vapor production and a more pronounced flavor profile.
Nicotine Salt Concentration: At 4% (40mg), the Pi9000 offers a smooth and satisfying throat hit without being overwhelming.
Battery Life: The 650mAh battery is rechargeable and supports up to 9000 puffs, ensuring that the vape lasts as long as the liquid does.
Draw Activation: Seamless and intuitive, the draw-activated firing mechanism is responsive and offers the right amount of resistance.
FLAVORS – A BOUNTIFUL PALETTE
One of the standout aspects of the Pi9000 is the extensive array of flavors. This device doesn't merely offer tastes; it provides experiences:
Classic Refreshments: Flavors like Cola Ice and Cool Mint provide that familiar cooling sensation.
Fruit Medleys: From Raspberry Elfbull to Peach Mango Watermelon, the fruit options are fresh and vibrant.
Dessert Galore: Strawberry Ice Cream and Coconut Glutinous Rice satisfy the sweet tooth without any guilt.
Exotic Adventures: Bamboo Aloe Ice and Long Jing Tea (Matcha) introduce your palate to exotic, unparalleled tastes.
RECHARGEABLE BATTERY – A GAME-CHANGER
The rechargeable 650mAh battery is a defining feature of the Pi9000. Most disposable vapes are discarded once the battery dies, often before the e-liquid is depleted. But with the Pi9000, the USB-C charging port ensures you can enjoy every last drop of the 19ml pre-filled vape juice.
USER-FRIENDLINESS
From beginners to seasoned vapers, the Pi9000 is tailored for all:
Beginners: The draw-activated system, coupled with pre-filled juice, offers an ideal introduction to vaping.
Experienced Vapers: Advanced features like mesh coils and rechargeable batteries cater to the more discerning vaper.
Travelers and On-The-Go Users: Compact and capable of lasting up to 9000 puffs, it's the perfect travel companion.
ENVIRONMENTAL CONSIDERATIONS
The rechargeable aspect of the Pi9000 makes it a more sustainable choice within the disposable vape category. This extension of life adds an environmentally friendly touch to a typically single-use product.
VALUE FOR MONEY
Given its unique features and extensive flavor choices, the Pi9000 offers excellent value. Though it might be priced slightly higher than basic disposable vapes, the enhanced experience justifies the investment.
PROS AND CONS
Pros:
Extensive flavor options
Rechargeable battery
Intuitive draw-activated system
Aesthetic and ergonomic design
Cons:
Some may find the 19ml e-liquid capacity excessive for a disposable device.
Flavors might be subjective; some might prefer more traditional options.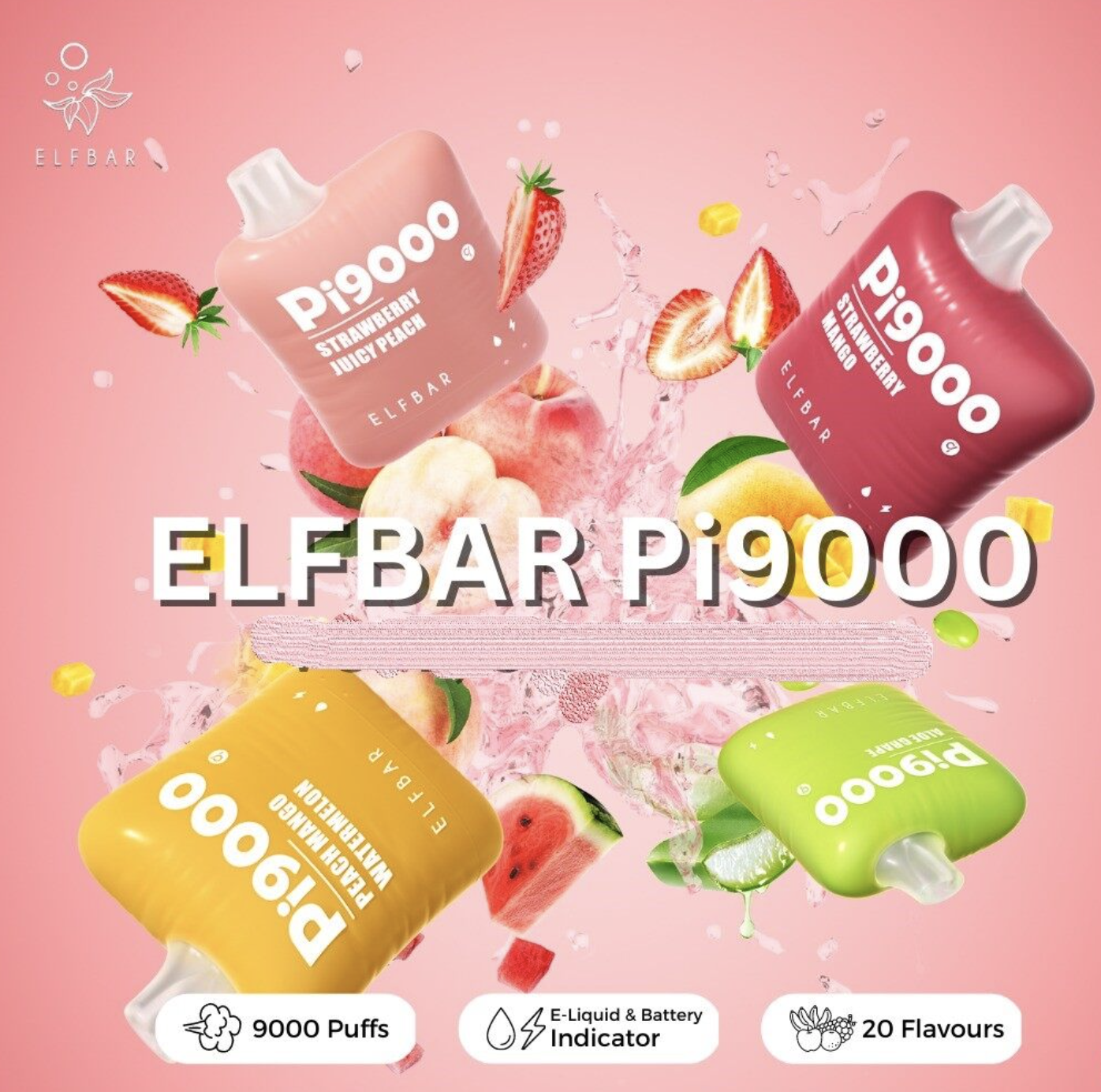 FINAL THOUGHTS – IS THE PI9000 WORTH IT?
The Elf Bar Pi9000 is not merely another disposable vape; it's a fusion of creativity, quality, and user-centric design. Its diverse flavors, rechargeable battery, and innovative features place it in a league of its own.
For the Novice: Its simplicity makes it an approachable entry point.
For the Connoisseur: Its unique features and flavor offerings provide an enriching experience.
For the Environmental Enthusiast: Its rechargeable aspect adds a greener touch.
For Everyone Else: The Pi9000 has something for every vaper, regardless of their preferences or experience level.
The Elf Bar Pi9000 disposable vape reimagines what a disposable vape can be. It's not just about the functionality; it's about providing an experience that's memorable and enjoyable.
Should you buy the Pi9000? If you're in search of a disposable vape that goes beyond the ordinary, the answer is a resounding yes. The Elf Bar Pi9000 is not just a device; it's a statement, an innovation, and a delightful experience rolled into one.