Product introduction and features

The EB Create Vapes' BC5000 is a miniature box-shaped disposable vape, well-regarded for its substantial capacity, flavor excellence, and extensive selection of flavors. Many consider EB Create Vapes as a brand offering some of the industry's top-notch flavors.
With the EBcreate BC5000, there's a whopping choice of more than 45 flavors, available in 5%, 3%, and zero nicotine variants. Despite its petite size, the BC5000 by EB Create Vapes manages to contain a remarkable 13 mL, and up to 5000 puffs. It is operated by a 650 mAh rechargeable battery that energizes a highly effective dual-coil.
Can the BC5000 from EB Create Vapes really deliver 5000 puffs? While it's difficult to confirm, there's certainly a genuine 13 mL of juice in this tiny apparatus. So, whatever the number of puffs needed to exhaust it, it's reasonably abundant.
Is the BC5000 by EB Create Vapes worth considering? And which are the most appealing flavors? Continue reading for more details, or navigate to the specific section you're interested in.
The BC5000 from EB Create Vapes is a sleek and attractive little gadget. It echoes the former ELEAF iCare design with a flattened and square form factor. Made from PCTG plastic, it features a glossy top (mouthpiece) and bottom (charging area), contrasting with the matte body. The color schemes are visually pleasing and hint at the flavors. Even though I generally don't prefer bright colors for vapes, here they've been done with class.
Despite its compact size, this device manages to contain a substantial amount of e-liquid, measuring only 79 mm x 41 mm x 19 mm. Considering the larger "mega" disposables shaped like mechanical mods holding less juice, I'd argue that EB Create Vapes has nailed it with these devices in terms of capacity and size.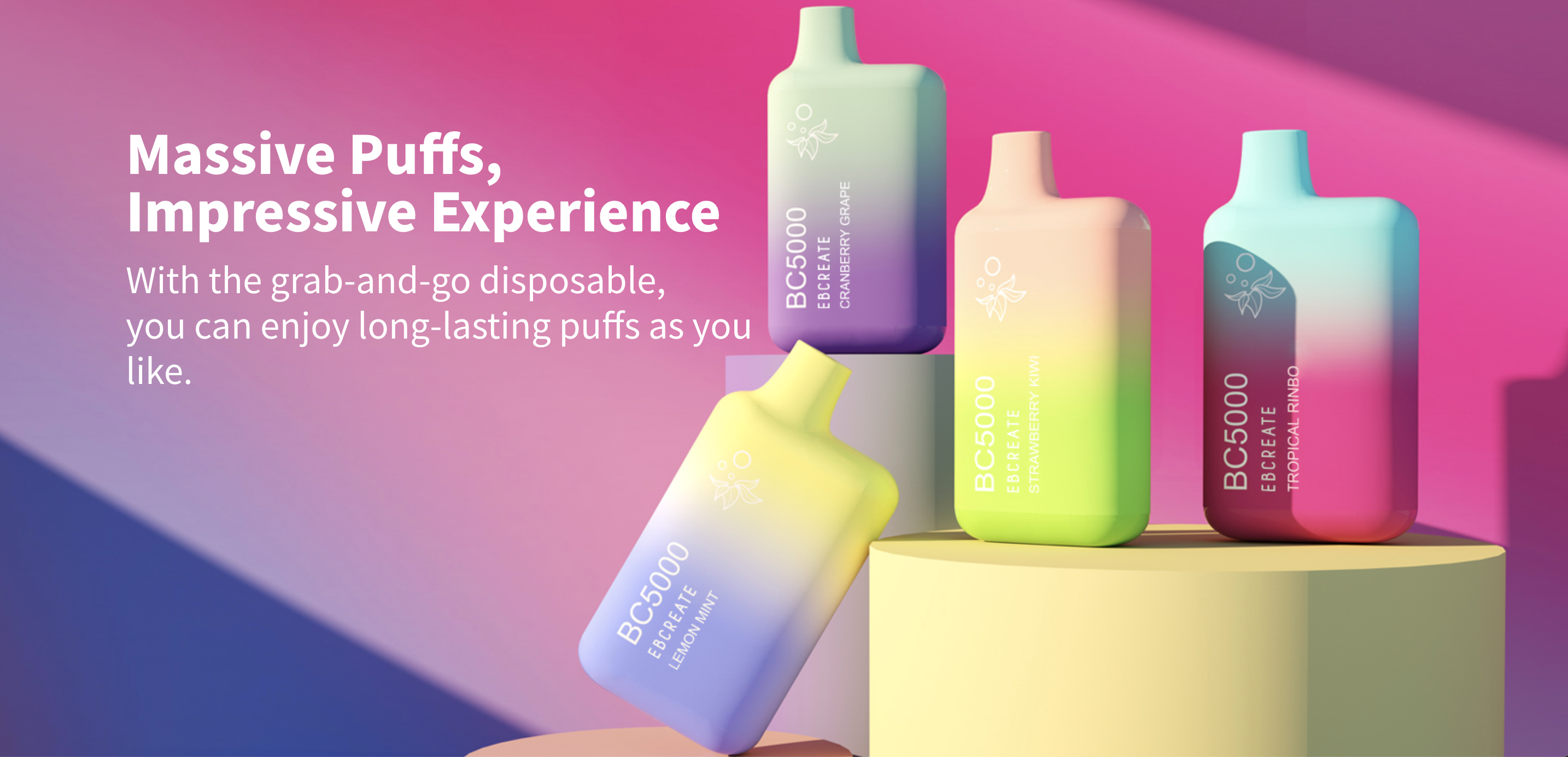 Getting started
Getting started with the BC5000 by EB Create Vapes involves unpacking the product. Just puff on the device when you're ready. There's no need to adjust airflow or meddle with other device features. When the device ceases to hit, it indicates that the battery needs recharging, which can be done via the Type-C charging port at the bottom.
The BC5000 by EB Create Vapes offers a quality MTL draw. It operates quietly, emitting just a soft crackle and hiss from the airflow.
The throat hit strength varies with the nicotine level chosen, with the impact escalating with the nicotine strength. Across all flavors, the overall hit remains consistent. The dual coil in the BC5000 by EB Create Vapes performs outstandingly for a disposable device. The wicking keeps up even with chain vaping, never delivering a bad hit. As the juice starts to run low, the taste subsides to let you know it's nearly out, instead of surprising you with an unpleasant fried hit.
Are the flavors satisfactory?
Indeed, the flavors are impressive, ranking among the best in disposables.
The selection is broad: fruits, candies, beverages and cocktails, mint and icy flavors, and even tobacco. Most flavors are fruit combinations, but there are also single-note flavors. The majority of flavors, as with most disposables, have a cooling sensation or are outright icy. The tobacco flavor doesn't have a cooling sensation.
I've sampled almost half of their flavors so far. I enjoyed only a couple less than the others, but even those I vaped until empty. These are the best flavors I tried from EB Create Vapes.
It's impressive how much usage you can extract from these. Of course, given the 650 mAh battery, you will have to recharge a few times before the liquid is completely depleted. For moderate users, you could potentially get an entire day's use from a single charge. However, heavier usage will likely fall short of a full day.
The Type-C recharging takes about an hour—a standard for disposables, albeit still a lengthy charge. Fortunately, it has pass-through charging (something I previously stated it didn't have, having confused it with another device I was reviewing. Thanks to Jay from the comments section).
Pros / Cons
Compact size
Tasty
More than 45 flavors to select from
Durable performance
Consistent flavor
13 mL juice capacity
Quality MTL draw
Rechargeable
I have no criticisms for the BC5000 by EB Create Vapes—it's a superb disposable! The BC5000 has much to offer: it's flavorful, consistent, compact, rechargeable, with a vast array of flavor options and three nicotine strengths.
This is one of the simplest recommendations I've made recently. If you're seeking a disposable vape, I'm confident you'll find a BC5000 by EB Create Vapes that you'll appreciate. As for selecting a flavor, with 45 to choose from, it's not so straightforward—though I believe the best flavors are the cocktail/island ones. What's your opinion?
Highly recommended. For more details, please visit our official website generalvape