DragBar B3500 Disposable Vape: Unveiling Innovation and Style
The vaping world is never short of innovation, and DragBar is pushing the boundaries with their latest product, the DragBar B3500 Disposable Vape. This piece of technology is more than just a vaping device; it's a statement of sophistication and individuality. Here's a comprehensive look into what sets the DragBar B3500 apart:
DragBar B3500 Disposable Vape: A Blend of Technology and Taste
1. Smart Display: Monitor Your Vape
The DragBar B3500 features an ultra-large color screen with a smart display that clearly monitors both battery and e-liquid levels. This intelligent feature allows you to keep track of your vaping status, ensuring that you never run out unexpectedly. It's not just about vaping; it's about control and knowledge.
2. Pop Local Design: Express Yourself
With the Pop Local Design, the DragBar B3500 lets you showcase your true self. This unique design approach adds a personal touch, reflecting your style and personality. It's a vape that resonates with you, making it more than a device, but an extension of your character.
3. Updated Mesh Coil: Authentic Flavor Always
The B3500's updated mesh coil is engineered to restore authentic flavor consistently. Every puff is a true representation of the flavor, providing an unaltered and genuine experience. This feature ensures that you enjoy the original taste, just as local e-liquid engineers intended.
4. Local E-Liquid Engineers: Tailored for Americans
Understanding and satisfying the unique taste needs of Americans, the DragBar B3500's flavors are interpreted by local e-liquid engineers. This localized approach ensures that the flavors resonate with the users, creating a satisfying and culturally relevant vaping experience.
5. Generous Pre-Filled E-Liquid: 8mL
With 8mL of pre-filled e-liquid at 50mg nicotine strength, the B3500 guarantees a substantial and satisfying vaping experience. The 5% concentration ensures that you get a robust nicotine hit, perfectly balanced for enjoyment.
6. Powerful Battery: 500mAh Type-C Rechargeable
The 500mAh Type-C rechargeable battery ensures that you enjoy approximately 3500 puffs without worrying about running out of power. The convenience of Type-C charging offers a quick and efficient recharge, so you can get back to what you love doing without delay.
7. Long-lasting Experience: Approximately 3500 Puffs
The DragBar B3500 is designed to last, providing you with roughly 3500 puffs. This extended lifespan means you can enjoy your favorite flavors over an extended period without compromising on quality or taste.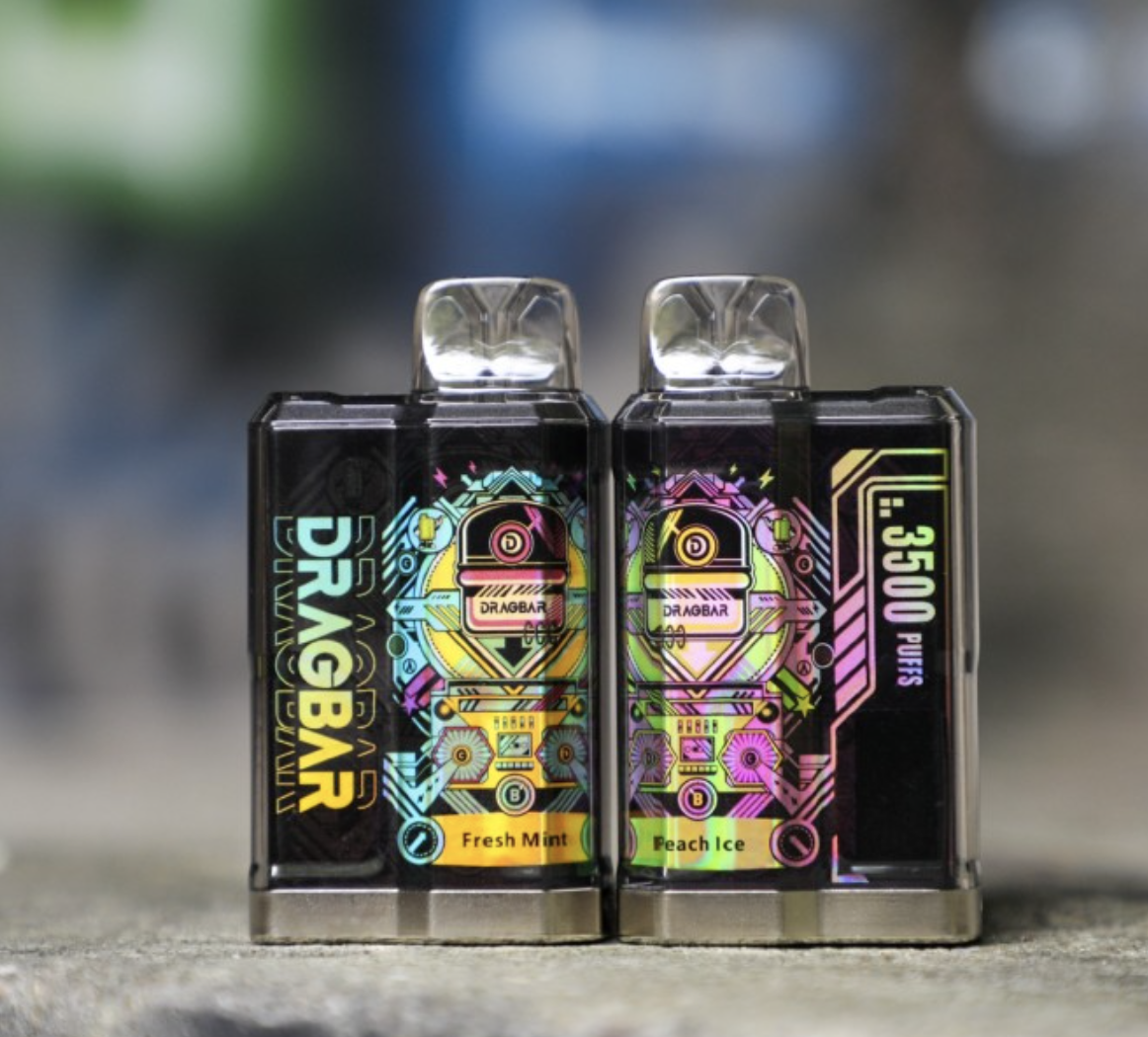 DragBar B3500 Flavors:
1. Blackberry Ice
This flavor offers the rich and earthy taste of ripe blackberries with a refreshing icy twist. It's a harmonious blend that captures the essence of summer, providing a cooling sensation with each puff. For berry lovers seeking a bit of chill, Blackberry Ice is an invigorating choice.
2. Cherry Cola
Cherry Cola is an exciting fusion of classic cola flavor with a sweet cherry kick. It's like sipping your favorite soda in vape form, complete with a bubbly sensation that dances on your palate. For those nostalgic for that fizzy drink taste, Cherry Cola offers a delightful experience.
3. Vanilla Casta Tobacco
An elegant blend of smooth vanilla with the robust flavor of tobacco, Vanilla Casta Tobacco offers a sophisticated vaping experience. It's a smooth and rich flavor, suitable for those who enjoy the classic taste of tobacco with a sweet, creamy twist.
4. Strawberry Ice Cream
Indulge in the delightful taste of Strawberry Ice Cream, a flavor that captures the creamy goodness of ice cream with a strawberry swirl. It's a dessert-like experience that satisfies your sweet tooth, turning every puff into a treat.
5. Strawberry Banana
A timeless pairing, Strawberry Banana offers the sweetness of ripe strawberries with the creamy richness of bananas. It's like enjoying a fresh fruit smoothie, providing a balanced and delightful taste that pleases the palate.
6. Strawberry Kiwi
Combining the tangy taste of kiwi with sweet strawberries, Strawberry Kiwi is a tropical delight. This flavor is refreshing and zesty, perfect for those looking for a lively and exciting taste adventure.
7. Sour Apple
For those who love a tart kick, Sour Apple provides a sharp and zingy flavor. The taste of green apples with a sour punch ensures an invigorating experience that awakens the senses. It's a thrilling choice for the adventurous.
8. Ribena
Inspired by the beloved blackcurrant drink, Ribena captures the unique and rich flavor of blackcurrants. It's a taste that's both comforting and flavorful, a classic choice for those who enjoy the essence of this distinctive fruit.
9. Blue Razz Ice
Blue Razz Ice is a playful blend of blue raspberry with a refreshing icy touch. The flavor is bold and exciting, perfect for those looking for something unique and exhilarating.
10. Sakura Grape
Sakura Grape offers a delightful fusion of sweet grapes with the subtle floral notes of sakura. It's an elegant flavor that provides a serene and calming experience, a taste of spring in every puff.
11. Peach Ice
The refreshing taste of chilled peaches, Peach Ice delivers a satisfying and cooling experience. It's a blend of sweet and icy, perfect for enjoying on a hot day.
12. Mango Ice
Tropical and cool, Mango Ice offers the lush taste of ripe mangoes with a refreshing icy sensation. It's a taste of the tropics, both sweet and invigorating.
13. Lush Ice
A refreshing mix of watermelon and menthol, Lush Ice provides a satisfying coolness with a hint of sweetness. It's like a chilled watermelon slice in vape form.
14. Honeydew Watermelon
Honeydew Watermelon combines the sweetness of honeydew melon with juicy watermelon. It's a refreshing and hydrating flavor that's perfect for quenching your thirst.
15. Fresh Mint
Clean and crisp, Fresh Mint offers a pure minty experience that refreshes the palate. It's a classic choice for those who appreciate simplicity and a cool, fresh taste.
16. Clear
For those who prefer an unflavored experience, Clear offers the pure essence of vaping without any specific taste. It's the perfect choice for those who want to focus solely on the sensation.
Conclusion
The DragBar B3500 Disposable Vape is a masterpiece of technology, design, and flavor. It's a product that considers every aspect of the vaping experience, from monitoring your usage with a smart display to expressing your personality with the Pop Local Design.
With the innovative mesh coil, local e-liquid engineering, and robust battery, the B3500 is not just another disposable vape; it's a personalized experience tailored to satisfy your taste and style.
Indulge in the DragBar B3500 and experience a new era of vaping where innovation meets individuality, and technology enhances taste. It's more than just vaping; it's a lifestyle choice that reflects who you are.