iJoy Captain 10000 Review: The New Gold Standard in Vaping

In the vast sea of vaping devices, it's rare to find one that truly stands out. However, the iJoy Captain 10000 not only manages to set itself apart but firmly cements itself as a frontrunner in the industry. Here's a deep dive into the latest offering from iJoy and why it might just be the best vaping device you'll ever own.
Puff Prowess
Let's start with the jaw-dropping capability of delivering up to 10,000 puffs. For the average vaper, this means days of use without requiring a refill. iJoy has smartly combined capacity with quality. Each puff delivers a satisfying, flavorful, and smooth experience, which I found to be consistent throughout.
Nicotine Salts Done Right
The prefilled 18ml of nicotine salt is a generous amount, but what truly impressed was the quality. At 5% concentration, it strikes the right balance between a fulfilling nicotine hit and a smooth intake. The flavors are rich, ensuring each puff feels fresh and invigorating.
Battery Brilliance
The 650mAh battery of the Captain 10000 proved to be reliable. It lasted significantly longer than most devices in its category. When it's time for a recharge, the inclusion of a Type-C port is a modern touch that ensures rapid charging, getting you back to vaping in no time.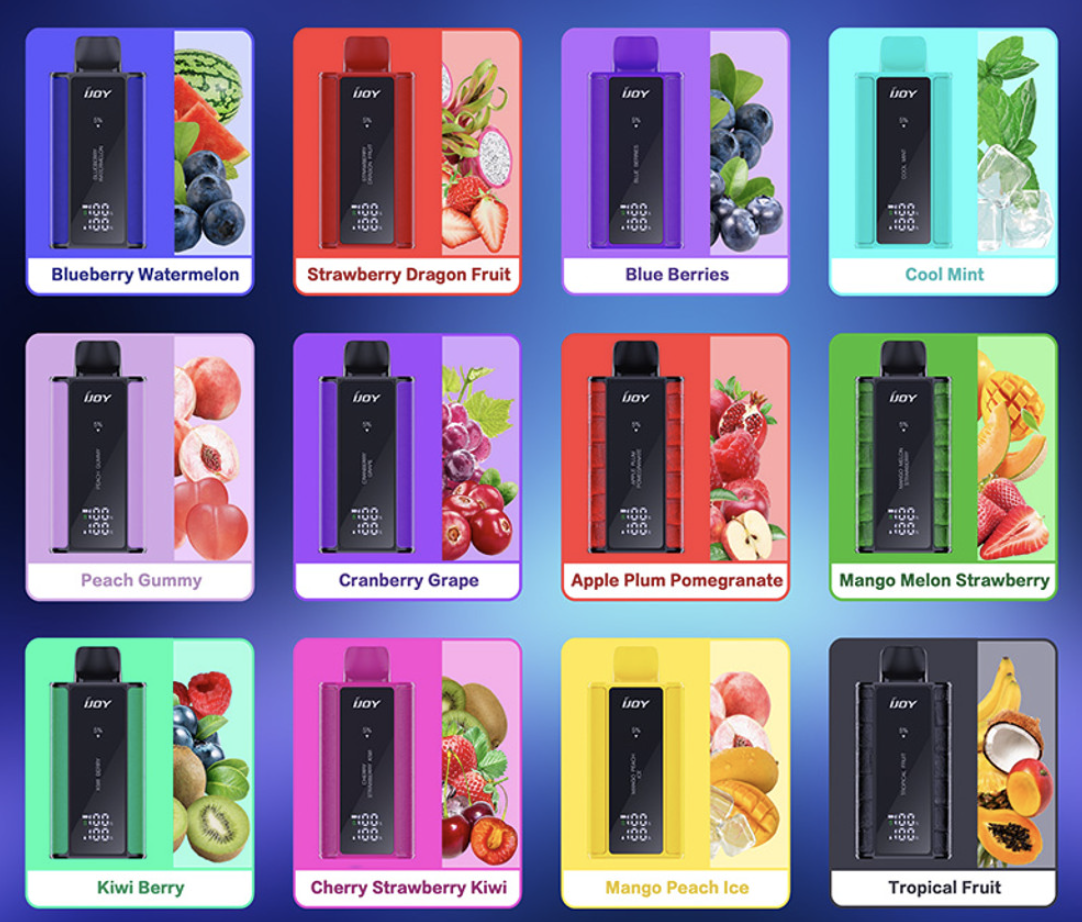 Customization is Key
Every vaper has their preference, and the iJoy Captain 10000 caters to all. The adjustable airflow system lets you decide the density of your vapor. Moreover, the S/D mode – a feature not commonly found in many devices – provides further personalization.
Mesh Coil Magic
iJoy's decision to use a 0.8 Sub-Ohm Mesh Coil was spot on. It's a superior vaping technology that guarantees consistent flavor and dense clouds. Even after using it extensively, the flavor remained as crisp as the first puff.
The Display We Deserve
Incorporating an All-On Display Screen is an ingenious move. It keeps you informed about your device's juice level, battery life, and settings, eliminating any second-guessing.
Flavor Fiesta
Out of the 20 available flavors, I got to try the Apple Plum Pomegranate, Cool Mint, Mango Peach Ice, and Strawberry Cotton Candy. Each flavor was distinct, and there was no artificial aftertaste. Especially, the Mango Peach Ice was a delightful mix of sweet and cool, perfect for a summer vape session.
Final Thoughts
iJoy Captain 10000 is a masterclass in vaping device engineering. It's not just about the longevity of puffs; it's about delivering an unparalleled experience with each of those puffs. It caters to both novices and seasoned vapers. The sleek design, coupled with top-notch functionality, makes it a must-have.
For those looking to elevate their vaping game, the iJoy Captain 10000 is a worthy contender. It's more than just a device; it's an experience, and one that I wholeheartedly recommend. Happy vaping!